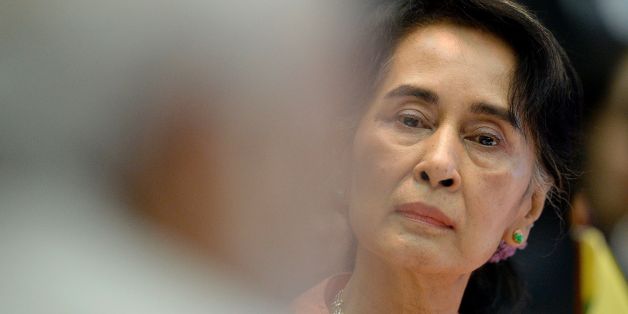 NOEL CELIS via Getty Images
Once known for being one of the world's most prominent political prisoners, Nobel Peace Laureate Aung San Suu Kyi has remained deadly silent as the Rohingya, "the world's most persecuted minority" have been slaughtered on her streets.
Since 2012, over 168,000 Rohingya have fled Myanmar according to a UNHCR report, published in May, with an additional 73,000 fleeing in the past week alone as military violence has escalated.
The Rohingya, an ethnic Muslim group of over one million people, have lived in Myanmar (formerly Burma) for centuries, although since 1982 they have been denied citizenship, leaving them stateless and labelled 'illegal immigrants' in the country of their birth.
Aung San Suu Kyi, currently Myanmar's State Counsellor - a position akin to Prime Minister - and Leader of the National League for Democracy (NLD), was expected to change all this. Many thought that with her at the helm, this minority group would finally be given their rights and their persecution ended. It now seems that this was a fallacy.
Rising to power in 2016 following a landslide election win, Suu Kyi's party took 86% of the Assembly of the Union seats. However, this wasn't her first election win.
Back in 1990, Suu Kyi and her newly formed party (the NLD), won 81% of available seats, but were refused power by the military, who ran the country. Arrested and placed under house arrest, she remained imprisoned for nearly 15 years. Offered freedom if she would leave the country and never return, Suu Kyi refused to leave the fight, sacrificing years of her life with her family, including her two young sons. In 1991, Suu Kyi was awarded the Nobel Peace Prize and used the money to fund health and education for the people of Myanmar.
That year, in her book 'Freedom from Fear', Suu Kyi wrote: "It is not power that corrupts but fear. Fear of losing power corrupts those who wield it."
It seems, given the current crisis, that's exactly what has happened. Succumbing to her own prophecy, we are forced to assume that Suu Kyi is either afraid of losing her power, by going against the societal view on the Rohingya Muslims as illegal Bengali's and terrorists, or the attacks on this minority group are not something she feels are worth speaking out against.
As children have been beheaded on the streets, she has remained silent. As innocent civilians have been attacked, raped and burned alive, she has remained silent. When faced with those who have needed her the most, she has turned her back.
In May of last year, Suu Kyi even asked the US not to use the term 'Rohingya' as she does not recognise them as an ethnic group. Two months previously, following an intense interview by BBC's Mishal Husain, during which she was questioned over the Islamophobic attitudes known in the country, Suu Kyi became rattled, refusing to condemn the anti-Islamic views and was supposedly heard saying "no one told me I was going to be interviewed by a Muslim."
The case against the Nobel Peace Laureate has been building and was brought to a head in June of this year, when Myanmar's government denied entry to a UN team following their report which stated, that the treatment of the Rohingya could amount to crimes against humanity and even ethnic cleansing.
Since then there have been reports of torture, mass killings and gang rapes by the military.
This week, as Muslims around the world were getting ready to celebrate Eid-Al-Adha, many Rohingya were fleeing into bordering Bangladesh, which has now started to block and deport those it catches, trying to find safety.
The Guardian have now reported that Myanmar have blocked all UN aid from reaching the Rohingya people at the heart of this conflict, leaving thousands stranded without food, water or medical help. The situation is becoming ever more desperate.
So, what does the future hold for these stateless and persecuted people? As the likes of Malala Yousafzai step up to condemn the violence and call for action from Suu Kyi, "The world is waiting and the Rohingya Muslims are waiting", will she allow it to continue?
Unless swift action is taken, and this humanitarian crisis addressed, I and the rest of the world will continue to call for the return of Suu Kyi's Nobel Prize. It would seem it is far from deserved.