I recently celebrated my birthday with a long time bestie at Brighton Pride. It was fabulous from start to finish, filled with theatrics and passion, glitter and rainbows. Whitney, George and Dolly blared out from floats taking part in the parade as it traversed the city. People of all ages were dancing, whistling and vuvuzela-ing the day away. Utterly glorious indeed. In the midst of the chaotic carnival atmosphere I felt a stillness in my heart, it was hugely emotional. There was sadness for what had gone before, hope for the future, and pure rapture for the moment. This was a big deal. Pride is a big deal. Each and every Pride and Mardi Gras across the globe openly celebrating the diversity of love is a big deal.
This year marked the 50th anniversary of the decriminalisation of homosexuality in England and Wales. That wasn't so long ago. Not so long ago it was a crime to be gay. Not so long ago people couldn't bear to acknowledge it to family, friends, society, even themselves. And here we were on the streets of Brighton, lovers openly embracing, revellers adorned in whatever the hell they liked, and there was nothing but love.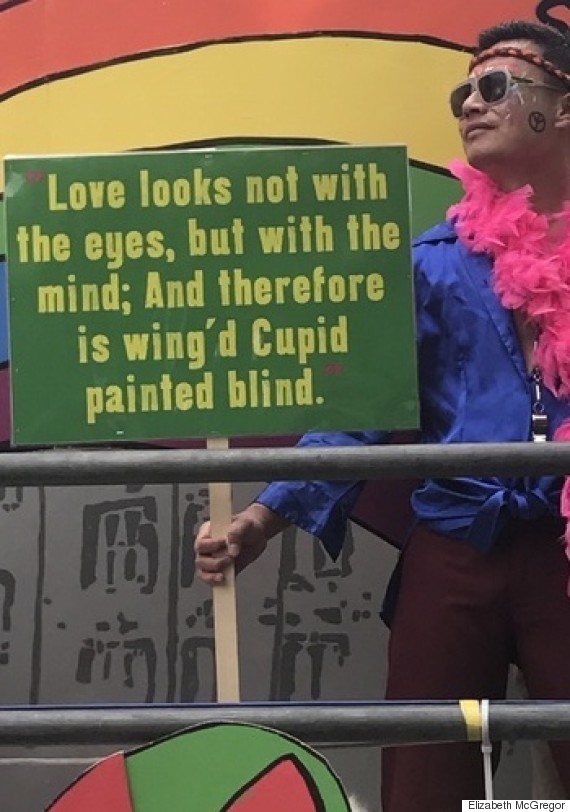 AUTHOR'S OWN
I grew up in the 1980s with Irish parents. My dad was reported by a neighbour for being a member of the IRA because he had an Irish accent. I was a teenage mum with a mixed race child. I am well acquainted with prejudice and stigma. As a straight, white, married woman raising her children in a sleepy village, I actively strive to educate and inform myself and not let the sheltered, dreamy bubble that I live in envelope me entirely. But something happened on our journey home that took me aback and has stayed with me ever since. It highlighted a few things: that I was woefully unaware of the unjust realities the LGBTIQ community have to deal with. That these are commonplace. That some people truly are absolute jerks.
We bussed it down to the main event and got chatting to the most beautiful soul, straight off the plane from Sydney, via Reykjavik. He was flying solo on the first leg of his UK holiday. What a guy. We glittered him up and took him under our wing, Brighton style. Yes, we all had Tuaca. We watched Years and Years and the iconic Pet Shop Boys set with an eclectic and happy crowd. At the end of the night, we walked our new bff back to his hotel. A cab pulled up and two guys wearing heels and dresses approached it, we saw the cabby tell them, 'No, I have a booking'. Heads down, they quietly walked away. The car then pulled along a few metres to us, the man told us to hop in. Astounded, I said no thanks. We were outraged, our Aussie friend not so much. He'd seen it many times before. The same thing, even on the other side of the world. I was speechless.
This was 50 years on from decriminalisation, and in Brighton. Jeez. The exchange spoke volumes about both parties involved; the driver was working on a night when his outdated and odious moral compass would not deem most prospective customers worthy of his service, so he would refuse their custom. Dark and frankly, moronic. Whereas the couple that were declined a lift, they walked on with humbling grace and dignity. It likely wasn't the first time they'd encountered such a person with such an outlook and sadly won't be the last.
Witnessing such brazen discrimination heightened the stirring emotion I'd felt earlier at the parade. A parade filled with joy, acceptance and humanity. A time celebrating freedom of choice, freedom of speech and freedom of expression. In contrast, we find ourselves living in a climate where politics and media promote hate and division; where angst, fear and intolerance is returning to society, insidiously and divisively creeping into the very core of our communities.
Fifty years on, now, more than ever, Pride is important. The rainbow that represents the LGBTIQ community is important, and it is important for the taxi driver and all those who think like him to note; there is no grey in that rainbow, there is no colour to represent your murky, intolerant, narrow minded views. They are not ok. Not in Brighton pal. Not anywhere.