A teen model who became the centre of controversy when she was put in low-cut dresses for a Vogue Paris photoshoot at just 10 years old has returned to the spotlight and been branded a "child model all grown up".
With a career spanning 10 years Thylane Blondeau could be considered to be a veteran of the fashion world, but at just 14 years old a "grown up" she certainly is not.
Discussion of Blondeau's age comes after she landed a spread in Teen Vogue and follows the furore caused by Dior's choice to send 14-year-old model Sofia Mechetner down the catwalk in a sheer dress through which her nipples were visible.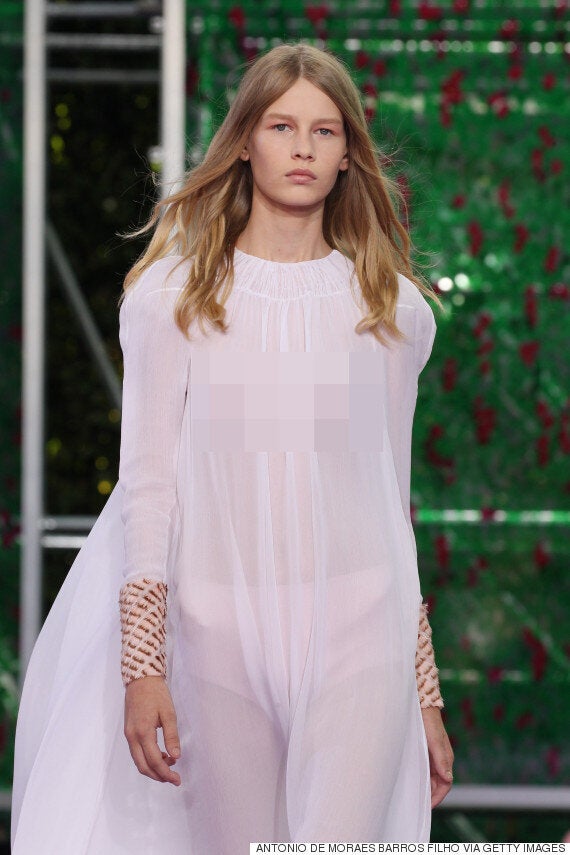 We have blurred the appearance of Sofia Mechetner's nipples in the image above, as she is under the age of 16
Mechetner's appearance among older models in the Christian Dior Autumn Winter 2015 Haute Couture show kicked off a debate about child models being treated like adults in the fashion industry.
So how young is too young?
Blondeau has her own opinion on the matter.
"Well, Kate Moss started modeling at the age of 15, and that was a little while ago. So no. I'm not too young," she told Teen Vogue.
"If you have a good agency and people who take care of you... it's perfect."
However, citing Moss as an example of how starting young can work out well for models is problematic.
Yes, Moss is now one of the most famous faces in the world, but she has previously admitted that pressure to pose in sexualised shoots at a young age contributed to her having a "nervous breakdown" at the age of 17.
"It didn't feel like me at all. I felt really bad about straddling this buff guy. I didn't like it. I couldn't get out of bed for two weeks. I thought I was going to die...It was just anxiety. Nobody takes care of you mentally," she told Vanity Fair.
"There's a massive pressure to do what you have to do. I was really little, and I was going to work with Steven Meisel.
"It was just really weird - a stretch limo coming to pick you up from work. I didn't like it. But it was work, and I had to do it."
And Moss isn't the only fashion industry insider to voice concerns about the pressure put on young girls in the fashion industry to "grow up" too fast.
Model turned model scout Rebecca Pearson, who was "discovered" when she was 16, wrote in Telegraph: "A 14-year-old's body being used to sell clothes to people who can actually afford Dior - adult women - seems wrong to me."
She added: "The modelling industry can be brutal. And that's why I never approach people who have modelling potential if they look under the age of 15.
"I might be able to see the potential in their Bambi-like features, but I'd hate for them to lose potential in their developing adolescent and academic lives for such an unpredictable job."
There is a time and a place for child and teen models (and Teen Vogue is certainly it), and the fashion industry is taking steps to protect young models - all 21 international Vogue magazines have agreed not to use models under 16 to represent adults, and the British Fashion Council has issued guidelines that require designers use models who are at least 16 for runway shows.
But the language the media use when discussing teen models is part of the issue.
Blondeau's latest photoshoot is age appropriate, but by calling her "all grown up" it makes okay to treat her like an adult and to hold her up to the same level of judgement as we would an adult - and that's a lot for a 14-year-old to take on.