Bella Hadid has shared a photo from her latest shoot with Nike, which shows her posing with recently-departed Givenchy designer, Riccardo Tisci, wearing not much more than his NikeLab Dunk Lux Chukka trainers.
Bella is a grown woman - she can do whatever she wants - and I certainly have no problem with any adult deciding to wear little more than their trainers and a crop top, should they so choose.
But when I saw this image my initial reaction was to wince.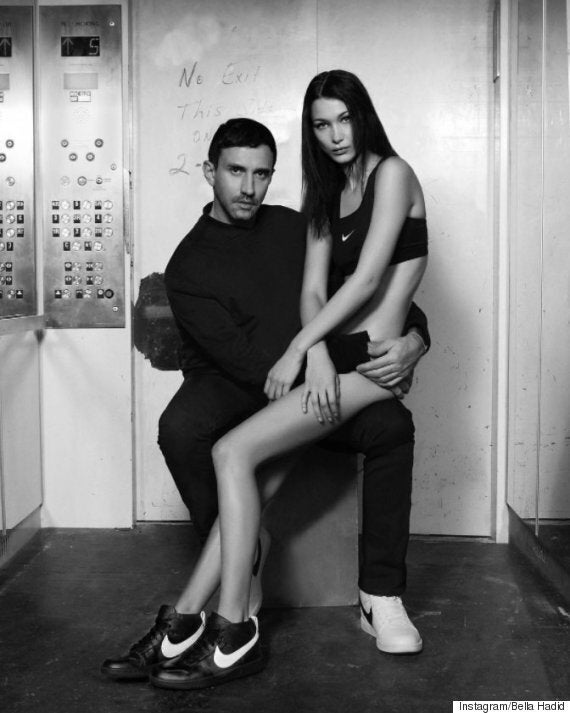 There are a number of reasons this image makes me deeply uncomfortable - mainly to do with the mise en scène (bear with me).
The way this shot has been set up creates a deeply unsettling power dynamic: Bella is perched on Riccardo's knee - an infantilising position to be in - and he, the legendary designer, is presenting her to the camera.
Bella is also a legend in her own right, but here she is displayed as a trophy akin to Riccardo's trainers.
Riccardo is covered from neck-to-toe in a dark polo neck jumper and straight leg trousers, which nicely set off his white Nikes. This contrasts starkly with the acres of Bella's flesh on show, which is covered only by her trainers, a crop top and Riccardo's arms.
There is absolutely nothing wrong with a woman choosing to pose for a photographer in any state of undress. But, in a situation where Bella is wearing items Riccardo has designed, why is he not similarly exposed?
That's not all, once you look beyond Riccardo and Bella themselves, there is also something rather disturbing about their surroundings.
The words 'No Exit' can be seen scrawled on the lift doors just above Riccardo's head - implying that it isn't only his arms holding Bella in place should she wish to run, jump, walk or indeed make any movement the trainers are designed for.
From a sports brand that has brought us progressive visions of women and the power of their physicality, such as their FKA Twigs and Serena Williams led campaigns, this portrayal of male power and female submissiveness is seriously disappointing.
Especially when NikeLab choose to display their male ranges in a much more dynamic manner.
Bella later posted another photo from the shoot which leaves us hoping when the full campaign is released we'll see more of her in action, but in the meantime Nike let me ask you: "Do you believe in more?"