As a woman whose chest is larger than the average, the start of autumn and winter brings on two trains of thought.
"Oh crap, where am I going to find non-frumpy layers?"
"Uh-Oh, where am I going to find figure flattering, but also warm clothes?"
Even as a big-busted size 12 or 14 - shopping for elegant winter clothes can be near impossible, and I imagine it gets harder and harder as the size chart goes up. I'm a size 16 and I find most chunky knits make me look like a cotton wool ball with legs.
Over the years I've found certain retailers are really pushing the winter boundaries for ladies with curves. Whether those curves be on a size 10 or a size 20. Winter clothes don't need to be frumpy or shapeless - they can be just as flattering and beautiful as summer dresses and spring style.
Here are some of my favourites for AW 2014.
Phase Eight: Perfect for shapely knitwear
Phase Eight is one of the higher priced stores on this list, but for your money you get a beautiful fit and flattering styles. The sizing runs up to an 18 in most styles, and a 20 in some. I find with their knit wear and jersey dresses, you are given a nice bit of room - so you could size down if need be. I personally own the three items below and can't say enough great things about them, they're flattering, warm, and in beautiful winter colours. I've always found Phase Eight to be the kind of shop where one dress will last you years if you treat it well. So you're not just investing for one winter - but several.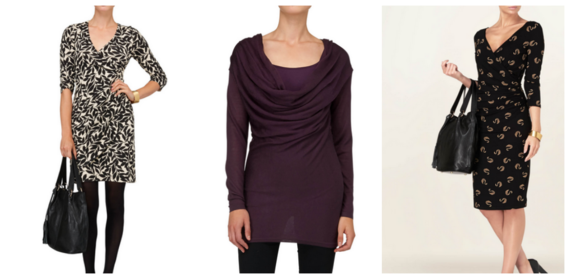 Bon Prix: Perfect for jumper dresses
The jumper dress is something I love. But it's something that is so difficult to get absolutely right. When you have curves, a jumper dress can swap them - so finding a style that flatters but still comes under the title 'jumper dress' is a rare find. Enter Bon Prix. They have some gorgeous jumper dresses this year (most coming in sizes up to a 20) which are beyond perfect for curvy ladies. I love the illusion colouring - and the deep V-neck. Gorgeous!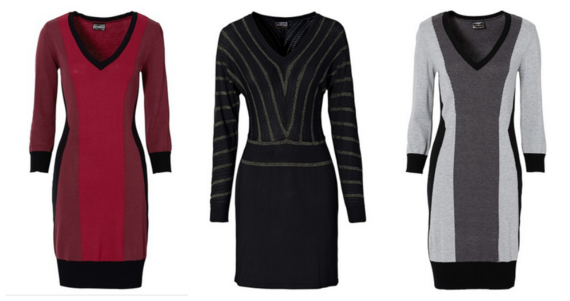 ModCloth: Perfect for your christmas (or NYE!) party
ModCloth may be an US retailer, but their shipping is reasonable - and their collection of curve friendly clothes is too good to miss off this list. Not only do they do a range for high-street sizes, but they also have a fantastic plus size range for larger ladies. Their dress range is drool worth - with all sorts of gorgeous cocktail dresses that would be the ideal companion to any curvy lady's christmas party. The dresses featured below come up to a US size 30: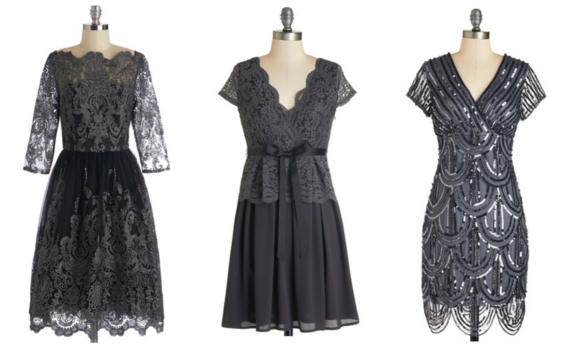 Curvety: Perfect for your little black dress
Curvety is a retailer I only discovered this year (I stocked up on their clothes this summer, and will be doing the same for winter too!). Their site is jam-packed full of beautiful wrap dresses and floaty gorgeous silhouettes. I'm not only a wrap-dress-a-holic, but a black-dress-a-holic too, so this online store is basically my soulmate. A lot of their dresses are made with luxury, slinky, jersey fabric which is perfect when you have curves. No need to worry about sizes being too small or fitting being too tight.
Below are a few of my favourite black dresses they currently sell - but there are so many more too. The sizing here goes up to a UK 30.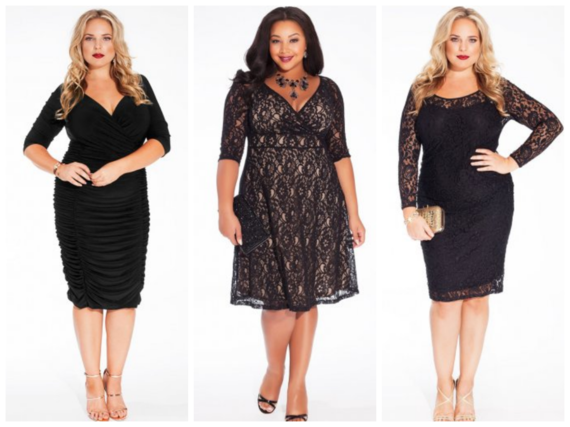 Collectif Clothing: Perfect for flattering workwear
No-one wants to look frumpy at work, and Collectif have absolutely perfected the figure-flattering, curve-hugging work clothes. But don't worry - they're still suitable for the office and you'll look every bit as professional as you will sexy. Most dresses on their site come up to a size 22 too - which is awesome. Here are my favourite picks for adding a bit of 'Mad Men' into your winter work wardrobe...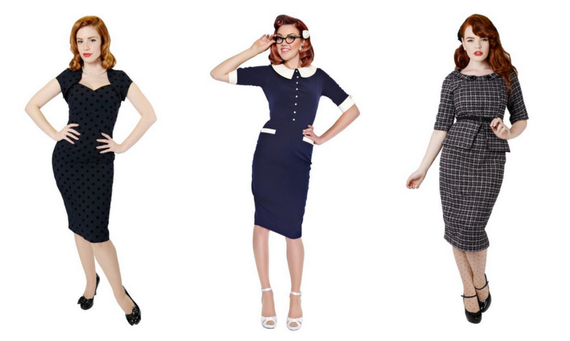 Lady V London: Perfect for feminine shapes and styles
Just because it's winter, doesn't mean you have box up your dresses and colours. Lady V London do some lovely feminine, vintage-inspired dresses that will keep your wardrobe just as eye-catching as it was in summer. Their Estella dress is especially flattering for curvy ladies, as it was co-designed by wonderful plus-size blogger Fuller Figure Fuller Bust. And if anyone know about designing for incredible curves - it is her! I own two of their Estella dresses myself and they fit beautifully - and look just as good with tights and boots now, as they did with sandals and sunglasses in summer. Many of Lady V London dresses size up to a UK 32 too.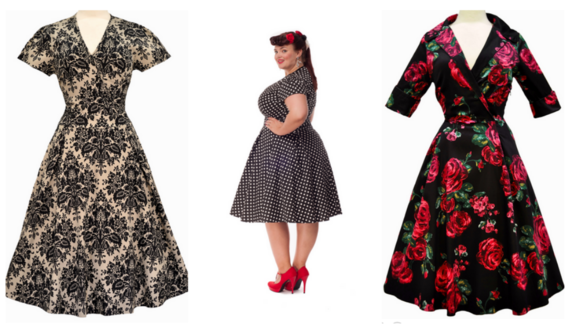 Pin Up Girl Clothing: Perfect for winter-weddings and formal do's
I always have the dilemma when going to winter weddings or formal parties - that all my formal dresses seem way too summery. Pin Up Girl Clothing have some of the most stunning cocktail dresses out there for curvy ladies. The shapes and styles are inspired by pin-up girls of the past so you can be sure you're curves will look incredible. The three dresses below would be my pick for winter formal events - all of them have the right kind of colour palette, and would look great with a winter shawl or thick winter coat. Sizes range, but most go up to a 4X.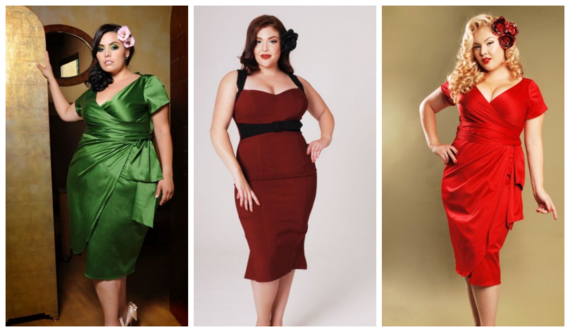 Kaliko: Perfect for pretty lace
Lace might seem like a summery texture, but I think it works perfectly in winter too. It's great for making an outfit instantly elegant, and it layers well under big coats because it's a thin material too. Kaliko have some beautiful lace dresses, that are in lovely autumn / winter colours. Their sizing doesn't stretch beyond a size 20 - but for those of you that fall into a size 20 or below they have some lovely, elegant pieces.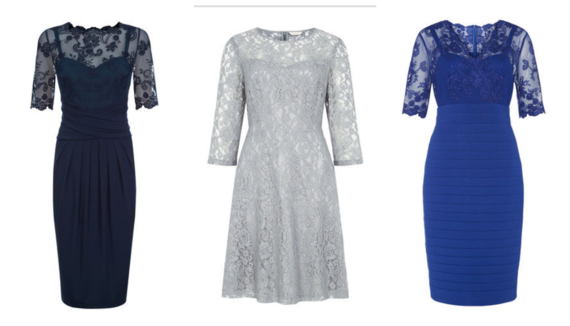 One Stop Plus: Perfect for cardigans and coats
Because you'll need something to wrap around all these beautiful dresses! One Stop Plus is a hub of plus size clothing with brands from around the internet all in one place. They have beautiful dresses too, but for this article I'm concentrating on the (very) wide range of cardigans, jackets and coats they sell - especially the abundance of waterfall styles (my favourite for flattering curves).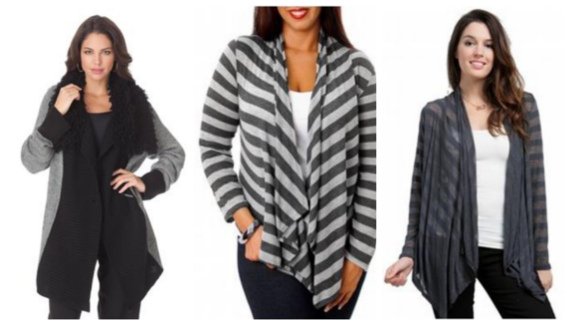 Matalan: Perfect for a bargain
I love a bargain as much as the next person... and Matalan have some gorgeous quality curve hugging dresses on sale this winter. The three dresses below aren't just perfect casual winter wardrobe essentials - but would look just as lovely with tights and boots as they would with heels and a clutch bag. I like getting bang for my buck - and these dresses give just that.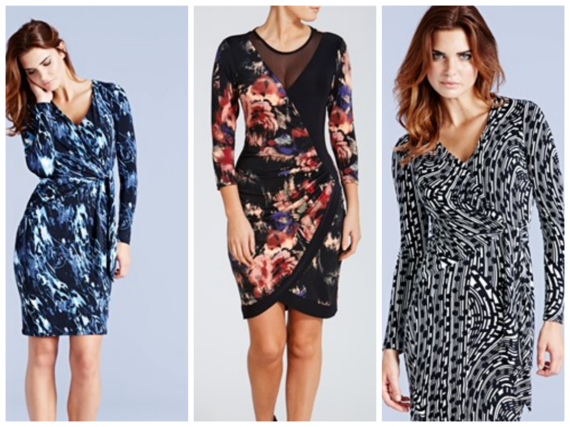 Eshakti: Perfect if you're in the USA
This company don't yet ship to the UK - but if you're based in the USA then you'll love this retailer. All dresses are available completely tailored and personalised. So if you fall in love with that perfect skater dress but the sleeves are too short or the neckline is too high - that's no longer an issue, because you can just select a style. It's great for curvy girls because you can change all those little details to make the item exactly how you like it. I love the concept and can't wait until they ship to the UK!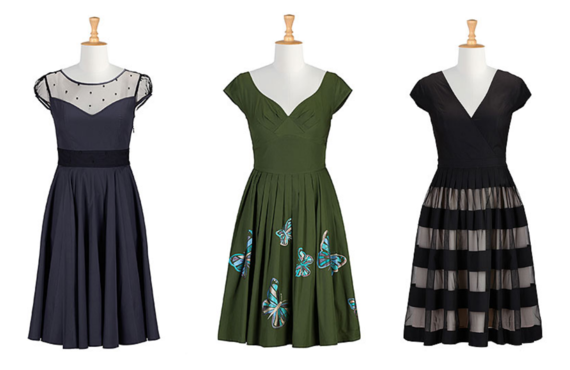 What retailers would you recommend? Share any more recommendations in the comments - I'd love more!