It's no secret that sex sells. However, the relatively low start-up costs and minimal equipment required to make a film in the porn industry have also contributed to its growing revenue.
Many of the advancements in filmmaking and distribution techniques have had their birth courtesy of the porn industry. Filmmakers can improve their techniques, and their financial returns by looking at the lessons learned by their colleagues in the sex industry.
There are six key areas where filmmakers can learn loads from the porn industry:
1. Know Your Audience
What do Tori Black, Isis Taylor, Kayden Kross have in common? The correct answer is not that they are porn stars but that they each have tens of thousands of Twitter followers.
What they know how to do really well is to find their audience. Then they engage with them on many different levels. Find like-minded people and filmmakers on Twitter and market your film directly at them. Don't be shy.
2. Direct People to Your Website
More importantly, porn stars know how to direct their audiences to additional paid for content. They know and understand their audiences and what they need. And they know how to market to them.
Arguably one of the reasons porn succeeds is because it has narrow film concept and delivers the goods. To really nail your target audience, you should refine your movie concept to encompass a niche, something which will entice a certain type of moviegoer.
When your film enters the marketplace conduct research that highlights both online and offline publications which cater to your specific audience and reach out to them.
3. Interact With Your Audience
Speaking of reaching out, porn stars engage with their audiences. They respond to Twitter messages and comments on their blogs. They then tailor specific types of experiences to their audiences, and will adjust their profile to suit their needs, in the way that filmmakers make movies in different genres.
Have a look at Burning Angel, a punk porn site by Joanna Angel. Note her associate sites, her blogs and comments by users. Or look at the tamer Suicide Girls website featuring hundreds of girl-next-door types posing as pin-up girls.
There is much that a filmmaker can learning by looking how porn stars organise their films, create and engage with audiences and then monetise their products.
4. Nothing Is For Free
Have you heard of the live cam-girl or cam-boy? These are web cams in the porn stars very own bedroom and you can see live interactive chats with mainly clothed performers engaging with their audience. They try to get the viewers enticed with the pre-show cam and then entice them deeper into the website for which you have to pay.
It's no different for us either. Engaging with your audience in the run-up to the shoot, and afterwards at festival premieres can whet the audiences appetite for your film later on - in cinemas or on DVD. An interesting development in America is the website Demand It - a widget that you can put on your website as a form of pre-sales. How interesting to know that there are 50 people willing to pay money to see your film in Huxtable. Set up a road tour with your film knowing that in each location you will have an audience ready to pony up some hard coins to see your film.
Don't give it away for free. This is the big lesson filmmakers can learn from the porn industry.
5. Partner and Collaborate
Porn stars use this effective 3-step: First they strongly brand each site to give the visitor a strong and unique experience. Often they are part of a coalition that works on this blindingly simple principal: "If you liked this, you'll like..." And this really works.
Each site cross promotes within the coalition, and usually a single membership fee allows you access to each of the sites on the network.
6. Pimp Your Product
Porn stars know the value and importance of a strong campaign image. Do you have a scantily clad man or woman? If so, put their image front and centre.
The smutty route isn't always the way, but it is about having a striking image to draw attention to your film. An image that gives the impression of what your film is about at first glance, and which leaves your audience wanting more.
As well as the title image, what you call your film is vitally important as this is what grabs new viewers. The more people you can get to consume your content, the more chances you have for getting people to share it. If you can't get that initial return, your film is dead in the water. If the title isn't catchy, rethink it.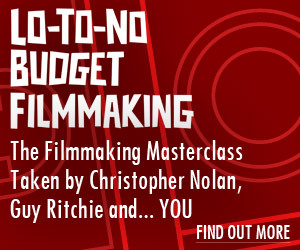 The parallels between real film and porn, indies and majors are almost exactly the same, content excepted. With in the porn industry, as in movies, there are indies and major producers, small and large distributors. Porn producers face many of the same financial, legal, production and distribution issues as their independent filmmaker colleagues.
The film industry is fiercely competitive. Everyone is scrambling for money and audiences. As a serious filmmaker, you will learn much on how to succeed from your adult film industry colleagues.