After uncertainty in the run up to the election, continuity characterises the post-election landscape in Whitehall: Cameron's cabinet looks much the same as it did before. But is the same true of the rest of the government?
In addition to No10, 12 out of 19 departments are headed by the same minister.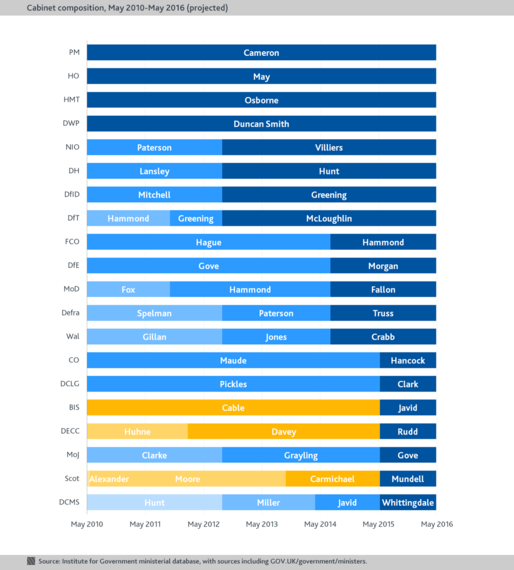 Despite the the loss of Liberal Democrat ministers, round two-thirds of Secretaries of State have retained their pre-election role, with 12 out of 19 Whitehall departments still being run by the same Secretary of State as before the election.
This is an experienced team, many of whom have already spent several years at the head of their respective departments. Seven cabinet ministers - including the Prime Minister - have held the same post for three years or more. Four members of the current Cabinet (David Cameron, George Osborne, Theresa May and Iain Duncan Smith) have been doing the same job since the beginning of the last Parliament.
55% of ministerial jobs have changed hands following the election.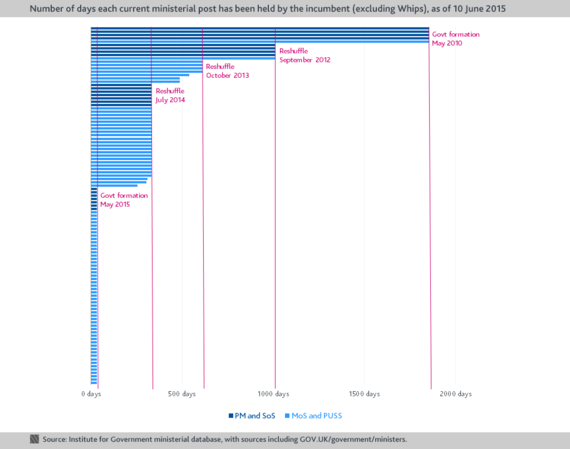 As we often point out here at the IfG, cabinet ministers are not the whole story of government. Not counting Whips, there are a total of 107 ministerial roles in the new government (some ministers holding more than one role). 55% of these jobs have been filled by someone new.
60% of Minister of State (MoS) and Parliamentary Under Secretary (PUSS) posts (50 out of 84) were filled by someone new following the election. David Lidington, Minister of State for Europe, is the only non-Cabinet minister to have held the same post since 2010. Junior ministers do a lot of important work. When they move on, there is a risk that the momentum and political focus they lent to their priorities will dissipate, along with the institutional knowledge they have built up.
This high turnover is partly due to the loss of 16 Liberal Democrat ministers from government - some of whom held more than one post at once. Just one former Conservative minister (Esther McVey) contested and lost their seat at the election. The rest of the posts have been vacated and filled by junior ministers moving between roles.
In the majority of departments, over half the ministerial team is new to their job...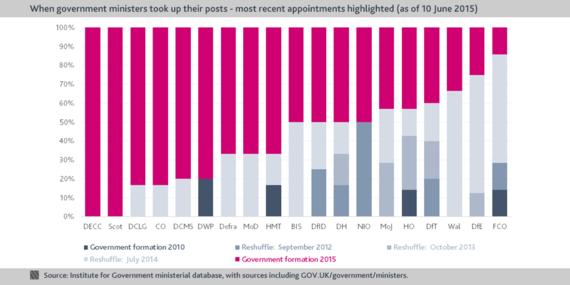 Different departments have experienced very different levels of churn. Most departments (13 out of 19) are currently being run by a ministerial team in which at least half of the ministers are new to their job.
• There are eight departments where over half the ministerial team are new to their job (DECC, Scot, DCLG, CO, DCMS, DWP, MoD, HMT).
• Conversely, there are six departments where over half the ministers are in the same post as before the election.
• The two departments where all the ministers are new to their jobs - DECC and the Scotland Office - also have two of the smallest ministerial teams in Whitehall (DECC has three ministers, and Scotland only two). However, in both cases the new Secretary of State was formerly a junior minister in the same department.
• Only four departments (DWP, HMT, HO and FCO) have a minister who has held the same post since 2010: all but one of them are Secretaries of State.
• FCO, DfE and the Wales Office have seen the most continuity in the post-election reshuffle. But in all of those departments, most of their ministers have been in their job for less than a year.
...but not all of them are new to the department.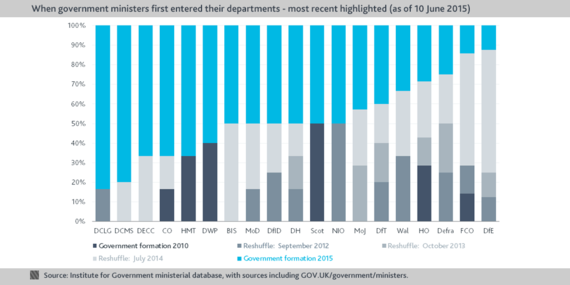 Not all ministers with a new job are working in a new place: some have been given a new role within the same department. If we look at ministerial experience from this perspective the balance shifts slightly: there are 13 departments where at least half of the ministers are in the same department as they were before the election. There is not a single department in which all of the ministers are entirely new.
Two former Parliamentary Under-Secretaries (PUSS) - Amber Rudd and Andrew Mundell - have been promoted to Secretary of State (SoS) of DECC and Scotland Office respectively. Some, like Edward Timpson, have retained their old ministerial brief but been promoted: Timpson is now Minister of State (MoS) for Children and Families at DfE, moving from PUSS with the same portfolio. Under the Coalition, movement up the ministerial ranks at the Treasury was a route to quick promotion for Sajid Javid and Nicky Morgan, both of whom were promoted from Economic Secretary (PUSS) to Financial Secretary (MoS) to Secretary of State of their own department within two years.
Even ministers who are given a new brief within the same department - such as Damian Green, who moved from 'Immigration' to 'Policing and Security' within the Home Office at the September 2012 reshuffle - bring valuable knowledge about the policy landscape and culture of the department to their new role. Of course, any minister moving into a new role will have to adapt to working with new people and a different group of stakeholders, and will still need appropriate support to make this transition as smooth as possible.
In 2011 we warned that excessive turnover of ministers could seriously undermine government effectiveness. Back then, David Cameron's prime ministerial style was still relatively unknown, although he had signalled his intent to maintain greater continuity than his immediate predecessors. The numbers show he has done this - more successfully in the Cabinet than among junior ministers.
Now, without the limitations of coalition, the Prime Minister is freer to move his ministers (or not). But external events, including the forthcoming referendum on EU membership, may intrude to disrupt this group of ministers' considerable staying power.