This is my son Bly Rhunar Watson. We just celebrated his first birthday. He loves to climb the stairs, make motorboat noises, call his fur brothers 'doggle', listen to music, run and hide when you chase him, play with his friends at Sunday school and laugh when you tell him "no". Above all else, he's a happy, healthy little boy.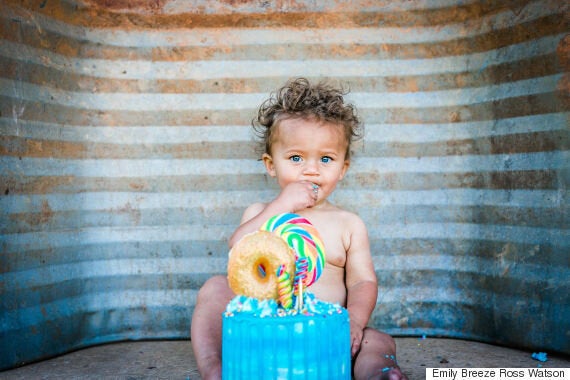 When I was pregnant with Bly, a lot of people told me he wouldn't be the healthy baby he is today. During my pregnancy, countless messages and comments flooded my Instagram and Facebook accounts on a daily basis. I had never met most of these people who told me I was hurting my baby and that I was already a careless mother.
Even as a child, I was always into something athletic. With tennis, yoga, basketball and running track, I was always active and competing. I played Division I basketball and ran track in college and started competing in CrossFit shortly after graduating.
When I found out I was pregnant, I wanted to continue my normal routine for as long as possible. Pregnancy can be a scary time because your body goes through so many new changes, so I knew it would help me mentally, physically and emotionally to continue training and keeping my life as normal as possible. I talked with my doctor and found out which movements were safe for me and my growing baby. Above all else, I listened to my body on a daily basis and adjusted my workouts accordingly.
I've always been pretty active on social media, so I continued posting photos and videos from training sessions. As my belly grew each week, these posts started getting more and more attention. Pretty soon, news stations and blogs from all over the world were talking about my workouts and everyone had an opinion. The majority of comments, direct messages and emails I received were positive - other moms encouraging me, people shocked and amazed at what I could do while pregnant and others just motivating me to keep sharing and break down the taboo surrounding fit pregnancies.
However, there was a fair share of haters as well. The nasty comments all came from behind screens, never to my face. They came from people who had never met me, didn't know my physical background and had certainly never talked with my doctor. I also found some men had crazy ideas about my pregnancy, especially since they had never been in my shoes.
As my story grew, I received so many comments and messages that I couldn't read them all. My friends would sometimes send me screenshots of terrible things people had said and we would talk about how crazy they were.
At first, the outlandish comments made me so angry and I was tempted to lash out and respond to these internet trolls. I would cry reading through the hateful messages and my husband Montell would get angry and want to protect me and support me by responding to them.
But we never did respond. We just talked it through together, and we could see the bigger picture. We knew this attention was providing me with a platform that was going to reach thousands all over the world - one where I could talk about health and fitness. We focused on fueling the positive side of the story instead of worrying about all the haters and doubters.
Staying active during my pregnancy was the right decision for me. Working out is my natural medicine. It's my stress reliever, it makes me happy, it's given me a community of friends, and being strong gives me confidence. I also believe working out helped me to have a very easy pregnancy as I never got sick and never felt the deep fatigue many women experience.
Today I love modeling healthy habits for Bly and incorporating him into my home workouts. He's just as healthy and active as me! He learned to walk at ten months, so we have so much fun together exploring new ways to stay active and toddling around the gym. He watches every move and often imitates movements he sees me do at the gym.
We post a Sunday babesesh workout video every weekend, and it's so cool to bond with him through exercise. He smiles ear to ear and giggles when I hold him as my weight and do squats or lunges! The awesome thing I've learned as a new mom is that you don't have to go to a gym to get a workout in. You can use items around your house or run with your babes to a park. I've learned to just get creative with my surroundings and simply find a way to move with Bly every single day.
My story goes to show that all pregnancies are different. I always say, "there is no prescription for pregnancy." We have to listen to our bodies and work with a doctor to stay smart and safe on an individual basis. All mumbods are different too, both during and after pregnancy.
We all gain different amounts of weight during our pregnancy, we all carry the baby differently. Before, during and after pregnancy just remember that each journey to motherhood is unique - so own your pregnancy story and don't let anyone that doesn't truly know you dictate it.
HuffPost UK Parents is running a week-long focus on 'Mumbod' to empower mums and mums-to-be to feel confident about their bodies pre- and post-baby. We are launching a section on the site that focuses on all aspects of mums' bodies and highlights the amazing things they are capable of. We'd also love to hear your stories. To blog for Mumbod, email ukblogteam@huffingtonpost.com. To keep up to date with features, blogs and videos on the topic, follow the hashtag #MyMumbod.