Next week sees a celebration of all things art in London as more than 50 galleries and three major auction houses take part in London Art Week.
But as any art fan knows, traipsing from gallery to gallery is no walk in the park, and it takes its toll on the legs, and stomach. So here's my pick of the best Gallery Restaurants in London where you can satisfy both eyes and appetite in one go.
Located just off the Kings Road, in the heart of Chelsea, Gallery Mess is adjoined to the world-renowned Saatchi Gallery, currently hosting the Rolling Stones' Exhibitionism. With a stunning terrace, bar and restaurant, Gallery Mess serves up the best Bottomless Brunch in town every Sunday, and a traditional Afternoon Tea daily. With modern art adorning the walls, the atmosphere is relaxed and laid-back. Most importantly, service is second-to-none.
The Wallace Collection in Marylebone is a national museum exhibiting French 18th-century paintings, furniture and porcelain in an historic London townhouse, and the restaurant is housed in the venue's stunning courtyard. Serving breakfast, lunch and afternoon tea daily, and a la carte beneath the stars on a Friday and Saturday night, this Peyton and Byrne French-style brasserie is making its mark on the art scene for all the right reasons.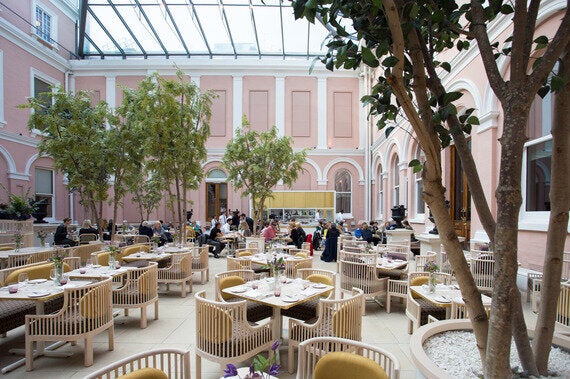 Enjoy impressive views over Trafalgar Square while indulging in the finest British regional produce crafted into exquisite modern dishes, representing Britain's abundant food treasures. The National Gallery's National Dining Rooms offers decadent surroundings for a leisurely lunch, surrounded by the world's most famous pieces of art, creating the ideal eatery to discuss your favourite pieces from the galleries below.
Nestled in the midst of the esteemed Royal Academy of Arts, the Garden at The Keeper's House provides a hidden sanctuary during the warmer months. Follow bespoke neon signs designed by Tracey Emin through an exclusive doorway neighbouring the entrance to discover The Garden. Offering seasonal and foraged dishes inspired by the lush garden's exotic palms and vibrant ferns, this intimate spot is the city's best kept alfresco secret to relax with a cocktail from the bar.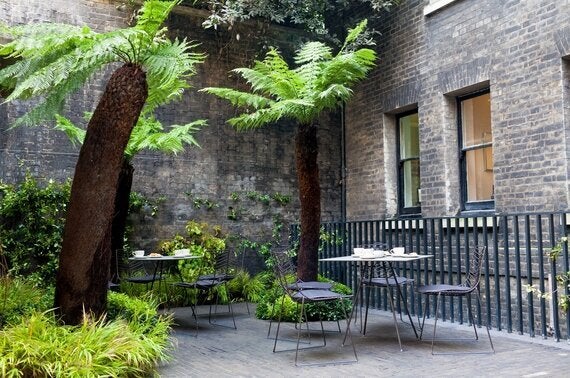 Tate Britain's in-house restaurant is renowned for its Rex Whistler mural - interestingly named The Expedition in Pursuit of Rare Meat - which was actually completed back in 1927 when the restaurant first opened. Offering historically-inspired menus, and open only for lunch (until 3pm) daily, the elegant eatery is also considered a well-kept secret among the capital's wine connoisseurs, thanks to an impressive wine list curated by Hamish Anderson. There's a huge choice by the glass too. The fantastic food from brunch to lunch is celebration of all things British.