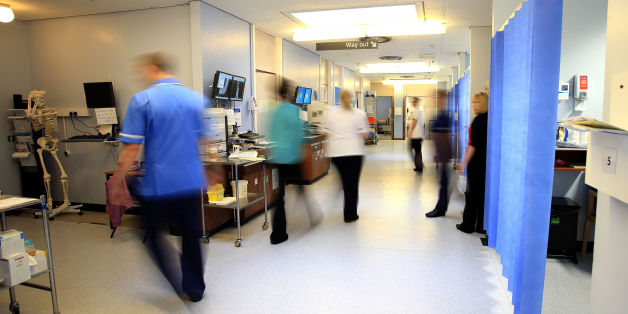 Peter Byrne/PA Wire
The Prime Minister and the Secretary of State for Health have both stated that children and young people's mental health is a top priority for this administration. The Coalition Government announced £1.4billion additional funding to improve care in the five years to 2020. So, what progress has been made so far?
NHS England recently published a 'Dashboard' with key indicators of performance on mental health across the country, broken down by region and by local NHS organisations (Clinical Commissioning Groups or CCGs). The Education Policy Institute has analysed this data in our new report, The performance of the NHS in England in transforming children's mental health services, published today. Our report found that nearly three quarters of CCGs have failed to meet the NHS benchmark for improving services. The benchmark, based on questions about funding, improvement plans and workforce, was a score of 83.3%. Over a third of local NHS organisations scored under 50%.
The Dashboard also measures progress on improving crisis care, such as the response to a young person arriving at an A&E department after a suicide attempt. Across England, less than a third of CCGs had a fully funded plan to improve crisis care. One in ten had no agreed plan or funding to improve crisis care. The Midlands and East of England region was the highest performing, with 4 in 10 fully compliant. This compared to only one in five for the North of England, the worst performing region on crisis care.
Another problem that has been identified is children under 18 being treated on adult wards. It is Government policy that this should not happen, and yet the Dashboard demonstrates that this is still a problem, particularly in the North of England. In total, 2,654 nights were spent by a child under 18 on an adult ward between July and September 2016. This represents an increase of over a third in just three months. The problem of children being treated on adult wards is particularly prevalent in the North of England. This region accounts for 45 of the 90 young people under 18 staying on adult wards with a total of 1,235 nights spent by children on adult wards. This compares to a total of 10 young people and a total of 150 nights in London. This could indicate problems with the spread of inpatient service provision across the country.
Lastly, the Dashboard highlights a postcode lottery in funding for mental health. Our analysis found wide variation in planned spending per head on children and young people's mental health services. CCGs in the top quarter spend over £52 per capita, those in the bottom quarter spend £23 or less per head.
What does all this mean for the NHS? Firstly this is a step forward in improving transparency in a system which has for too long allowed unacceptable variation due to a lack of clear data on what is going on. Even more importantly, it demonstrates just how far there is to go until there is true equality for mental health in the NHS. The Government has pledged additional investment. For that to make a difference there needs to be a sustained focus on ensuring that funding reaches the frontline and is accompanied by clear plans to improve services at every level of the NHS and in every area.
Emily Frith is the director of mental health at the Education Policy Institute