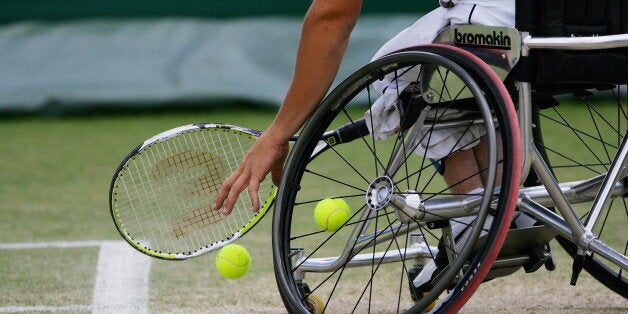 Over the last few days, I have been dissuaded from ever taking heroin, I have witnessed the pitfalls of dating a celebrity and been even more in awe of the dedication of our emergency services staff, all from the comfort of my own sofa. As I leave for Rio tomorrow and watch Paralympic history being made both on screens and in person, it makes me wonder though why there is all this information available on TV and yet disability is something that still isn't represented enough.
As a disabled person, watching disability equal education, interest and greatness continues to bring me great joy. I suddenly feel a sense of familiarity, and cheers come out of me that don't seem to exist for any other sport or event. What's even more amazing, is that for non-disabled viewers, the power that the Paralympics has in changing the perception of disability must be truly unique in itself. Part of me thinks that deserves another cheer, and the other part is saddened by the fact that the changing of perceptions is still something that desperately needs to happen for us all.
I had a stint of playing wheelchair basketball in my teens. My dad and granddad set up a club in Leeds, and I've played with Sophie Carrigill, Harry Brown and Hannah Cockroft - names that if you don't know already, you certainly will in a few weeks. But, it wasn't my thing, and though I benefitted from the fitness and social aspects, I went off to University and became more interested in travel and getting into the world of TV.
I now travel, write and do a bit of presenting, but I fail to see the same 'buzz' surrounding other areas of disability representation that crowds the Paralympics. There are extremes that exist, but 'normalised' representation of those with disabilities still seems to be pretty far behind, and it's concerning that real understanding and acceptance of disability is unlikely to happen without it.
Watching the new Maltesers adverts that launched during the Paralympics on Channel 4 has made me realise just how important, but also how easy, this normalised representation is to achieve. In three 20 second adverts, those with disabilities are seen as sexually active, attractive and popular, but most of all as people having a laugh with their friends and colleagues when telling awkward, brilliant and hilarious stories that many of us can relate to. Their disabilities are a part of these tales, and often help to deliver the 'punchline', but they are ultimately stories of dating and nights out that are relatable, with or without an impairment.
Showing that disability can be fun and lighthearted, as well as serious, passionate and competitive, as is the Paralympic Games, is a great achievement and something that is going to 'ramp up' the much needed challenge to society's views of disability even further.
It's a real achievement if those of us with disabilities confidently aspire to be basketball stars, racers and swimmers. Let's also get us fighting to be drummers, mums, CEOs, and sexy, successful daters and partners.
Related