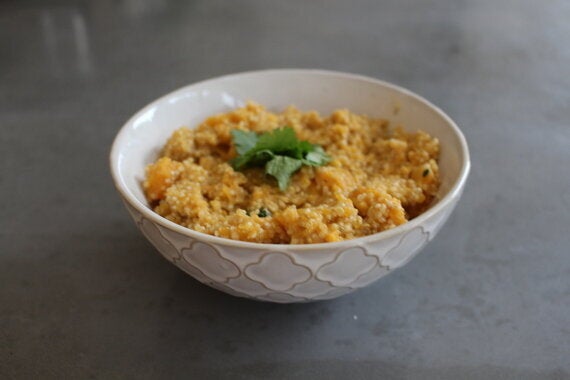 Risotto is one of those dishes I've always liked, but could never quite deal with how it made me feel after eating it. Arborio rice (the rice that is used in a typical risotto) is particularly starchy, so it can easily leave you feeling bloated and heavy, which is no fun! Pair that with a rich, creamy, cheesy sauce (as many risotto recipes do) and you've got yourself a recipe for feeling rubbish.
I'm a total quinoa addict, so it seemed only natural to sub it in and leave the arborio on the bench (well, on the supermarket shelf to be exact). Quinoa is everything arborio isn't - it's low GI, low in starch, low carb, high protein, high fibre, you get the picture. The only thing quinoa does have in common with its nutrient poor (very distant, probably by marriage and many times removed) relation is that they are both fabulous at soaking up all the lovely flavours in the risotto, which is just what is required of you if you're a grain coming to the risotto party.
Arborio's does have one good quality in that it is super creamy (I feel a bit bad after dissing it so much when it can't even defend itself), which isn't SO much the case with quinoa, as said creaminess is down to all that starch. But starch is for shirts, not for dinner, so I've used a splash of tahini to create that lovely creaminess in this dish.
Butternut squash is just so comforting and has such an incredible sweet flavour, as well as being packed with anti-oxidants and vitamin A (which is great for creating flawless skin and also for immune system and eye health). It also really adds to the creamy texture of this dish, as well as adding a hint of nuttiness - but I guess the clue is in the name hey! As autumn fast approaches (sob) I'm consoling myself in the fact that butternut and its other squashy friends are now piled high on the supermarket shelves - silver linings! This dish is just so nourishing and filling, and sans stodge - it's well worth a try, even if I do say so myself!
1 butternut squash
2 cups uncooked quinoa
2 tbsp nutritional yeast
1 tbsp cumin
1 tbsp tahini
4 tbsp ground almonds
A handful of coriander, chopped
1 clove garlic, chopped
1 tbsp olive oil
Chop the butternut squash into cubes and boil in a saucepan until soft. Drain off the water and in a bowl roughly mash until it becomes a chunky purée.
Boil the quinoa in a saucepan for 10 minutes. While this is cooking, fry the garlic and spices in the olive oil, then add in the butternut mash. Once the quinoa has cooked, drain it and add it in, along with the tahini, nutritional yeast and ground almonds.
Once all the ingredients are stirred in, simmer on a low heat for around 10 minutes, then grab a bowl and dig in! I hope you love it!