It's pretty fair to say that YouTube is one of the world's main sources of internetainment. (That's entertainment on the internet for the less lexically aware.) With more than one billion unique users worldwide scrolling through its pages each month, it's no new news that this humble video platform has taken the world by storm. With around 300 hours of recordings being uploaded to its pages every minute, it's sometimes hard to find talented YouTubers that you're not already subscribed to.
Let me help you with that.
Within the deepest recesses of YouTube there lies a glimmer of excitement and hope. Beyond the plethora of cat videos, pre-teens talking about themselves and where subjects like #whatieatwednesday are actually a thing; there exists a lesser-known, yet thoroughly more entertaining breed of online entertainer. With their upbeat rhythms, colourful outfits and adorable vibe, these all-singing, all-dancing, alpaca loving performers are quickly gaining notoriety; not least because they take a great deal of inspiration from East Asian pop culture.
In 2010 the BBC filmed a documentary about one such internet queen. Rebecca Flint, under the stage name Beckii Cruel, rose to internet stardom and beyond at the tender age of fourteen by uploading herself dancing to a popular Japanese internet meme called The Danjo. Like a real life Hannah Montana Rebecca transformed from an average schoolgirl on the Isle of Man into an internet sensation, and all from the comfort of her own bedroom. She wasn't one-of-a-kind though. Up and down the British Isles a number of Japanese and Korean inspired people were emerging and sharing their performances online.
Fast forward five years and today you can see a number of mainly young women and girls (many donning traditional Japanese schoolgirl uniform) take to YouTube and share their East Asian inspired music, sketches, fashion, and performances. Some bigger names include Venus Angelic, Xiaorishu, and WhiteEnglishGirl.
By far one of the biggest YouTubers in this area is Kelsey Ellison from Barnsley, UK. Since her online debut in 2010 she has amassed over seven million views on her YouTube channel KimonoTime.
Her almost- weekly video uploads reflect just what you'd expect from someone inspired by South East Asian culture. Her music, vlogs and dance covers incorporate typical elements of Geinōkai, or Japanese entertainment. They entice the viewer with an energetic spectacle of bright and vibrant colours, upbeat music and adorable attire.
It's clear that Kelsey is both a born performer and a dab hand when it comes to editing, but it's not all plain sailing. In an interview with her, Kelsey said that "A cover video can take about three days to make".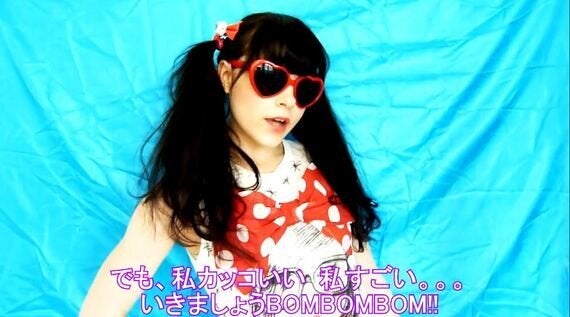 All of her hard work and effort seems to be paying off, and not just in terms of "Likes" and page hits. What started as a "fun hobby" for Kelsey has gone way beyond internet obscurity. As well as making regular guest appearances on the UK convention circuit, "I'm usually going to conventions all year round", Kelsey is now signed to the record label UKG Music. "At UKG I can make my own music. I am inspired by J-pop and K-pop, and I also like to add in UK influences. It's a dream of mine. I enjoy making music as much as my videos." She has also recently made it on TV and radio.
Although popular in Korea and Japan, Kelsey's viewers are in fact "mainly teenage girls in the UK and USA". It's not hard to see why either. Her inspired elements of Japanese and Korean TV, music, food and style create an exotic spectacle to behold. Her bold and unique style in particular seem to pique her viewer's interests. "You don't see the fashion I wear every day."
Her fan base is certainly very loyal too, as like any person of online notoriety Kelsey is not without her haters and trolls. "I have a lot of really nice viewers who jump to my defence before I have the chance to say anything!"
East Asian Pop Culture is not only inspiring a new generation of YouTube entertainers. Kelsey's unique take on what she loves also inspires her viewers. "I hope I am a positive role model. I always want to express to young people to do what you love and enjoy it. Be yourself, and be as positive as possible."
Kelsey's kind and optimistic attitude makes me feel grateful that her videos attract a younger audience. She certainly is a great role model for her viewers, whom she herself is humbled by. "When I first started I didn't expect people to be interested in what I do. Thank you to everyone who watches my videos!"
Next time you're on YouTube, check out this internet sensation. Scroll though some of the related videos too. East Asian pop culture is inspiring this tribe of YouTubers and their fans. I can guarantee that Kelsey and her online counterparts will keep you entertained until four in the morning.
Kelsey's Debut Single, Pom Pom is out now and available on Itunes.