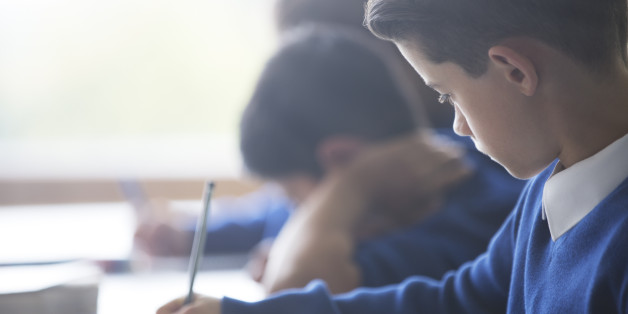 Caiaimage/Sam Edwards via Getty Images
A damning report published today by the Children's Commissioner for England reveals millions of children in England are living vulnerable or high risk lives.
Whilst the report provides us with new analysis confirming the immense scale of the problem, it confirms what we already know - that the Government are systematically failing our youngest, most vulnerable members of society.
The report finds over half a million children are so vulnerable that the state has to step in, whilst 670,000 children in England are growing up in 'high risk' family situations; that 1000s of children are living with adults in treatment for drink or drugs; that over 800,000 children are suffering from mental health difficulties; that tens of thousands of children are involved with gangs; that there are over a thousand new child victims of slavery each year and that many more children are living under the radar and are simply not being seen.
Shocking though this data is, it should not come as a surprise to anyone doing their job properly in Government.
Evidence of Government failure and inaction on these issues has been emphasised in several reports over the years.
An NAO report into Children in Need of Help or Protection, published in October last year revealed a systemic failure in children's care services, rather than local failure. It deemed child protection services to be 'unsatisfactory and inconsistent', and indicated Government initiatives and reforms have resulted in no good outcomes for children in need. Unsurprising, given that local authority budgets have been slashed across the board despite a sharp increase in demand for help or protection.
The UN Convention Rights of the Child (UNCRC) issued a horrifying review in June last year accusing the UK Government of failing in its responsibility to prioritise children. The Committee provided over 150 recommendations to the UK Government to 'introduce a statutory obligation' in considering children's needs, including getting to grips with children's mental health services; taking measures to provide stability for children in care; and reviewing asylum policy to help unaccompanied and separated children.
The Government then reneged on their promise to bring in 3000 unaccompanied Child refugees, abandoning the Labour led Dubs scheme after admitting only 350.
Action for Children, Barnardo's, The Children's Society and others echoed concerns that children are too often bearing the brunt of spending cuts and decisions are being taken without due consideration of the consequential effects on children.
Government attempts to address issues have been shambolic and ill-thought through. The Troubled Families agenda launched by David Cameron in 2011 with the stated aim of helping troubled families turn their lives around was actually an explicit attempt to reduce the high costs struggling families placed on the public sector.
In 2012, Louise Casey, the 'Troubled Families Tsar' said: "We are not running some cuddly social workers programme...we should be talking about things like shame and guilt...we have lost the ability to be judgmental because we worry about being seen as nasty to poor people."
In the same year, Eric Pickles, then Secretary of State for Communities and Local Government, said "we have sometimes run away from categorising, stigmatising, laying blame. We need a less understanding approach."
Costing over a billion pounds, the four-year scheme went way over budget and proved to be an unmitigated failure.
An Independent evaluation showed 'improvements in safeguarding, school attendance, employment or health among participating families were, on average, no better' than those seen in similar families who didn't partake in the programme. It was deemed to have made 'little impact' to the lives of vulnerable children and families.
This Children's Commissioner report shows that the Government's failure to tackle these issues then, and now is a problem which is escalating dramatically under their watch. Tory austerity measures have exacerbated this problem, and failures in public policy from public sector pay, to public services and public health are now coming back to haunt them.
As the report claims, these findings are merely the tip of the iceberg. It is a manifestation of Government neglect. What we are left with is a never-ending, exhaustive list of internal and external reports, APPG findings, charity analysis and evidence signalling the Government's role in neglecting its basic duty of care to our children. All the while, the Government refuse to measure the true scale of the problem, a first step in tackling the issue at hand.
What this report shows is the detrimental effects of woeful policy beginning to take its toll on vulnerable children. The reality of cuts to early intervention, closure of Sure Start centres and diminishing local service budgets are clear. The Government have no cohesive approach or agenda to tackle their shameful record, preferring to bury their head in the sand whilst the most vulnerable suffer.