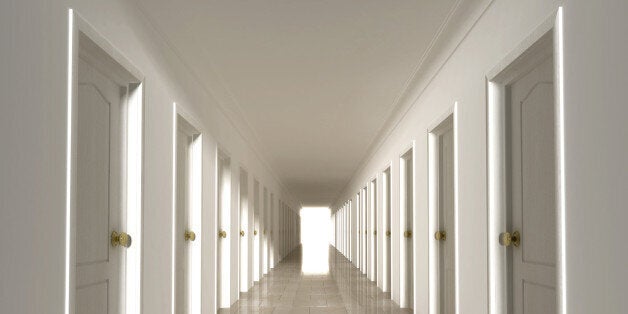 It was a pivotal moment in my life and now, 20 years later, I can see how it has helped shape who I am and give me courage.
It's not something I expected to happen of course - to open my hotel door, have a gun stuck in the centre of my chest and be pushed to the floor as a stranger forced his way into my hotel room. But it happened.
Once the door closed I was trapped. Once the gun was held over me I was trapped. Whether I lived or died was entirely in someone else's hands.
It was particularly unexpected because, at the time, I was a successful financial analyst living in Hong Kong with a work-hard-party-hard outlook and a fine set of high heels.
To be on my knees, begging to live in a swish hotel on a business trip was hard to take in. The physical vulnerability I felt was enormous. The fear made me cold. I knew I was scared of dying and I felt a kind of frustration that what I had truly wanted from my life had not happened yet. I was 31, I had never really loved someone, I hadn't had a child or said sorry for the mistakes I had made. Now, it seemed, I would never get the chance.
Two decades later and I am an ordained Buddhist nun. I have taken life vows and founded a charity to help children in Bhutan. I never married but I did have a child before I became a nun. The practices of prayer, meditation and compassion may appear to be far away from that moment in the hotel room. Yet they really are not.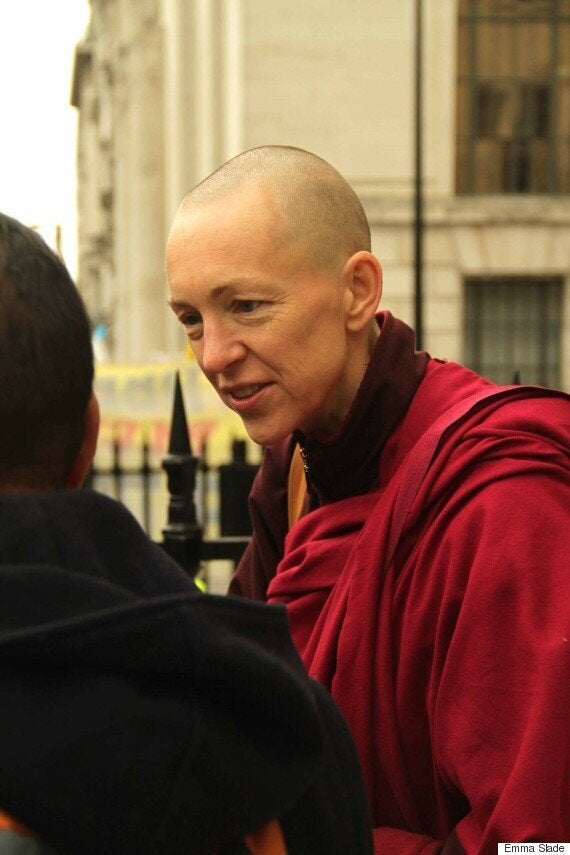 The fear of dying gave me a deep sense of how precious my life is and of how much I did not want to waste it. This feeling began to slowly seep into my life and led to my decision to leave the City and begin a long quest to feel clearer about the meaning and potential of my own human life.
The part that surprised me most was the deep sorrow I felt after being held hostage. My assailant had been looking for money; something I had at that point. He must have been desperate for it. In the end I escaped and he was put in an Indonesian jail. To feel such sorrow afterwards, no anger just sorrow, was a great surprise to me and is something I have tried to understand in greater depth since then.
In the short term following the event, I went on to develop severe post traumatic stress disorder. Within this, there is no separation between the experience of past and present and the body and mind are trapped in constant reactive impulses of the fight and flight response. Racing heartbeat, sounds, smells, sweats; physical responses which confuse the mind and make the present run over and over like my feet on a gym treadmill. Thud, thud, thud.
It took time to recover from the PTSD; far longer than I had been held in the room for. This also gave me some insight into this condition and the suffering which it creates.
In Buddhist texts it is argued that we are all trapped; trapped by our repeating mental habits of desire and anxiety. The metaphor often used to describe this condition is of a honey bee circling continually in a glass jar. In fact, the lid of the jar is open but all the delicious honey in the jar keeps us circling, looking and wanting and, so, we never look up and see the path to freedom is already there. Waiting for us.
All we have to do is have the courage to jump and find it.
Emma Slade is an ordained Buddhist nun, yoga and meditation teacher, and author of Set Free: A Life Changing Journey from Banking to Buddhism in Bhutan out on 10 April 2017.
Life Less Ordinary is a weekly blog series from The Huffington Post UK that showcases weird and wonderful life experiences. If you've got something extraordinary to share please email ukblogteam@huffingtonpost.com with LLO in the subject line.