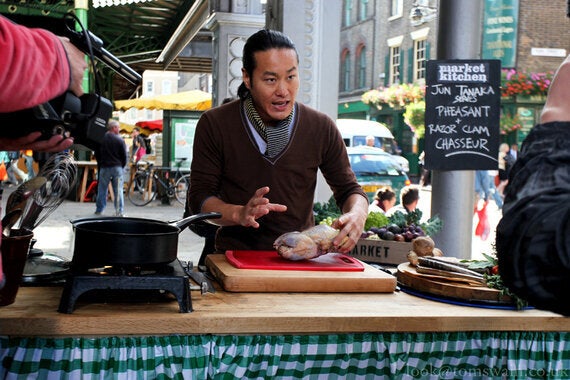 The average home cook is frightened of Japanese food.
Eating it, yes. Pulling up a stool in front of a slow moving whirlpool of conveyor belt sushi or perching next to the open inferno of a Teppanyaki joint while the chef expertly flicks rice towards the ceiling and makes a squid ring volcano explode, yes, of course. But actually cooking the stuff? That's where most people leave it to the chefs wielding the meat cleavers, bamboo rolling mats and chopsticks.
It isn't too difficult to see how Japanese food got its complicated label and it seems to go deeper than just the feng shui balancing act of flavours in the cuisine. Every tourist in Japan will notice that the traditional restaurants aren't particularly big on variety. In fact, you're far more likely to find Michelin-starred restaurants that specialise in one singular dish - like udon noodles or tempura vegetables - where the chefs work to elevate that dish to ultimate levels of exquisite faultlessness that you simply wouldn't get in a multi-focus establishment. There are London equivalents, like Tramshed with chicken or Hawksmoor and steak, but never to the same degree of narrow, immaculate focus.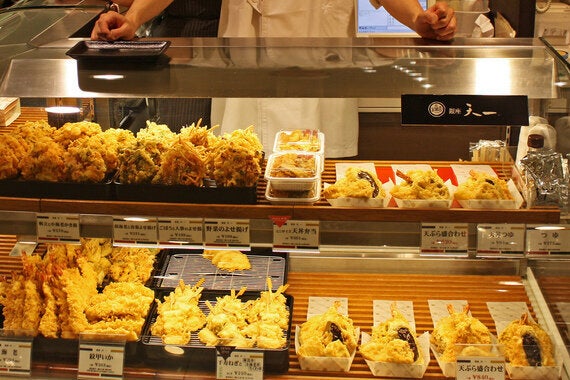 This lack of single focus restaurants puzzles Jun Tanaka, an American-born, British Japanese chef who has featured on just about every cooking television programme going and who, despite starting his career as an apprentice under the incomparable Roux Brothers at Le Gavroche, has stayed firmly anchored to his Japanese food roots.
At a Sainsbury's master class last week, in between dropping shitake mushrooms into sizzling oil and chopping scarlet chillies in a blur of Japanese steel, Tanaka half confirmed the opening of his latest venture, a French, Mediterranean restaurant in London this year.
As the acrid smell of fish sauce slowly filled the room like a rotten mushroom cloud, I was transported back to Tokyo and the cavernous warehouse of the Tsukiji Fish Market. I could practically feel the wet, icy slosh of fishy water as it soaked through my impractical ballet pumps, hear the greasy roar of the chainsaws as they sliced through the silvery, Moby Dick-sized torsos of giant tuna and feel the frigid air against my skin. Everywhere you looked in the market there was a crate of something familiar next to something unrecognisably bizarre: mussels as big as my forearm, burnished octopus tentacles knotted around fat white scallops, spikey urchins, pots of what can only be described as gloop and tiny brown shells filled with something unidentifiable.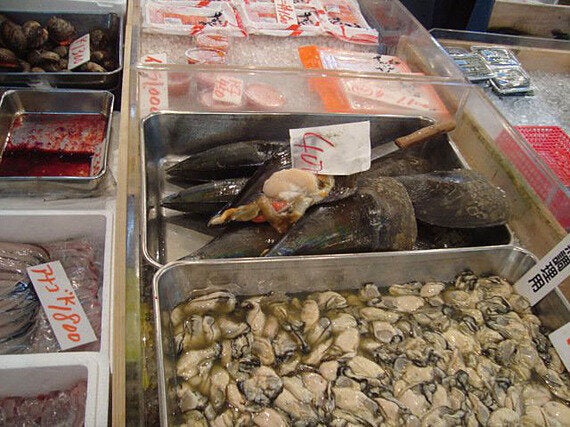 Image: Tsujiki Fish Market/Emma Sleight
A limited number of tourists are admitted in the early morning to the hallowed inner hall of fish auctions - where you can gape at fish heads the size of dogs and watch giant haunches of tuna go for eye-watering amounts of Yen - before being turfed back into the melee of hagglers and fisherman and left ducking and diving amid the flying ice, speeding trucks and dungaree-clad, machete-waving workers.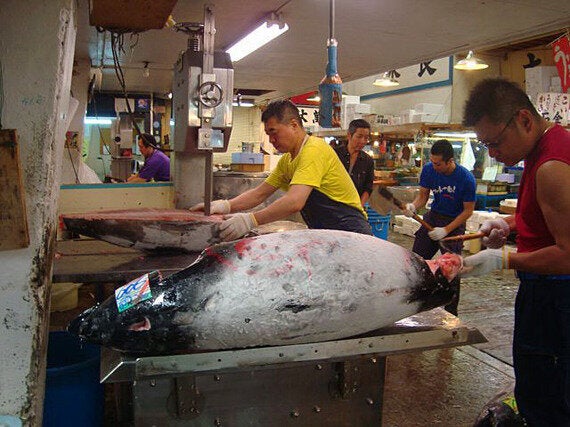 Image: Tsujiki Fish Market/Emma Sleight
Outside the warehouse there's the jōgai-shijō outer marker, a mix of shops and eateries selling kitchen tools, restaurant supplies and, of course, the world's freshest, simplest and most delicious sushi and seafood, and that was exactly what came to mind when I sampled Tanaka's bowls of spicy, sour sea bass soup, umami lamb and buttery fleshed salmon with delicately pickled cucumber.
Alongside his obvious French flavours, Tanaka grew up on a diet of simple Japanese cooking and firmly believes that, with the right ingredients and some very fresh fish, anyone can cook up a Japanese feast in minutes.
Don't use a whisk when making tempura batter as the overworking makes the flour become glutinous, resulting in a heavy batter. Use chopsticks instead and remember that lumps are ok.
Try using lager like Japanese Asahi in your batter instead of sparkling water for a fuller flavour and super crispy crust.
Add umami, the fifth flavour, to dishes like beef stew with a few slices of anchovy.
The next time you make mayonnaise, substitute the Dijon mustard for a blob of wasabi paste for a peppery, spicy flavour.
Swap mustard for tamarind paste in your salad dressings for a sharp, sour and fruity note or use it to marinade meats as it's a natural tenderiser.
Tanaka shared some quick, easy, healthy recipes that took him about ten minutes to knock up, making them perfect for speedy suppers or to pull out at a last minute dinner party. All recipes serve four people comfortably.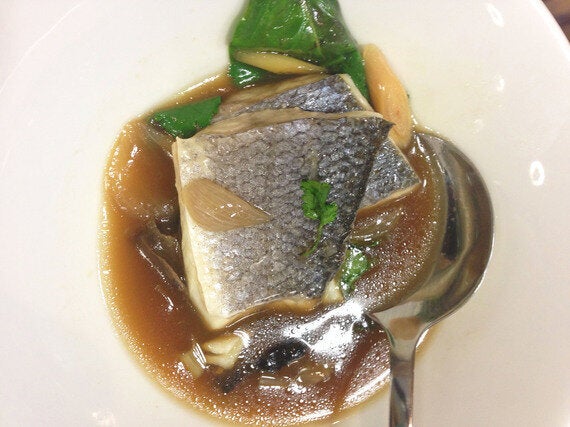 Tom Yum Pla (Hot and Sour Seabass Soup)
800ml fresh Chicken Stock
1 tbsp Sainsbury's Galangal
20g Sainsbury's Dried Shitake, Oyster and Portobello Mushrooms
1 tbsp Sainsbury's Tamarind Paste
15g Sainsbury's Palm sugar
3 Shallots (Peeled and sliced into quarters)
2 Thai Chilies (cut into pieces)
2 Stalks of Lemon Grass (cut into pieces)
4 Sea Bass Fillets (Each piece cut into 4)
Soak the dried mushrooms in hot water for 30mins
Pour a little vegetable oil into a saucepan and fry the shallots for 2 mins until golden. Pour in the chicken stock and bring to a simmer.
Add the galangal, mushrooms, palm sugar, Tamarind, fish sauce, chilies, garlic and lemon grass. Simmer for 10mins
Add the juice from 2 limes and the sea bass. Cook for 4 mins then add the basil and coriander
Serve immediately in soup bowls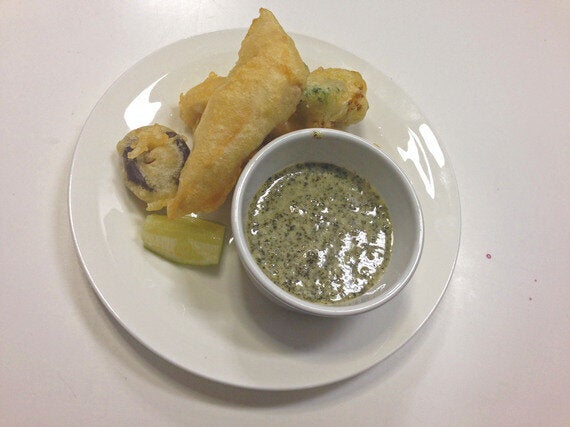 Tempura of Sea Bream, Shitake and Broccoli with Seaweed Mayonnaise
4 Sea Bream Fillets (Skinned and each fillet cut into 3)
25g Sainsbury's Dried Shitake Mushroom
½ Broccoli (Broken into florets)
128g by Sainsbury's Tempura Batter
25ml by Sainsbury's Rice Vinegar
Soak the shitake mushrooms in hot water for 30mins
To make the mayonnaise, place the wasabi paste, egg yolks in a bowl and slowly whisk in the vegetable oil. When it starts to thicken, add the rice vinegar and season with salt
Blitz the Nori until it becomes a powder and add to the mayonnaise. Add 25ml of water from the shitake mushrooms
Pre heat a fryer to 180C. Place the tempura mix in a bowl and add the beer and whisk until smooth
Drain the shitake mushroom and dry with kitchen paper. Dip the broccoli, sea bream and mushroom in the batter and deep fry until crisp. Drain on kitchen paper
Serve immediately with the seaweed mayonnaise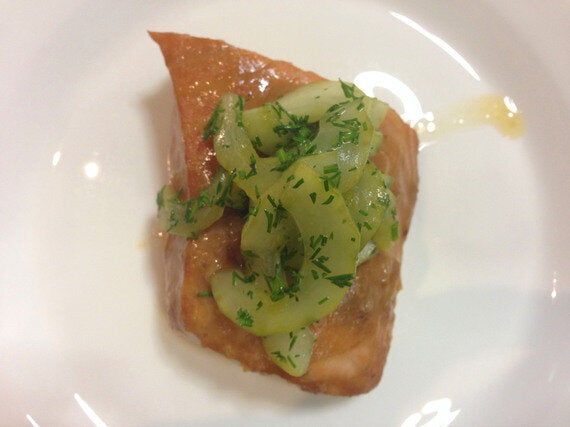 Miso Marinated Salmon with Pickled Cucumber
100g Sainsbury's Miso Paste
2 tbsp Sainsbury's Light Soya Sauce
½ Cucumber (peeled, deseeded and cut into half moon pieces)
150ml Sainsbury's Rice Vinegar
I small piece Ginger (Chopped)
Mix the miso paste, sugar, Mirin and soya sauce in a small bowl.
Place the salmon fillets on a plate and coat in the marinade. Cover with cling film and leave for 1 hour or overnight
To pickle the cucumber, place the vinegar, sugar, chili and ginger in a pan and bring to the boil. Take off the heat and add the sliced cucumber. Cover and leave in the fridge overnight
Pre heat the oven to 200C, place the salmon on a baking tray and cook for 5-7 mins. Take the cucumber out of the pickle, and mix with the chopped dill
Serve the salmon with the pickled cucumber and steamed rice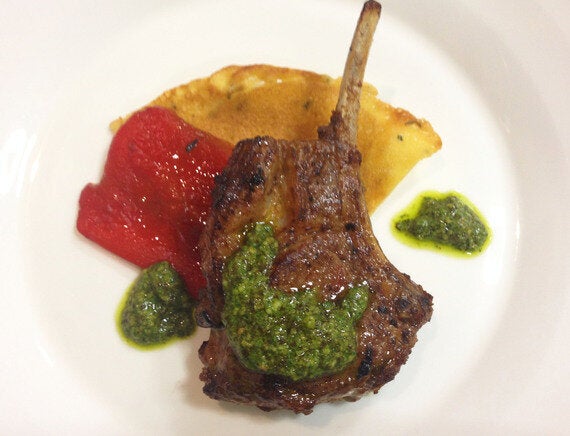 Marinated Rack of Lamb, Red Peppers, Chickpea Pancakes and Thai Basil Pesto
800g Lamb Rack (Trimmed and cut into single bone portions)
100g Natural Greek Yoghurt
1 x Sainsbury's Umami Paste
4 Red Peppers (Cut in half and deseeded)
Taste the Difference Aged Balsamic vinegar
100g Sainsbury's Gram flour
Thai Basil Pesto Ingredients
1 x Sainsbury's Thai Basil Paste
100ml Extra Virgin Olive Oil
Mix all the Umami paste and Greek yoghurt in a small bowl and season. Coat the lamb in the marinade and leave overnight in the fridge
Place the peppers in a baking tray skin side down, add the sliced garlic, thyme, season and drizzle with olive oil. Cook in the oven at 225C for 10 mins.
Flip over the peppers and cook for a further 10 mins. Add a splash of balsamic vinegar, then add the peppers into a clean bowl and cling film
To make the pesto, place all the ingredients into a blender and blitz
To make the chickpea pancakes, place the gram flour in a bowl with the chopped rosemary. Pour in the water, olive oil and whisk until smooth. Season with salt and pepper.
To cook, pour a drizzle of olive oil into a non-stick frying pan, add a ladle of the mix or just enough to cover the base of the pan. Cook for 2 mins, flip over and cook for a further 2 mins. Take out and keep warm
Remove the skin of the peppers using a small knife
Wipe the marinade off the lamb with kitchen paper and season.
Pour a little olive oil into a frying pan, add the lamb and cook on a high heat for 2 mins or until golden brown, flip over and place in the oven for 3-4 mins. Take out of the oven, remove the lamb from the pan and leave to rest for 2 mins
To serve, cut the pancakes in quarters, place on a plate with the roast peppers, lamb rack and a spoon of pesto on top