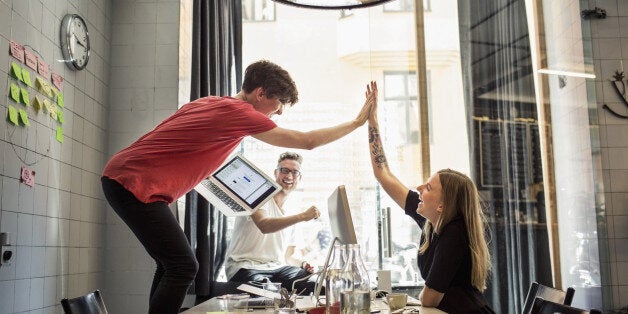 Since I met Adriana - inventor and co-founder - and we decided to build a team and develop her crazy idea of turning orange peels into a sustainable and silky textile for fashion, almost four years have passed. We have spent it following our dream and facing challenges such as R&D, patenting the innovation, fundraising, networking and creating prototypes.
This meant that our sustainable textile - which is derived from citrus-juice by-products, that is to say everything left after the juice is made - was selected by an international expert jury from more than 2,700 innovators from 112 different countries.
As one of the five winners we were awarded a grant of €150,000 (from a total grant of €1 million) to help develop our innovation. We were also entered into a one year Innovation Accelerator program provided by the H&M Foundation in collaboration with the Stockholm based KTH Royal Institute of Technology and Accenture.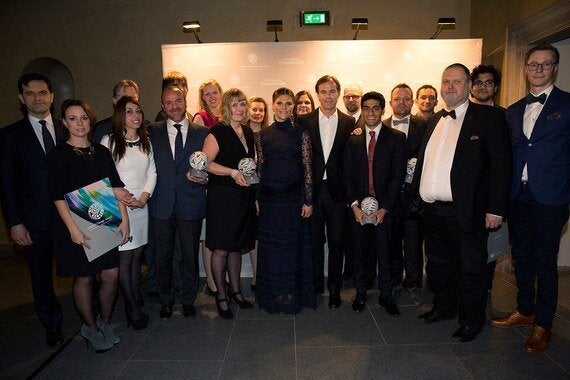 The Global Change Award - the annual innovation challenge initiated in 2015 by the non-profit H&M Foundation - takes on one of the biggest challenges facing today's fashion industry, which is to create fashion for a growing population while reducing its impact on the environment. By catalysing early innovations that can accelerate the shift from a linear to a circular fashion industry, it aims to ensure our living conditions by protecting the planet.
Since receiving the award from HRH Crown Princess Victoria of Sweden at the famous Golden Hall in Stockholm City Hall last April, the development of 100 Percent Citrus and the other 2015 Global Change Award winners innovations, has moved rapidly.
The first part of the program was an intense boot camp week in Stockholm at KTH Campus in February. The aim of the boot camp was to outline the stages of the development of our innovation from the initial stage through to the final goal.
During this period, all the Global Change Award winners and the technological readiness of our idea's, were challenged by KTH Innovation through practical workshops which taught us how to pitch our product, IPR protection and innovation development.
Below you can see me, Francesco - one of our business partner, Maria Elena - our social media specialist, and Adriana - inventor and co-founder, struggling during one of these workshops!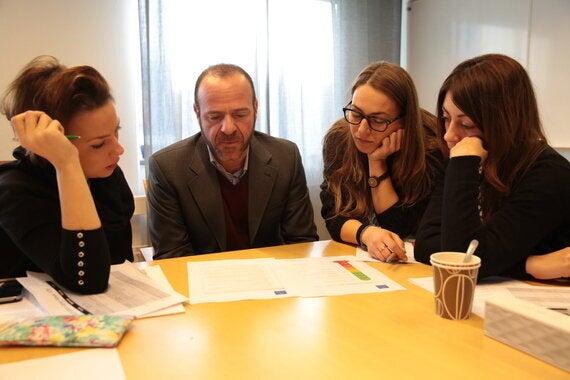 This was followed by a study week in Shanghai in April that offered us exclusive industry insight, opportunities to network and a deep knowledge of circularity and fashion's value chain. In July we were then coached via virtual and classroom training sessions led by experts from Accenture Strategy to help us tweak and fine-tune our business models
In the last 7 months, we have learnt a huge amount about the impact of sustainable processes throughout the value chain and we have had the unique chance to further connect the dots in the fashion industry and start building a network with key people within fashion production, sales, materials, innovation and sustainability.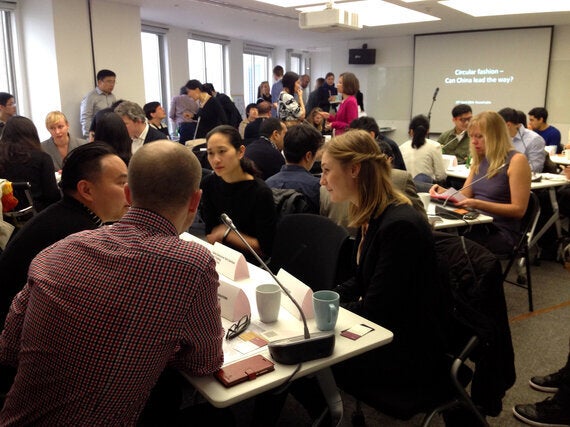 We are currently still working through the Innovation Accelerator program and the next meeting will be in Milan in October. The goals that we want to reach by the end of the program (i.e before the end of 2016) are: to enter the market in partnership with a fashion brand and to move forward in the pilot testing of our product and find an industrial and financial partner in order to scale up our production as soon as possible.
If you are curious about our job, meet our 100 percent citrus textile in this exclusive video to present ourself!
Since we strongly believe that "the future is not a place we're going to, but a place we create" and that reinventing the fashion Industry is a big challenge and everyone has to do his/her part, don't miss the opportunity to contribute to reinvent fashion applying to Global Change Award 2016 - open for applications until October 31.
Read more at www.globalchangeaward.com or this booklet and follow our journey through sustainability on Twitter!
This September The Huffington Post UK Style is focusing on all things sustainable, for the second year running. Our thirst for fast fashion is dramatically impacting the environment and the lives of thousands of workers in a negative way. Our aim is to raise awareness of this zeitgeist issue and champion brands and people working to make the fashion industry a more ethical place.
We'll be sharing stories and blogs with the hashtag #SustainableFashion and we'd like you to do the same. If you'd like to use our blogging platform to share your story, email ukblogteam@huffingtonpost.com