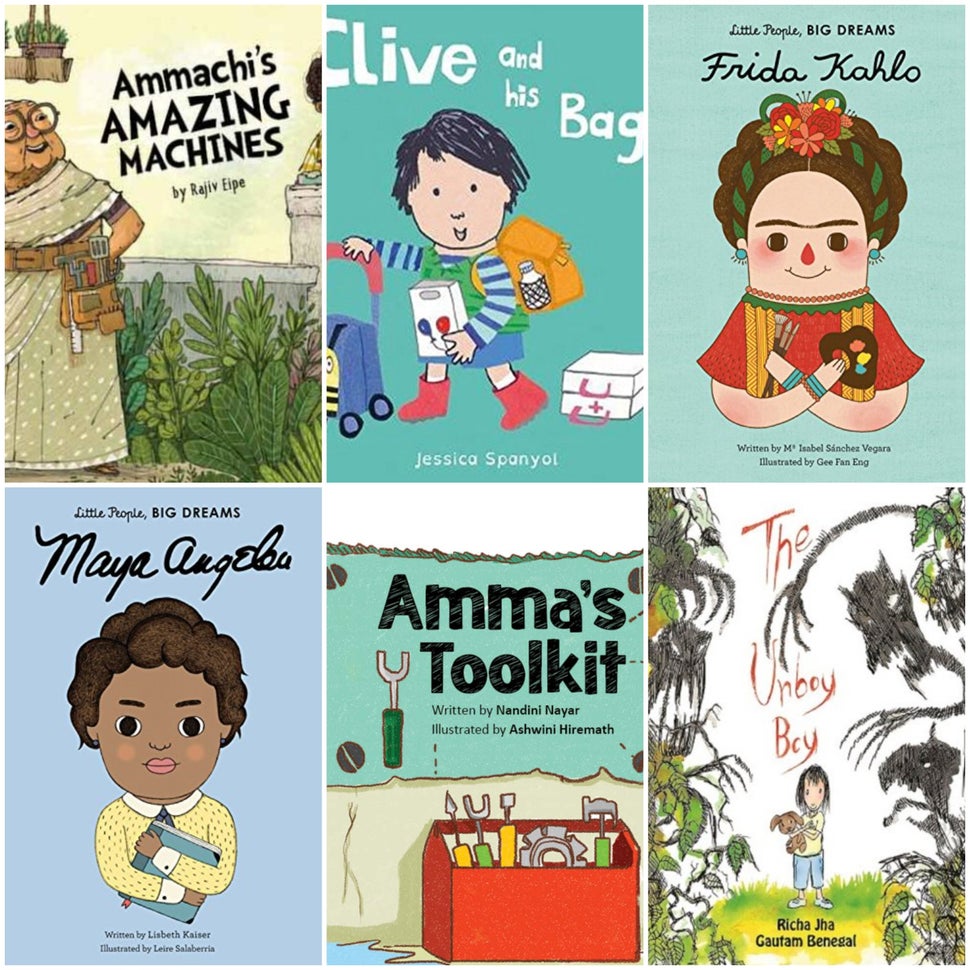 How do you begin to explain the concept of gender equality, feminism and inclusivity to your child in a world where it's imperative to raise strong women and sensitive men? The simple answer is: books.
There has been a heartwarming rise in books for children that celebrate gender equality, especially for girls. From Goodnight Stories for Rebel Girls to Chelsea Clinton's She Persisted, there are a number of books to educate and empower girls. When I began reading to my son when he was two months old, I wanted to find the feminist books that speak directly to boys.
For him, I wanted to find books on diversity for a boy with mixed race heritage, and those that gave a voice to those less heard and sometimes silenced.
I started to build a mini-library for him with books aimed at him and his multicultural background. The books on those shelves, I hope, will help him see the world beyond his own even as it reflects the one he inhabits. Bringing up a feminist son is as important as raising a feminist daughter so I looked for books that challenge gender stereotypes, especially those around sensitive boys.
Here is a list of children's books that are as engaging as they are enlightening. They feature a boy who loves bags, a girl and her impressive collection of balls, fathers who cook and grandmothers who tinker with machines. A reading list for budding readers and future feminists.
1. Clive and his Bags (All about Clive series) - Jessica Spanyol
A simple story about a boy and his many useful bags, this board book is one of a four-part series that challenges gender stereotypes. Clive shares his collection of different toys, including dolls and nursing equipment, with his friends. It's gentle and affectionate in its portrayal of Clive and celebrates diversity in its many forms. The other books in this series see Clive play dress-up with his hats, spend some quiet time with his art books, and take care of his babies. A book that deserves a spot on your toddler's bookshelves.
2. Rosa Plays Ball (All about Rosa) - Jessica Spanyol
My 20-month old, like many children his age, loves playing with balls. So this book spoke to him at a very basic level. Much like All about Clive, this board book is subtle in its gender assumptions and is about a girl who loves to play football, basketball and baseball with her friends (with a four-legged friend joining in). It's a great way to not only be introduced to different sports but also to understand the bond between humans and animals. The other three books in the series have Rosa playing with her dinosaurs, car and scooter.
3. Ammachi's Amazing Machines - Rajiv Eipe
A favourite bedtime read, this short story featuring a super active grandmother and her equally enthusiastic grandson is heavy on giggles and will instantly melt your heart. Published by Pratham books, it's part of their STEM books collection and introduces young readers to the concept of simple machines. With minimal wording and expressive graphics, it can be read out loud in many ways, not to mention the exposure it gives young girls to STEM learning.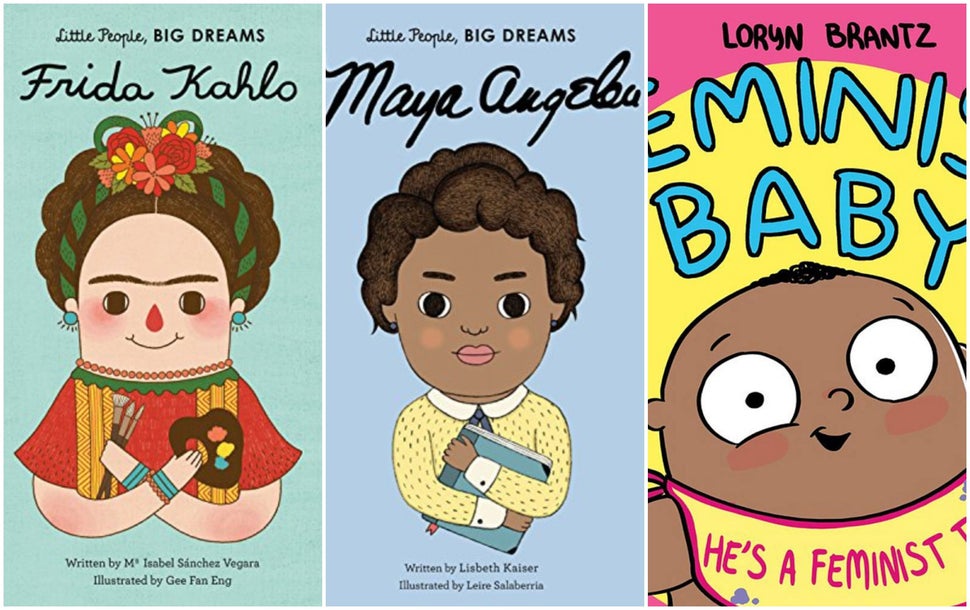 4. Frida Kahlo & Maya Angelou (Little People, Big Dreams) - Maria Isabel Sanchez Vegara & Lisbeth Kaiser
Bright illustrations, short sentences and simple language make the Little People, Big Dreams series a hit with young readers. I chose Frida Kahlo and Maya Angelou to introduce women of colour who have gone to achieve great things in the face of adversity. These short biographies balance the hardships and beauty of their achievements in an age-appropriate manner. The series has expanded from only women to include men such as Mahatma Gandhi and Muhammad Ali.
5. Feminist Baby! He's a Feminist Too! - Loryn Brantz
Following the huge success of the Feminist Baby board book, which features a baby girl who makes her own decisions, Loryn Brantz has written a book for boys. Not all books need strong and forceful messaging and the Feminist Baby series, with its bright colours and rhyming words, is perfect for toddlers who are just starting to grasp language and words. The book dispels multiple gender myths, some as simple as "it's okay for boys to cry", with humour.
6. Amma's Toolkit – Nandini Nayar and Ashwini Hiremath (illustrator)
Another offering from Pratham's STEM books collection, Amma's Toolkit features a mother showing her two daughters how to fix broken pipes. Simple and effective, the book is not only female-led but also reinforces the idea that women can do anything a man can. It upends ideas of traditional male roles and is a good companion story to Ammachi's Amazing Machines.
7. Pattu's Dosa - Judy Skidmore and Sheju Adiyatiparambil-John (Translation by S. Meena Kumari and illustration by Vanessa Arduini)
One of my favourites from Parakeet Books, an independent publisher in the UK, Pattu's Dosa is exactly the kind of picture book I was looking for. With words in both English and Tamil, this sweet story features a mixed-race family with a South Asian father and white mother. It revolves around the father making dosas for the whole family as he tempts his son, Pattu, to eat some for breakfast. It ticks all the boxes of gender equality and ethnic diversity, not to mention employing crafty ways to deal with fussy eaters!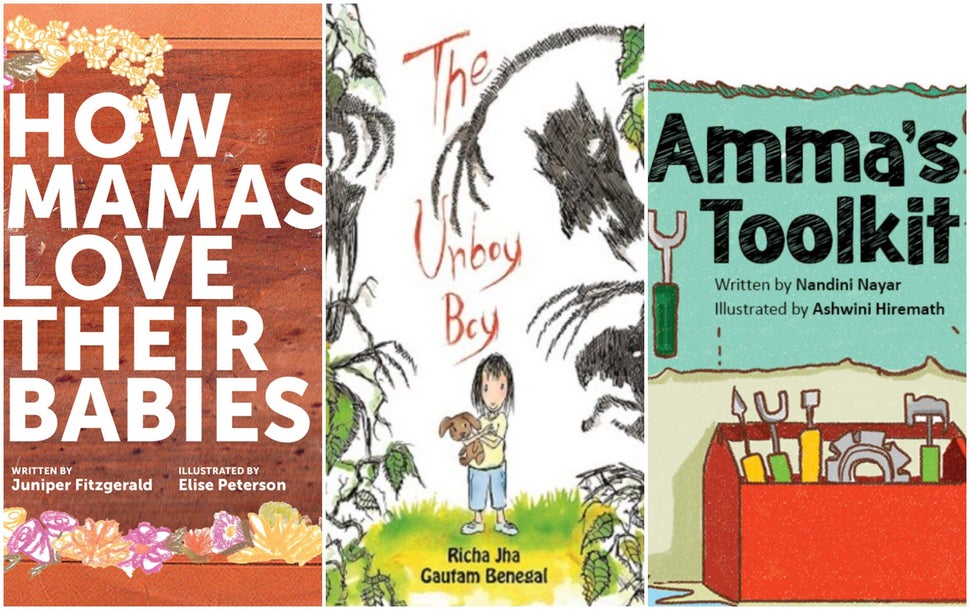 8. How Mamas Love Their Babies - Juniper Fitzgerald and Elise Peterson (illustrator)
Possibly the most political and revolutionary picture book we own, How Mamas Love Their Babies by Feminist Press, a US-based literary not for profit publisher, is peppered with '70s kitsch collage style art. It features black, white and brown mothers and the work they do to support their families. They cook, they clean, they fly planes and some even do work frowned upon by polite society, all for their babies. It's possibly the first children's book to feature a sex worker in a positive, gentle light. You won't find brightly coloured pages in this book, but its powerful themes may help parents start difficult conversations with older children.
9. The Unboy Boy – Richa Jha and Gautam Benegal (illustrator)
There's no fixed age to start talking to children about gender stereotypes, and what better than a book like The Unboy Boy. The book is packed with spine-tingling children's themes such as ghosts, ghouls and zombies. But it also traces the story of Gagan, a sensitive boy who prefers to stay indoors drawing or playing with his stuffed toy and is teased and bullied for these effeminate traits. At its core, this heart-warming picture book is a tale of self-acceptance that deconstructs gender expectations.
10. Toto and Palli in The Adventures of Toto the Auto – Ruta Vyas
The Adventures of Toto the Auto follows Toto and his driver Pattu (a popular name for children's literature) zipping through inner cities helping those in need and solving problems. In book 4 of the series, we meet a female auto called Palli. Following the trope of men teasing women for being too girly, Palli is ridiculed before saving the day with her physical strength. The story might be heavy on morals but uses the humble autorickshaw as a tool to debunk the "weaker sex" stereotype.