We asked experienced business travellers and British Airways' cabin crew for their top tips to help you feel calm and relaxed, before, during and after your flight.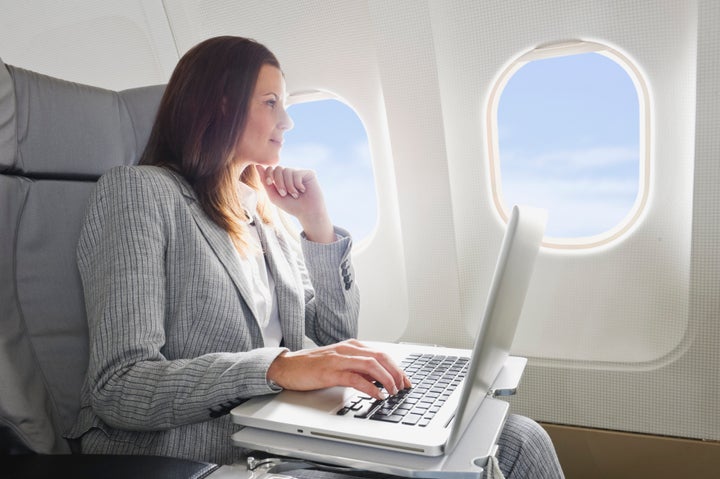 1. Sort your suitcase
Reduce the potential stress of lost luggage and time wasted waiting for the luggage carousel, by taking a wheeled carry-on suitcase. Check carry-on case size and weight restrictions beforehand.
Check the weather forecast for your destination and pack a capsule wardrobe of clothes in neutral colours (think black, navy and grey) to create more than one outfit to take you from morning to evening.
Francesca Armstrong, chief operating officer of Connoco Group, says: "This doesn't mean you have to be drab. I pack dresses paired with a black cardigan, which works especially if your schedule doesn't allow for time to go back to your hotel to change."
Decluttering expert and frequent flyer Jasmine Sleigh, says: "I put each outfit into separate clear plastic bags. This keeps it tidy, makes it easier at your destination, and minimises any bulk packing. The day before travel, I pack and place my suitcase by the front door, so that on the day I can focus on getting myself awake, have a nice breakfast and just pick up my bag and go."
Suzy Bryson, a member of British Airways' Worldwide Cabin Crew, says: "Carry on luggage can be easy if you get your liquids organised ahead of time. Buy mini bottles of lovely luxury make-up and goodies and ensure you have a decent clear zip-lock bag to store them in. Roll up clothing to save space and stuff shoes with smaller items such as socks and underwear."
2. Make your hand luggage handy
Pack your hand luggage, with easy access to your travel documents and with your laptop and electronic devices on top so you can take them out quickly at security and not create a queue as you rummage.
Suzy Bryson says: "I use a bag with lots of pockets and compartments - that way I can organise an entire section for all the things I will use inflight, like my iPod, Kindle, iPad, socks, eye mask, earplugs and not have to search through everything to find what I need."
3. Got your essential contacts list?
Make sure you're ready for business with all the details of your meetings at hand, either printed out or easily accessible on your (fully charged!) phone/laptop. Check you have contact names and their numbers, addresses for your hotel and know exactly where your meetings are and how to get to them. Don't forget details of your hire car or taxi collection.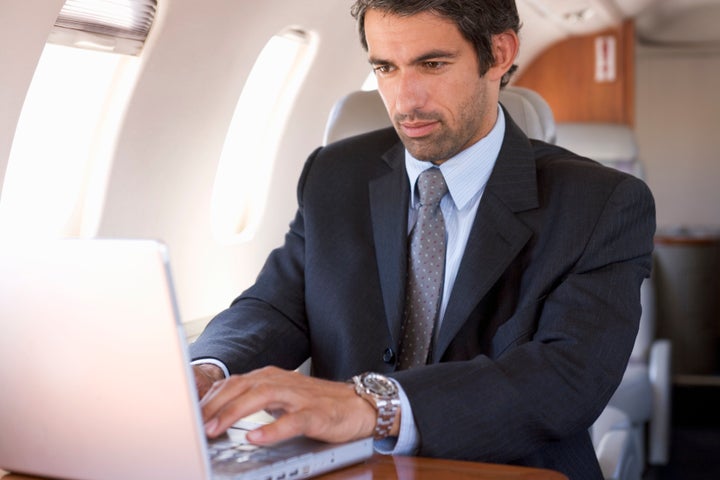 4. Organise your tech
Remember to take a universal plug, chargers for phone and laptop and extra (charged) batteries so you can continue working any time, any place. Jane Ainley, a member of Heathrow Worldwide Cabin Crew, says: "Make sure everything is charged before leaving for the airport and all files needed for work are already downloaded." She also suggests downloading a good scanning app such as Scannable as a convenient, space saving way to keep track of business cards and receipts during your trip.
5. Advance check in
Check in before you arrive at the airport to avoid unnecessary queues and as an immediate stress-buster. You can check in from 24 hours before your flight departs online or using the British Airways app on your mobile, iPad or even Apple watch. Early check in gives you a greater seating choice and, with only hand luggage, you can go straight through to security with your boarding pass.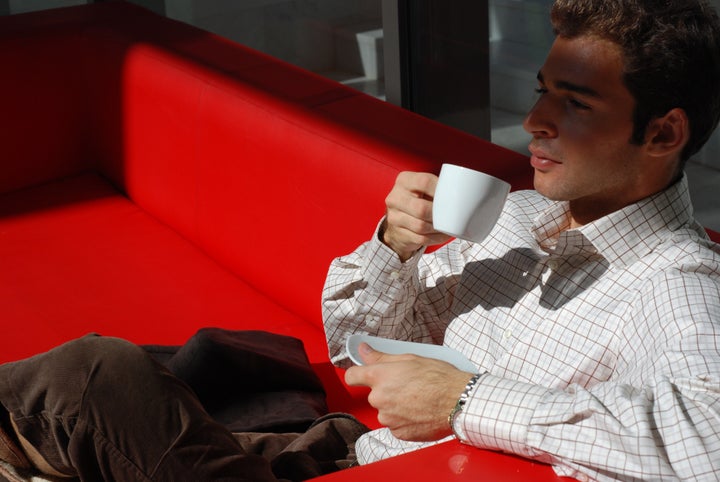 6. Enjoy the airport experience
Arrive at the airport with plenty of time to spare, so you're not rushing through security feeling anxious before your trip has even begun. Use the airport lounges to relax and unwind with a light meal or chilled drink and use the time waiting for your flight to stock up on your duty free shopping. Indulge in some pre-flight pampering at the Elemis Spa. A relaxing facial or neck and shoulder massage perhaps?
"Take advantage of shower facilities to feel refreshed if you have had a long journey from home or you're coming straight from work to the airport," recommends Jane Ainley.
"To enjoy the airport experience I always leave plenty of extra time. If I factor in time to enjoy a drink and a nice meal pre-take off, and also time to do a spot of shopping, it becomes more of an enjoyable experience rather than just a process to be endured," says Suzy Bryson.
7. Give yourself some head space
Don't spend every second of your flight packing in work. You can even meditate your way to relaxation, thanks to a new in-flight channel on British Airways' long-haul routes. Sit back in the comfort of your plane seat and unwind with the new Headspace video channel, designed to help you de-stress by practising simple meditation and mindfulness exercises, from overcoming jet lag to getting the most out of every minute of your journey.
8. Reset your body clock (and avoid jet lag)
As soon as you board your flight, especially on a long-haul flight, set your watch to the time of your final destination so you can start training your body to a new sleep pattern. British Airways has its own jet lag advisor, sleep expert Dr Chris Idzikowski. Check out his advice on the best way to avoid and minimise jet lag here.
Heathrow Worldwide Cabin Crew member Jane Ainley's jet lag busting advice includes: "Don't drink much alcohol, rest when possible and change your watch to local time. If you arrive in the morning at your destination and are very tired, restrict any sleep to four hours and then go for a walk to get some fresh air to get your body set to local time."
9. Sit back and relax
Your cabin crew will ensure you're comfortable throughout your flight, but don't forget to bring your must-have personal comforts on board with you, whether that's a super comfy travel pillow, cashmere shawl, lip balm or moisturiser. For Jane Ainley that means changing into "loose and comfortable clothing, taking my ipad with my own music and good quality headphones", while Suzy Bryson from British Airways Worldwide Cabin Crew, likes to travel with "cashmere (or similarly soft) socks and a fleecy top."
10. Arrive ready for action
In order to arrive at your destination looking and feeling refreshed and ready for business, you need to release tension by moving around during the flight, not staying in the same seated position throughout the flight, and drinking plenty of water.
Flying for a living means Suzy Bryson is an expert on stress-free travel. She says: "I recommend regularly leaving your seat to stretch your legs and drinking as much water as you can during flights. Enjoy alcohol but definitely in moderation because it really doesn't help with feeling energised.
"Resting as much as possible is also a big help, and then allow yourself plenty of time before landing to freshen up properly - brushing teeth and hair, moisturising, refreshing makeup and adding a spritz of perfume all make you feel good. "
Suzy also suggests waking your mind and body up fully with an energetic walk or run. "I think it is the combination of fresh air and sunlight that does the trick. Yoga is also very good."
You can reduce your stress and also your travel budgets by joining On Business.
On Business offers a global network of three airlines (BA, American Airlines and Iberia) and rewards businesses with discounts and points, managed easily through an online tool. (New members receive triple points for up to 12 months.)
Points can be redeemed on flights and upgrades. On Business saved businesses over £47m in 2015.