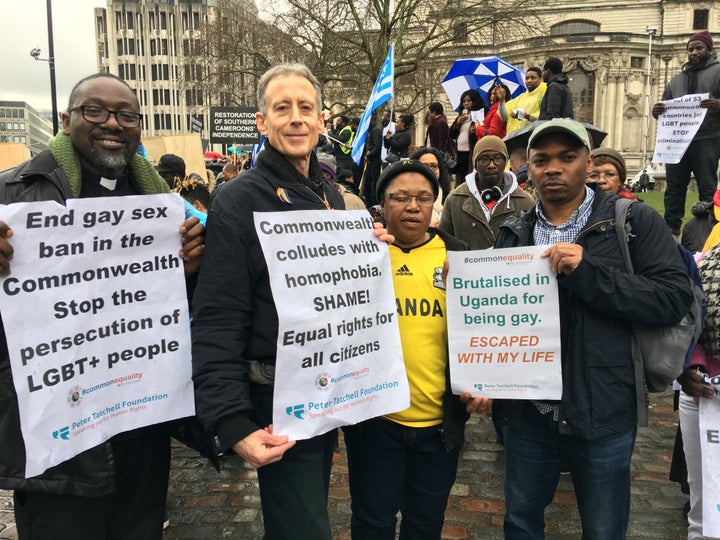 Eighty LGBT+ rights defenders protested as the Queen, UK Prime Minister and Commonwealth High Commissioners celebrated Commonwealth Day 2018 at Westminster Abbey in London on Monday. I was one of them.
Our protest at Westminster Abbey, as dignitaries arrived, included LGBT+ people from across the Commonwealth, some of whom had been arrested, imprisoned and beaten by homophobic families, neighbours, religious groups and vigilante mobs.
They see the Commonwealth as a brazen homophobic institution; notorious for its anti-LGBT+ laws, discrimination and hate crime.
Indeed, as well as being branded criminals, more than 100 million LGBT+ people living in Commonwealth nations have no legal protection or redress against systemic discrimination in employment, housing, education, health care and the provision of good and services.
These abuses make a mockery of Commonwealth values and the human rights principles of the Commonwealth Charter, which all these countries have signed and pledged to uphold.
Despite this large-scale and intense persecution, LGBT+ issues have never been discussed, not even once, by Commonwealth leaders at any of their summits over the last six decades. I have personally tried for 30 years to get them address the criminalisation of LGBTs by 70% of member states. This is yet to happen and we're saying: time's up!
The next Commonwealth Heads Of Government Meeting (CHOGM) takes place in the UK in April. It must this time begin to remedy the state-sanctioned persecution of LGBT+ people by Commonwealth countries, listen to the voices of LGBT+ Commonwealth citizens and act to remedy their suffering.
So how do we get LGBT+ rights on the agenda in April?
Drawing on suggestions from diverse Commonwealth LGBT+ activists, I have proposed to the Commonwealth Secretariat a three-point strategy for advancing LGBT+ rights at CHOGM.
First: Criticism and condemnation of homophobic, biphobic and transphobic countries won't work and will be counter-productive; especially if it comes from western nations like Britain, Canada and Australia. This would be construed as western diktat and neo-colonialism. Instead the Commonwealth needs to give a platform to pro-LGBT+ advocates from Africa, Asia and the Caribbean and Pacific. Their voices will carry much more weight and influence.
Second: To this end, the Commonwealth Secretariat should facilitate an event at CHOGM where pro-LGBT+ Commonwealth leaders and church people, such as Archbishop Desmond Tutu of South Africa and Bishop Christopher Senyonjo of Uganda, and the former presidents of Tanzania, Botswana and Mozambique – respectively Benjamin Mkapa, Festus Mogae and Joaquim Chissano - address the assembled Commonwealth heads of government on why they support LGBT+ rights as human rights. Voices from African ex-leaders and from respected African Christians will be the most impactful and effective.
Third: It would be helpful if the Commonwealth Secretariat or a sympathetic non-western state like Mozambique or Belize hosted a meeting during CHOGM with LGBT+ representatives from across the Commonwealth, where they can speak to the gathered Commonwealth leaders. These grassroots LGBT+ voices, telling their stories of personal discrimination and violence, are likely to have the greatest resonance and impact; especially because many Commonwealth leaders may not have met a LGBT+ person, never dialogued with their national LGBT+ organisations and be unaware of the devastating effect of homophobic persecution on people's lives.
This strategic approach is intended to defuse opposition and empower support for LGBT+ equality and non-discrimination in ways that are most likely to win over the maximum possible number of Commonwealth leaders and nations.
2018 must be the year of change. April's CHOGM is our big chance. It must hear the voices of LGBT+ Commonwealth citizens and their allies – and then act to reverse the homophobic laws and values that are wrecking their lives.
Useful websites and helplines:
Related