A man who has to give police 24 hours notice before he has sex has spoken about how the order has "ruined" his life.
John O'Neill was previously cleared of rape but was subjected to an interim Sexual Risk Order (SRO) after an application by North Yorkshire Police.
The judge presiding over the case had described O'Neill as a "very dangerous man" despite his acquittal.
An order banning O'Neill's identity was lifted at York Magistrates' court last week.
O'Neill, who has admitted to having an interest in sado-masochistic sex and having visited a Fifty Shades of Grey-style fetish club, appeared on the Victoria Derbyshire show on Tuesday where he revealed his children have stopped contacting him.
He said the children, aged 12 and 16, who live abroad, have also deleted him from Facebook, and he admitted it must be "horrific" for them to see his sexual preferences being shared online.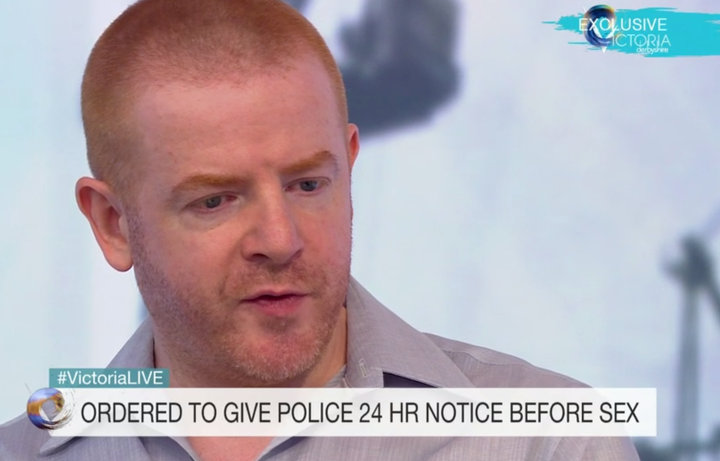 The IT consultant, who must inform police 24 hours before he has sex with a new partner, said he believed officers had applied for the order in a case of "sour grapes" over his acquittal for the alleged rape.
During his trial his interest in S&M sex was raised and evidence was given by a doctor, whom O'Neill believes had misunderstood the difference between fantasy and what he was saying.
He has previously said he will go on hunger strike in protest at the order, which he says prevents him from any prospect of a relationship.
O'Neill added he has not had sex since the order was made after he was cleared of rape in November and that one of his friends "has been threatened with being fired [from her job], just because she knows me."
Other conditions relating to his use of the internet and communications devices meant he cannot work either, he said.
O'Neill was arrested for breaching his SRO after refusing to give police the PIN code of his phone. He was held in police custody overnight.
The 45-year-old will return to court next month where a judge will decide whether to end the interim order or make it permanent.