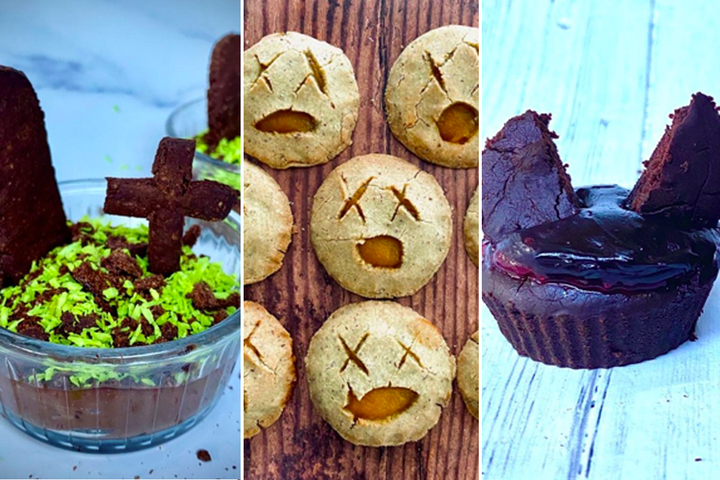 Half-term is upon us, which means your kids will tell you they're bored approximately 27 times a day – and ask you what else there is to do.
So, seeing as Halloween is around the corner (and trick or treating is basically off the cards this year), why not head into the kitchen to get baking?
We've got three recipes from Little Cooks Co, a monthly subscription-based recipe kit posted through the letterbox for to kids. The best bit about it? These recipes are actually super healthy, too.
They're designed by a registered nutritionist, and use whole natural ingredients. From puking pumpkin pies to devil cakes, they certainly sound interesting.
Puking Pumpkin Apple Pies
Prep: 30 minutes I Cook: 18-20 minutes I Serves: 9 pies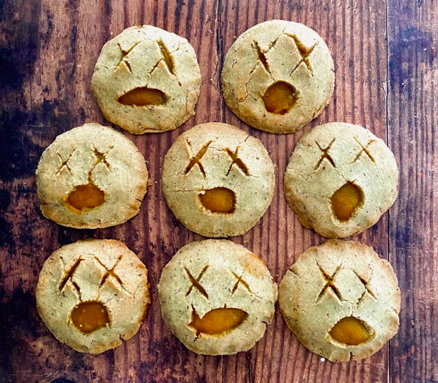 Ingredients:
100g melted butter or 75g coconut oil
Eggwash = 1 egg whisked with 1 tsp water
150g pumpkin, peeled and grated
1 small apple (approx. 100g), grated (no need to peel)
Method:
1. Make the pastry by whisking the dry ingredients and egg together in a mixing bowl. Add the melted coconut oil/butter, and mix in the water a bit at time until the pastry comes together into a dough. Pop in the fridge to chill and firm up while you make the filling
2. Next, grate the pumpkin and apple and add it to a small saucepan with the orange juice, water and honey/maple syrup and cook for 10-15 minutes until soft and mashable. Transfer to a small plate and pop in the fridge to cool and then blend or mash (with a potato masher) until smooth.
3. Preheat the oven to 180c (non fan assisted) and line a baking tray with parchment paper. Take the pastry out of the fridge and cut it in half.
4. Roll the first half between sheets of parchment paper (this is to prevent sticking), to the thickness of a £1 coin. Use a 9cm cutter to cut out 9 circles, and use a butter knife/spatula to help you lift the pastry circles and place them on the lined baking tray.
5. Next, roll out the other half between parchment and cut out 9 circles again. On the circles, use knife to cut two 'X's for the eyes and an oblong circle near the bottom for a mouth.
6. Put about 1 heaped tbsp of the filling on the pastry circles and top with the pastry face. Lightly press the edges to seal – the filling should be visible in the mouth!
7. Brush the pastry faces with eggwash and put in the oven to bake for 18-20 mins, until golden brown
Chocolate Fudge Devil Cakes
Prep: 30 minutes I Cook: 15-18 minutes I Serves: 12 cakes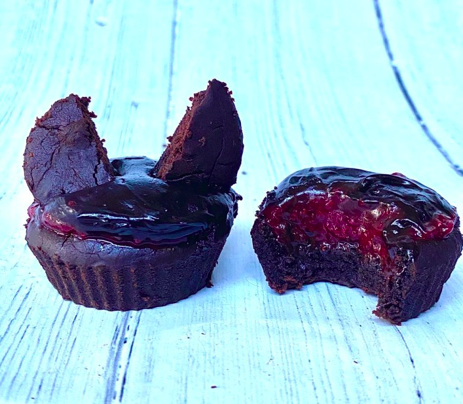 Ingredients:
10g milled flaxseeds + 3 tbsps water
70g oat flour (you can blend regular oats into a fine flour, and choose gluten free if preferred)
60g dark cocoa powder or cacao powder
120g honey or maple syrup
80g olive oil or melted coconut oil
200ml milk (or dairy free alternative)
For the filling and frosting:
160g cooked beetroot (not in vinegar), roughly chopped
10g milled chia seeds (you can mill them by blitzing them in a blender)
70g coconut oil or butter, melted
60g dark cocoa powder or cacao powder
Method:
1. Preheat your oven to 180c (fan)/200c (non-fan)/gas mark 6. Line a 12-hole fairy cake tin with cases. Make your flaxegg by adding the flaxseed to a small bowl along with 3 tbsp of water. Stir and set aside to form a gel.
2. Add the rice flour, oat flour, cocoa or cacao powder and baking powder to a large mixing bowl. Whisk to combine, leaving a well in the centre. In the well, add the honey/maple syrup, olive oil, vanilla, milk, vinegar and flaxegg. Whisk to combine – the mixture will be quite wet.
3. Transfer the mixture into a measuring jug and pour into the cases, filling just near the top. Pop in the oven and bake for 15-18 mins.
4. While the cakes are baking, make your filling by blending the beetroot, raspberries and honey/maple syrup. Pour the mixture through a sieve to remove the seeds and pulp. You may need to use a spoon to move the mixture inside the sieve, lightly pressing it through.
5. Transfer the puree into a small saucepan and simmer for 3-5 minutes. Add the milled chia seeds and stir. Transfer to a plate and pop it in the fridge to set and cool.
6. When the cakes have cooled, make your frosting by blending the melted coconut oil/butter, cocoa/cacao powder, water/milk, honey and vanilla. Add a splash more water or milk if it doesn't catch easily in the blender. If it is runny then pop it in the fridge to firm up.
7. To assemble your devil cakes, use a circular cutter to cut out a circle in the middle of each cake, only pressing down halfway to leave a base for the filling. Don't worry if the sides crumble! Another option is to slice the top of the cakes off. Set the circles/tops aside and cut in half, these will make your devil horns! Fill the holes/top of the cakes with the beetroot and raspberry filling, top with the chocolate frosting and then stick the devil horns in.
Chocolate Gravestone Pudding
Prep: 30-40 minutes I Cook: 10 minutes I Serves: 6 ramekins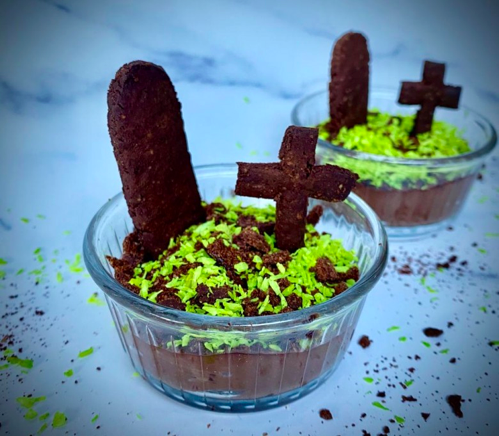 Ingredients:
120g dates, roughly chopped
110ml water or milk (dairy free works fine)
80g coconut oil or butter, melted
30g cacao or cocoa powder
¼ tsp bicarbonate of soda
20g cacao or cocoa powder
35g coconut oil or butter, softened
A few drops of natural green food colouring (or 1 tsp of spirulina mixed with 2-3 tsp water).
Method:
1. Add the cashews and dates into a mixing bowl and cover with freshly boiled water. Let these soak until soft (ideally for 30 mins).
2. Next, make the biscuits by combining the dry ingredients in a mixing bowl with a whisk before crumbing in softened coconut oil or butter with your fingers.
3. Add the wet ingredients and work together into a dough. Form the dough into a ball and let it rest in the fridge for 20 mins. While the dough rests get on with making the other elements!
4. Colour the coconut grass by adding the coconut into a bowl with a few drops of food colouring. Stir until coated and set aside to dry. Preheat oven to 180C (fan)/200C(non-fan)/gas mark 6 and get out two baking trays, lining one baking tray with parchment.
5. Now, make the mousse by draining the dates and cashews and adding them to a blender jug along with the other ingredients. Blend until smooth and creamy. Spoon the mousse into the ramekins and pop them in the fridge to set.
6. Make the biscuits by rolling out the dough between two sheets of parchment (this is to prevent sticking) to about the thickness of a pound coin.
7. Cut out 12-14 tombstones and/or crosses using a small knife. Be creative with sizes and shape and use a cocktail stick to add letters if you wish. Use a table knife or spatula to gently transfer to a baking tray and use your fingers to smooth any jagged edges.
8. Bake the biscuits for 8-10 mins and then leave to cool. When the biscuits have cooled, crumble the rolled out biscuit (not the gravestones or crosses!) to sprinkle on the mousse.
9. To assemble, top the mousse with biscuit crumbs, insert the gravestones and sprinkle over the coconut grass!