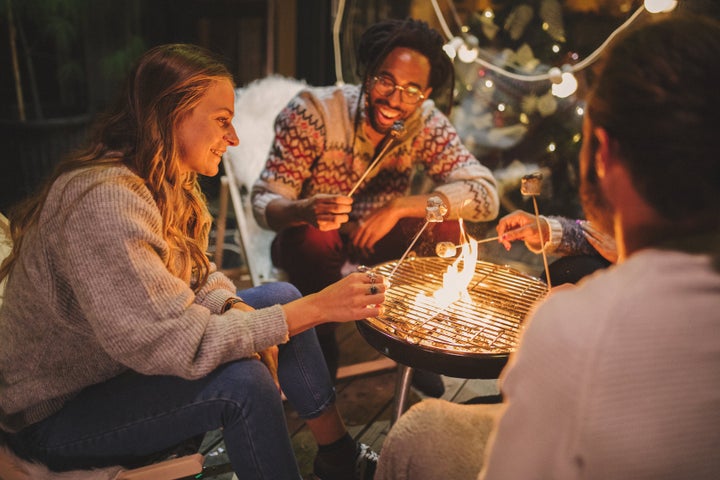 With autumn closing in, socially-distanced picnics in the park are getting trickier by the week. But with Covid-19 cases rising in the UK, some of us don't feel entirely comfortable hanging out with mates indoors.
The solution? Shake up your outdoor meet-ups so you're embracing that crisp breeze, rather than fighting against it. Oh, and buy a decent umbrella.
Here are six other ideas to get you started.
1. Invest in some outdoor heaters – or a BBQ
Another option is to get the BBQ out – yes, really. Warm some marshmallows over the coals and tell your mates to bring a blanket. Decorate the garden in fairy lights for an extra dose of cosiness. You'll wonder why you've never tried it before.
2. Book an outdoor activity
An outdoor activity such as ice skating is guaranteed to warm you up. Many outdoor rinks across the country are scheduled to reopen in October, with new social distancing measures in place.
Google your nearest venue and book in advance.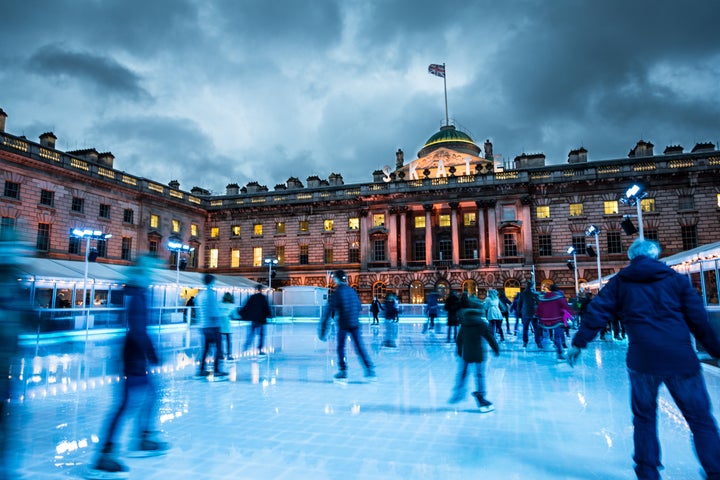 3. Go for an invigorating walk
Who says walks should be reserved for summer? If you got into a good habit during your lockdown daily exercise, keep it up. You just need to wrap up warm and drag your pal along, too.
The National Trust is a brilliant resource for finding colourful, autumnal walks near you. More than 135 National Trust gardens and parklands have reopened, but some remain closed due to local lockdown restrictions or difficulties social distancing, so check your location before you travel. If all else fails, embrace your inner child and kick the leaves around your local park.
4. Research the cosiest beer gardens
Search for venues with outdoor heaters or fire pits. With table service now mandatory across England, you'll be able to avoid the bar altogether.
Alternatively, keep an eye out for 2020 winter pop-up launches, as many of these are outdoors (or as good as). Jimmy's Winter Lodge on the Southbank in London, for example, has announced it'll be opening in October – earlier than in previous years – to allow crowds to book a private, socially-distanced snow globe.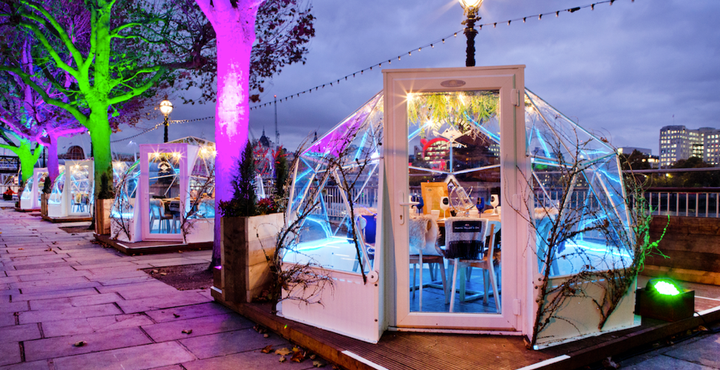 5. Drink mulled wine (and other hot drinks)
If you're entertaining in the garden, this recipe for mulled wine will help. Alternatively, try a quick, warming drink like hot chocolate with added Cointreau (a personal favourite in a flask on the aforementioned walk).
If booze isn't your thing, it's officially pumpkin spiced latte season. You could make it your personal mission to try every wintery, cinnamon-infused bevvy on the high street. If you want to avoid the shops, Costa Coffee, Caffe Nero and Starbucks now offer delivery in some areas via Uber Eats.
6. Get the right gear