It's cold and rainy outside, but moving indoors to socialise with friends and family isn't so simple.
Under the government's new three tier system, you need to get acquainted with the rules before organising an indoor meet-up – or risk a hefty fine.
In tier one, or medium risk areas, you can meet with up with friends and family indoors, but you must stick to the rule of six.
In tier two (high risk areas) and tier three (very high risk areas), the rules state that you "must not meet socially with friends and family indoors in any setting, unless you live with them or have formed a support bubble with them." This includes private homes, and any other indoor venues such as pubs and restaurants.
In tier three, you're also banned from meeting those outside your household outdoors in a private garden, or at most outdoor public venues.
There are a few exceptions though, such as being allowed to attend smaller weddings and funerals indoors, whatever your tier.
But even in circumstances where you can meet loved ones indoors, some may be a little nervous, with Covid-19 cases rising. For those concerned about staying safe, HuffPost UK asked leading experts in respiratory disease, immunology and hygiene for their top tips to reduce the risks.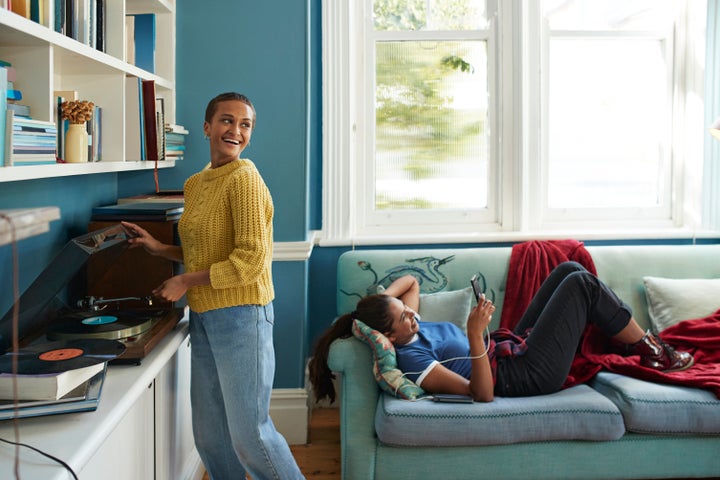 1. Wear a face mask
By now, you're probably used to wearing a face mask on public transport and in the supermarket, but Dr Jenna Macciochi, an immunologist based at the University of Sussex, recommends wearing a face covering "in any situation where you are indoors and can't keep at least 1m from people outside of your family bubble".
2. Consider seating arrangements
Professor Sally Bloomfield, from the London School of Hygiene and Tropical Medicine, acknowledges that while face masks are the best option, people are unlikely to wear them when visiting friends and family in the home. In this situation, she says you should strive to maintain social distancing "as much as possible". This includes avoiding hugs and thinking about where you sit.
"If you're sitting in a lounge area, make sure you've got enough chairs so people aren't sitting close together on sofas. If you've got a dinner table, make sure that people are properly spaced," she says.
"Even grouping people at the table, you should try and do things like put one household at one end of the table and the other at the opposite end."
3. Choose home over the pub
If you're split between meeting a mate at the pub or inviting them over for a beer (in a tier one area), choose the latter, says Dr Julian Tang, a consultant virologist and Professor in the Department of Respiratory Sciences at University of Leicester.
"Avoid crowded indoor spaces if possible, where there is poor ventilation and where people are unlikely to be wearing masks, like bars, pubs and restaurants," he says. "If there are many people inside, the probability that someone may be infected is higher and the smaller air volume is less able to dilute the virus."
4. Opt for venues with high ceilings
If you are meeting outside the home, try to avoid indoor spaces with low ceilings, adds Dr Tang.
"Large open indoor areas with high ceilings like churches, concert halls, cinemas, theatres have larger air volumes to dilute any airborne virus – which is convected upwards by people's body heat – away from their breathing zones. High ceilings can allow for this. However the ventilation is not always good in these indoor recreational spaces."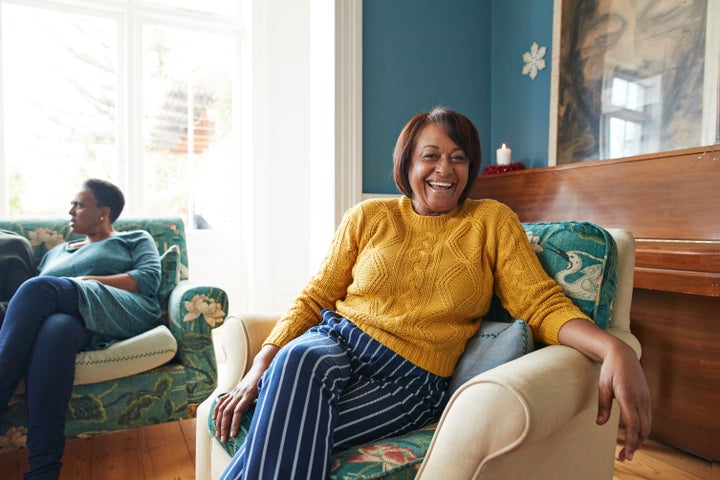 5. Open the window
Both Dr Tang and Professor Bloomfield recommend cracking open a window if you're indoors with others, even if it means grabbing that spare jumper. This is easier at home, but you can also try to grab a window seat at the pub, restaurant or wedding venue. "Any airborne virus concentration will gradually increase if the ventilation is poor," explains Dr Tang.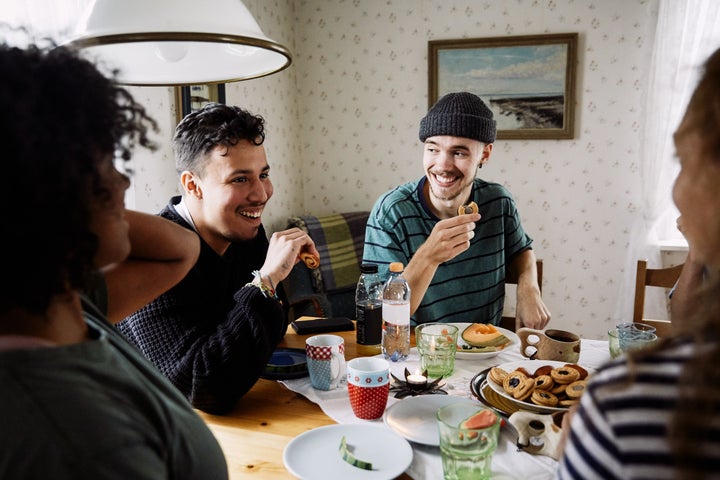 6. Avoid public transport
Whether you're travelling to work or a mate's house, avoid public transport where you can. "Wake a little earlier and enjoy the walk or cycle to work, see it as part of your daily movement," says Dr Macciochi. "Public transport due to the proximity and shared surfaces make it a perfect place for viruses to spread. Avoid any non-essential journeys on public transport."
7. Do not share food
If you're hosting a lunch or dinner party (again, tier 1 only), small adjustments such as putting out two bowls of crisps (one for each household) rather than one central bowl can make a big difference, says Professor Bloomfield. At dinner, avoid passing around communal crockery such as dishes of vegetables, she adds, where one person will touch the bowl and spoon after the other.
"If you're the host, plate up the food in the kitchen with hands that you have recently washed," she says. "Guests should eat it with their knives and forks and afterwards, everything goes in the dishwasher. It's about making sure that you don't pass around any germs while you're passing around that food."
8. Maintain good hand and surface hygiene
If someone is entering your home, you should work on the assumption that they may have the virus, says Professor Bloomfield.
"There is a risk of transferring the virus via hands or surfaces. If any one in the group is infected, a) they will be expelling droplets which will settle on to surfaces and b) they will likely be touching their mouth or nose and have the virus on their hands," she says. "Avoiding transmission via their hands and contact surfaces is key."
You don't need to sanitise your entire home, but do regularly clean surfaces that are frequently touched, such as door handles, Prof. Bloomfield adds. You might also want to consider making sanitiser readily available in your home, so guests can use it before meals if they choose.
9. Ask guests to clean the loo
Okay, it might break every rule in the etiquette rule book, but politely ask guests to spitz down the bathroom after using it, as this is a major area for contamination risk, says Prof. Bloomfield.
"Everyone uses the toilet and when they do, they'll touch the toilet seat, the flush handle, the tap handle," she says. "You really should position a bleach spray by the toilet and leave a polite notice asking everybody to spray and wipe any surfaces they've touched before they leave the area."
10. Keep the noise down
We get it, you're excited to hang out with loved ones and experience a slice of normality, but keep a lid on your volume.
"Try not to speak loudly or shout during normal conversation over normal conversational distances – and try to avoid those who do," says Dr Tang. "Masking still helps with this, but the number of aerosolised droplets increases dramatically with loudness of talking and shouting - and singing. Similarly with laughing."
11. Know the Covid-19 symptoms
The breadth of symptoms now noted for Covid-19 is increasing, as our knowledge of the virus is updated. Keep up to date with the possible signs and ensure you isolate to avoid spreading the virus if in doubt, says Dr Macciochi.
If you are spending increasing periods indoors "make sure to get some time outdoors each day and top up your vitamin D with a supplement", she adds.