Family holidays live or die on whether there's enough to do. As destinations go, Abu Dhabi has a wide mix of things to keep everyone occupied - including beach activities and wildlife, but also chill-out activities for those who need a little space to unwind.
That last part is important. Food and family blogger Emily Leary, who has a son, JD, aged 11, and a daughter, Jay, aged 7, has found that children want to be challenged, but it definitely is important to work in down-time for everyone.
"Initially," she says, "I think we were trying far too hard to pack every day with activities that pleased both ages and kept them busy, when we started going on family holidays. But in recent years we've realised that having a packed itinerary just leads to stressed parents and grumpy kids who forget half of what they've done by day three.
"These days we're much more laid-back, but aim to schedule in one activity per day that will use up a few hours, and then use the rest of each day to just take it easy and see what happens, explore the local area and so on."
The ultimate goal is for everyone to have fun. We've sifted through the top picks for what to do in the UAE capital when holidaying with the fam.
For nature lovers: The Empty Quarter
It takes several hours to drive to this unspoiled stretch of sand from Abu Dhabi, so little ones may find it challenging - but older kids will absolutely love it. Amid pristine, empty dunes and miles of golden sand stretching into the distance, it is home to Tal Moreeb – one of the world's tallest dunes. You can try sandboarding and fat biking.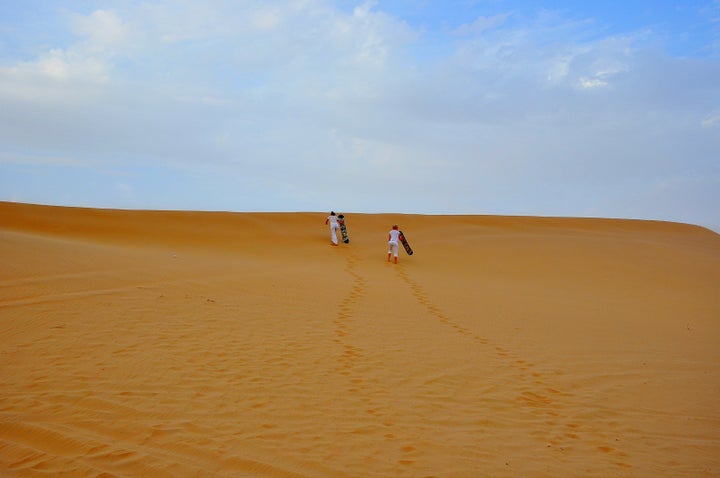 For thrillseekers: Ferrari World Abu Dhabi
Located on Yas Island, this destination is home to the Formula Rossa – the world's fastest rollercoaster – and Flying Aces, the highest inverted roller coaster loop in the world. There's go-karting, simulators for driving and a flume ride through the engine of a Ferrari 599 engine. For really small toddlers, there's a soft play area disguised as a car wash, and you don't need to worry about little ones getting hot and flustered either as most of it is indoors.
For animal lovers: Saluki Centre
Salukis are a distinct pure-bred type of beautiful desert dog, that are great at covering long distances and used in hunting. You can learn more about them here, as well as cuddle the puppies.
For wildlife fun: Al Ain Zoo
Set in the foothills of Jebel Hafeet, a drive from Abu Dhabi will bring you to this comprehensive and well-operated zoo, which runs the world's largest man-made safari. There are roughly 4,000 animals across the 400-acre park, with around 30% endangered creatures. The cat house is a particular favourite featuring lions and spotted leopards, while there is an enclosure where children can feed the giraffes and budgies.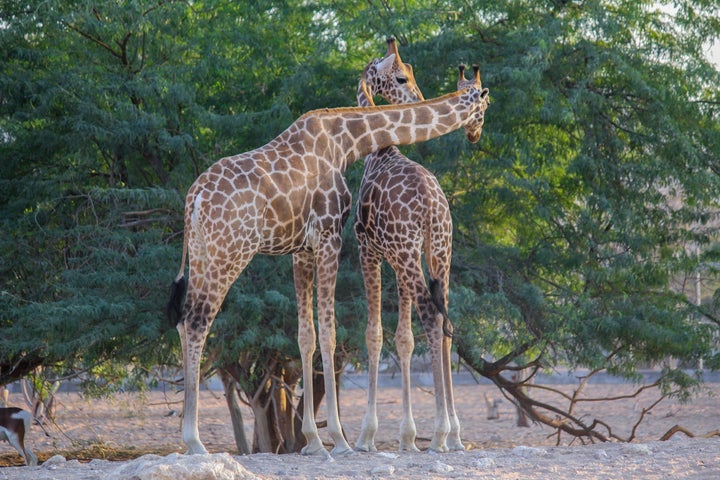 For film buffs: Warner Bros World, Abu Dhabi
With around 30 rides, this billion-dollar amusement park isn't just for kids – it also contains all the characters from your childhood such as Looney Tunes and Flintstones. There's lots of DC superhero action for older children, and six immersive lands to get lost in – including Gotham City for Batman lovers and Metropolis, if Wonder Woman is more your thing. The detail of the park is incredible, and there are tons of restaurants and takeaway spots.
For watersports: Wadi Adventure
Set in Al Ain, it's free for infants under two. Aside from the man-made beach and swimming pools, it's perfect for a watersports experience. The giant swing and zipline are not for the faint of heart, while kayaking and rafting are great for slightly older children. There are surf lessons on offer (the park is home to a massive simulator) and if you want a breather from the activities, there are plump loungers by the pool to sunbathe for a bit.