Whether you're living at your parents', renting or have just bought your own place (and are therefore skint), creating a beautiful home needn't be a struggle.
Here at HuffPost, we're all about finding affordable ways to decorate your home, be it with small accessories such as affordable art or investment pieces such as a loveseat.
Whatever your limitations are, here are seven things you need to know about redecorating on a budget.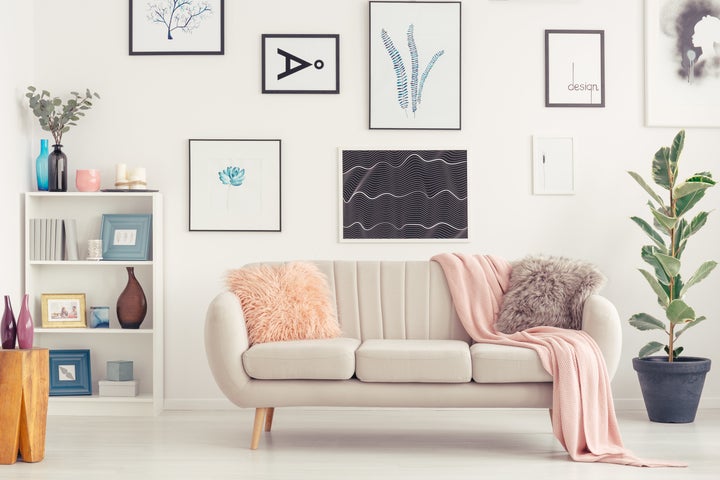 Invest in key pieces you'll be sitting and sleeping on. When it comes to allocating budget, don't scrimp on items you'll be using every day – such as beds and sofas. It might seem counterproductive to buy sometime expensive if you're trying to save to move out or buy somewhere, but remember: you can always take items on with you to your next place.
"If you're on a budget, I'd recommend to play it safe and buy a bed or sofa in a neutral colour like a classic grey, and then bring in colour with cushions," says Thornhill. Another idea is to consider pieces that have removable covers, so you can hold onto existing furniture but dress it up differently as time goes on. For this Thornhill recommends Bemz, a textiles company that makes custom covers for Ikea furniture.
Charity shops and Ebay are easy, affordable ways to shop for big pieces on a shoestring budget. "If you're looking for something specific, such as a cupboard to fit in quite a small spot, Ebay allows you to set up email alerts that's within a particular mile radius of your home, and you can adjust it according to how far you're prepared to travel to collect it," says Thornhill.
Charity shops specialising in furniture are great if you're browsing for inspiration or need to get lots of things at once. They're also handy if you need to to find things quickly.
Don't forget to check your local Freecycle (a non-profit organisation where users trade things for free) and Facebook Marketplace too. "Some local tips pull out decent-looking pieces and have little shops you can buy from," Thornhill says. However, this doesn't apply to all dumps, so check with your nearest one.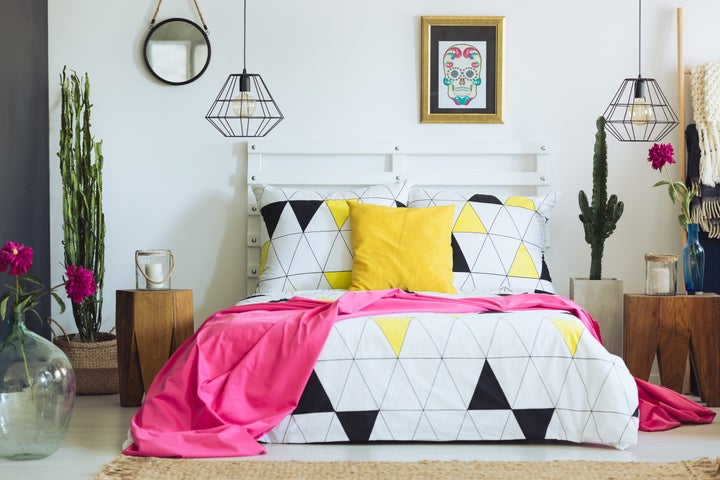 Utilise throws to revamp tired furniture. Soft furnishings are key in revamping rented spaces. Rugs, cushions, curtains and bed linen, and all things that cover large surface areas are an easy way to add colour. Thornhill recommends using throws to get more life out of older pieces, such as a sofa or armchair, if your budget doesn't allow a brand new one. "One throw over the sitting cushion and another over the back so it doesn't look random, and also protects it from pets prone to distributing fluff. Tuck the ends of throws under cushions so you won't messing it up every-time you sit down," she explains.
Her favourite place to find throws is H&M, for its on-trend soft furnishings that are both fashionable and affordable, whether its geometric or animal prints you're looking for.
Upholstering old furniture needn't require sewing skills. If you're not handy with a needle and thread trying to create a whole new cover is a bit unrealistic, Thornhill tells HuffPost. However, that's not to say you should dismiss the idea of revamping furniture using new fabrics. "If you have a dining chair with a removable seat pad, the easiest upholstery technique is to pop out the tab, lay it on top of some fabric that's slightly bigger than the pad, pull the fabric tightly round and use a staple gun to fix it down. Or you can use a good amount of gaffer tap, and you can pop it back in and you've got a completely new chair," she says.
For fabrics, Thornhill recommends using printed tea towels or vintage scarves for a budget-friendly alternative to expensive materials. You can also cheat your way to curtains too using Wundaweb, a £2.89 iron on tape which you can use to make a hem. Simply fold over the end piece of the fabric onto the inside of itself and run your iron over it and it becomes a heat activated glue. It's also a handy tape which can be used to make cushion covers at home.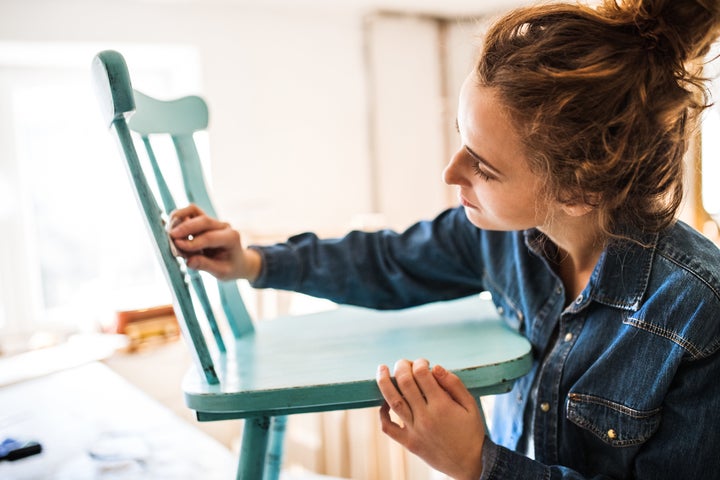 Maximalism can be done on a budget. If you're in a home where you can paint the wall, then painting is a really cost-effective way to add colour and transform your space, says Thornhill. "If you're renting, then try painting your furniture instead, especially big pieces like a bookcase, to create a focal point."
Thornhill's top tip for making sure your home doesn't feel too overwhelmed by garish prints is to pick out three key colours and bring those into different areas such as wall art and cushions to keep consistency.
You don't need to drill holes in your walls to display artwork. Living in rented housing comes with many rules on how you can decorate, most commonly it means you can't make any permanent fixtures for photos, prints and wall displays.
To get around this, Thornhill recommends Washi Tape, a decorative masking tape can also be used to frame prints – so you don't have to fork out for a costly frame (that would need nailing to a wall). "It's a Japanese tape that comes in loads of patterns and colours that can be use to tack prints and photos to walls without it causing any damage and easy to remove when you move onto somewhere new or are indecisive to commit to permanent prints."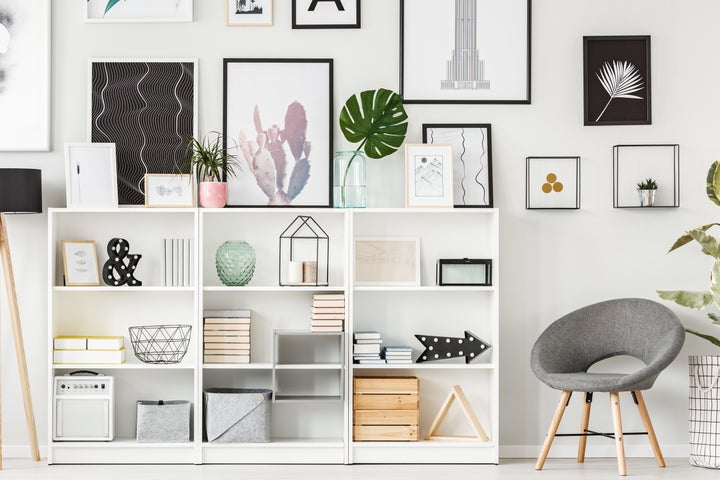 It's possible to make your bedroom a multi-purpose space no matter how small it is. If you work from home and don't have an entire room for your office, then a common conundrum is the overlap of your work day and the place you go to relax. To remedy this, Thornhill recommends to try and keep the workspace element to a clearly defined area. "Rather than meshing together you bedroom and workspace, carve out a little corner that you can confine all your work things to. Ideally somewhere that's not in your eye-line from your bed so it's not the first and last thing you see when you wake up and go to bed."
A distinct piece of furniture is a simple way to achieve this, particularly if you're limited on space. An old writing bureau that can be closed away is an easy way to create a makeshift separator. Alternatively, fit a blind or curtain to make an alcove in your bedroom so at the end of your workday, you can simply draw it across so you're not reminded of work or study all the time.
We all work hard to earn our money – so it shouldn't feel like hard work to spend it well. At HuffPost Finds we'll help you find the best stuff that deserves your cash, from the ultimate lipstick to a durable iron to replace the one that broke (RIP). All our choices are completely independent but we may earn a small commission if you click a link and make a purchase.