It's fair to say we've got a few keen runners in our office, so when new trainers like the Adidas PulseBoost HD start getting hyped, we're always intrigued.
There is no question the shoes, which launched this summer, are designed for pounding the pavement, with Adidas claiming they'll enable you to "turn the whole city into your personal running track". But if you're the kind of runner who enjoys jogging across fields and exploring off the beaten track, will they suit?
As someone who works in the city but lives in the green belt, I tested the shoes for a week – including two runs, one dance class and one day out with a friend – to see if they're really worth the £119.95 price tag for exercise and fun.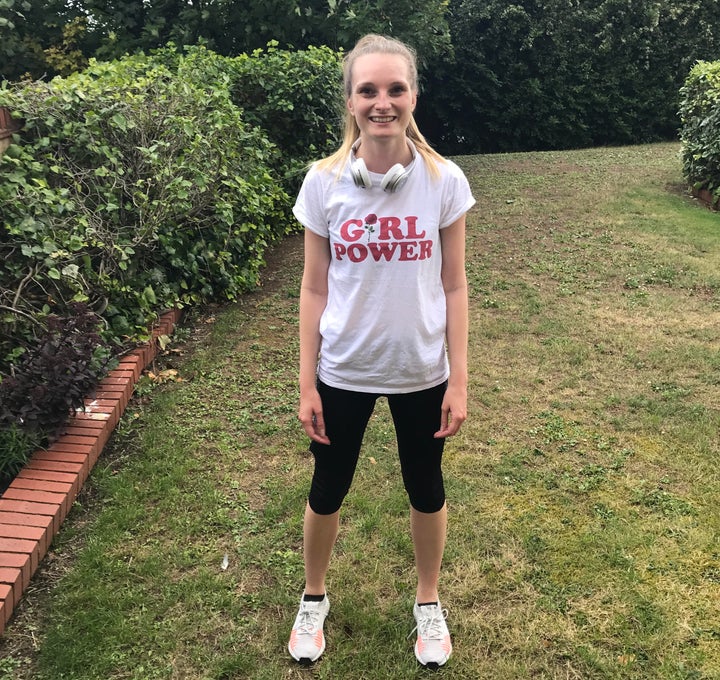 The Look
Design wise, I like the grey and orange colour contrast and the shoes do not look overly chunky with jeans, meaning you can switch from the gym to the shops with no problems. But the sock-like material does make them very susceptible to stains; mine get disappointingly grubby in less than a week and I imagine they'd only get worse when challenged with winter puddles.
They are also available in both black and blue colourways, which I guess might be more winter-proof – as for the light grey, I'd steer clear.
I also really cannot get on board with the huge pull tabs Adidas has put over the tongue area. The left shoe has an entire paragraph written on it, telling me the shoes are: "Designed to feel the pulse of your city and experience the unexpected energy of the streets." Essentially, I'm running around with an advert on my foot.
The right shoe tab is emblazoned with a large QR code that is supposed to unveil a running playlist on Spotify when you scan it using your phone, but I give up trying to access this the third time Spotify tells me "no code found". At best, it's an unnecessary gimmick, at worst, the function doesn't actually work.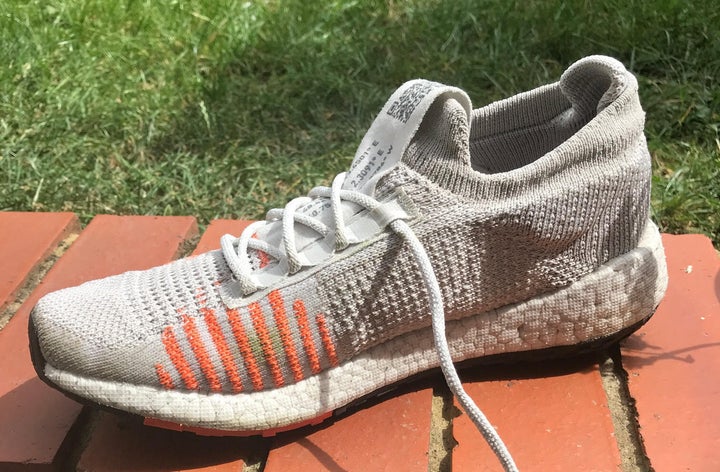 The Fit and Feel
Without a separate tongue, the trainers pull on like a sock and instantly hug my feet, enabling me to feel secure, without my toes feeling squashed. Boost HD stands for Boost High Density – Adidas claims the padded sole offers stability as you twist and turn through the streets, while still providing runners with a "boost".
As I set off for my first run, I'm impressed by how light the trainers feel – at one point I even look down, just to reassure myself I'm still wearing them. They're not as springy as some other running trainers on the market, so if getting a new PB is your main concern I'd shop around, but they do offer some bounce if you're looking for a comfortable pair to jog around in.
My ankle feels supported as I jog uphill, then down a pavement, and thanks to the knitted-style front, the toe area is well ventilated. I'm impressed that for a first wear, I haven't got a blister in sight.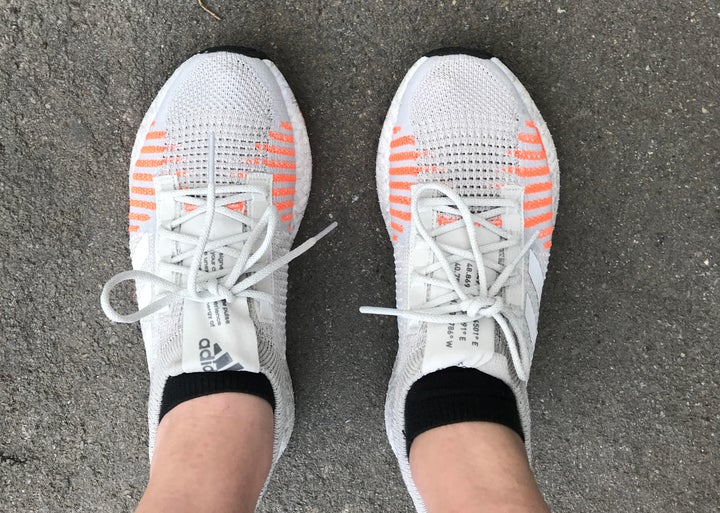 The trainers are designed for running, but if you're anything like me, you'll want a shoe that works for all the different types of exercise you enjoy – plus something you can wear to the coffee shop afterwards. Two days after my run I wear them to my street dance class and am pleasantly surprised by their flexibility; despite offering stability for a run, they're not too stiff to dance in.
My third outing involves wearing the shoes for a whole 12 hours when I go to Fearne Cotton's Happy Place Festival with a friend. The subtle bounce means that despite a long day travelling across London and standing in a field, my feet don't ache at all. But – and for me it's a big but – after one day of wearing the shoes in a seemingly dry field they're dotted with grass stains. Adidas was not joking when they said these were city trainers.
The Overall Verdict
If comfort is your main priority, I can't fault these shoes. They offer enough bounce to make a run enjoyable, but are still firm enough to walk in, making them ideal if you're looking for a trainer that easily transitions from exercise to leisure. To avoid such obvious stains and ensure your shoes survive a simple trip to the park with mates, I'd recommend purchasing the trainers in black, rather than grey.
Sure, they're a little on the pricey side, but overall, considering you can wear them for almost any activity, it'll be easy to get your money's worth.
We all work hard to earn our money – so it shouldn't feel like hard work to spend it well. At HuffPost Finds we'll help you find the best stuff that deserves your cash, from the ultimate lipstick to a durable iron to replace the one that broke (RIP). All our choices are completely independent but we may earn a small commission if you click a link and make a purchase.