An advert for dating website eHarmony has been banned for its "misleading" claim that the website is "scientifically proven" to help people find love.
The ad, which appeared on a London underground billboard, featured the headline claim: "Step aside, fate. It's time science had a go at love".
Further text stated: "Imagine being able to stack the odds of finding lasting love entirely in your favour. eHarmony's scientifically proven matching system decodes the mystery of compatibility and chemistry so you don't have to.
"Why leave the most important search of your life to chance? Try something different today. Join eharmony.co.uk."
In response to a complaint, the online matchmakers said they use a "compatibility matching algorithm" to match daters, but the Advertising Standards Authority (ASA) banned the ad from appearing again in its current form.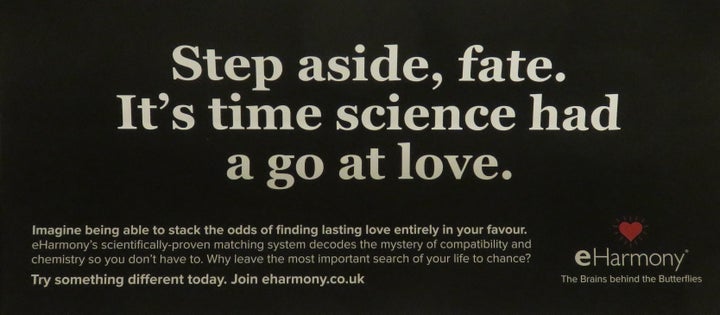 The ASA received a complaint about the advert after a commuter spotted it on a London underground billboard back in July 2017.
The claimant believed it was not possible to hold scientific proof about a dating system and challenged whether the ad was misleading.
According to the ASA, eHarmony said the ad "did not make any specific claims except that their matching system was scientific and could therefore provide an advantage in finding a compatible partner".
The company also explained users are required to complete "lengthy relationship questionnaires" to determine their personality traits, values, interests and other factors, which the site then uses to match them to a partner.
An eHarmony spokesperson explained that the algorithm is based on data collected from more than 50,000 married couples in 23 different countries, which looked at their core personality traits and key values.
They also provided a copy of two published studies which reported higher levels of martial satisfaction for couples who met through eHarmony than any other offline or online sources.
However, upon reviewing the studies the ASA uncovered that within the first study "the mean score for eHarmony was below the level of statistical significance".
In addition the ASA decided the second study did not contain a "representative sample" of couples who had met through the website, because it consisted of couples who had proactively informed eHarmony of their engagement or marriage and were therefore "more likely to report positively on their marital satisfaction".
After reviewing the advert, the ASA concluded: "We told eHarmony to remove the claim 'scientifically proven matching system' and not to use similar claims with the same meaning, unless they had adequate evidence that their website offered users a significantly greater chance of finding lasting love than what could be achieved if they didn't use the service."