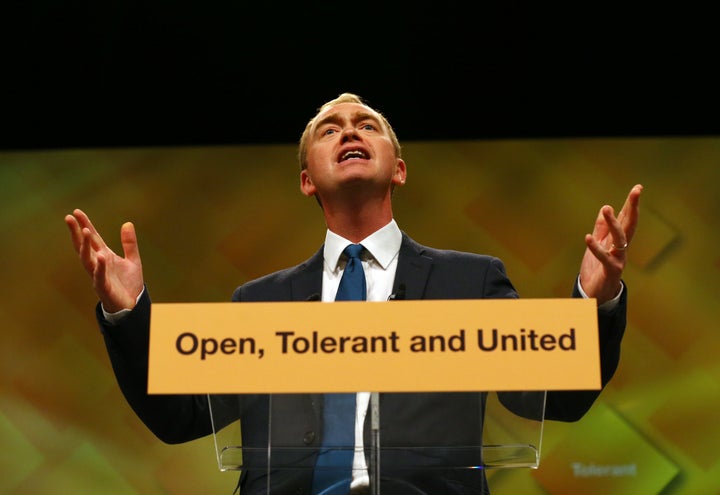 Tim Farron has told the Liberal Democrat conference how an aid worker told Britain needed to "take some 'effing refugees".
In his speech to the the party's annual conference on Tuesday, the Lib Dem leader said the Conservative government's attitude towards refugees made him "ashamed".
Farron told the conference in Brighton today:
"I'm proud of my country; I hate it when my government makes me ashamed.

"When I was on the island of Lesbos last year, after we'd helped to land a flimsy boat of desperate refugees, I was handing out bottles of fresh water.

"And a few yards away was an aid worker from New Zealand, who knew that I was a British politician.

"She looked at me and shouted, 'stop handing out bottles of water and take some f***ing refugees.'

"Because that is how Britain is seen. Mean and not pulling its weight. And maybe that doesn't bother some people, but it bothers me.

"Because I am proud of who we are – always a sanctuary for the desperate, the abused and the persecuted; and I will not stand by and watch my country become smaller, meaner and more selfish.

"That is not Britain. We are better than that."
Today, Human rights lawyer Amal Clooney has also called on the UK to take in more refugees from the civil war in Syria.
Mrs Clooney urged Theresa May to take a "leadership" role in pressing the United Nations for action against the Islamic State terror group - also known as Isis, Isil or Daesh - for its human rights violations against minority groups such as the Yazidis.
The prime minister will tell the United Nations today Brexit does not mean the UK is turning away from the world. But she will say the political class around the world needs to do more to listen to the concerns of the general public.
May will say the "unprecedented" mass migration requires "policies that are fit for the challenges we face today". She will call for cross-border action to tackle criminal gangs "trafficking our fellow citizens into lives of slavery and servitude".
Popular in the Community