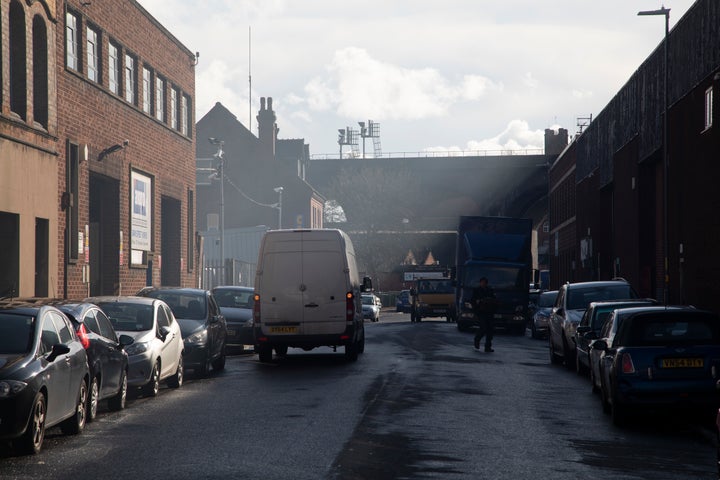 What is the biggest pollution problem facing Birmingham? In the city centre, 150 years ago, we might have pointed to sewage, or to the manure from the horse drawn carriages – today, traffic is once again in the frame, but for a very different reason – air pollution.
Poor air quality is thought to reduce average life expectancy by six months, and cause some 900 premature deaths each year in Birmingham, with significant direct and indirect economic and healthcare costs. Other impacts are less obvious. For example, will it be harder for companies to recruit or retain workers in more polluted locations, will visitors be less likely to come if the view is always hazy?
Some types of air pollution in Birmingham are much lower than in the 1950s – with levels of soot and smoke vastly reduced, and sulphur dioxide from coal burning now hard to measure.
Now the key air pollutants affecting Birmingham are the gas nitrogen dioxide (NO2), and fine particles (particulate matter, PM2.5) – tiny particles suspended in the air which are small enough to be inhaled into the lungs. Most of the NO2 in Birmingham comes from local vehicle emissions - cars, buses, HGVs - on a background of regional sources (industry, power generation). The sources of PM2.5 are more widespread, and include industry, vehicles, agriculture, solvent use, dust, woodsmoke and chemical reactions in the air.
Current UK legislation sets limits for the levels of specific pollutants allowed in places where people live, or in the jargon where "exposure occurs". Air quality in Birmingham (like many UK cities) is well above this limit for NO2 at roadside locations; PM2.5 levels are below the European limits, although above those set by the World Health Organisation. The latest science indicates that diesel exhaust fumes are carcinogenic, that there is no safe level for these pollutants, and that some of the harm – for example, reduction in lung development in children from exposure to fine particles – is irreversible.
What should be done? The answers aren't easy, and will require political courage and joined up thinking at city, region and national levels. We should focus on measures with the greatest health benefit, which may be slightly different from just meeting the legal limit values. Some interventions will impact some individuals or groups more than others, but we should remember that poor air quality disproportionately affects the most disadvantaged communities. Improved public awareness of air quality issues has a key part to play.
The VW emissions scandal has shown that relying upon newer technology to deliver air quality improvement can be problematic. UK fuel taxation policy over the past two decades has encouraged the growth in diesel rather than petrol vehicles, which has helped reduce CO2 emissions but has come at a cost for our local air quality and health. Vehicles are getting cleaner in terms of their emissions, but there are more of them: there is a battle between the emission per vehicle (falling), and the total number of vehicles on the roads (increasing). New technology should be used to measure real-world on-road emissions and ensure vehicles perform as promised.
Birmingham City Council is expected to launch a consultation on a Clean Air Zone (CAZ) for the city centre soon - proposing to limit the use of older, high emission vehicles. If implemented, the CAZ, together with other measures, should allow the city to meet the limits for NO2, with reductions in PM2.5 also expected. If this can be achieved without simply displacing the traffic elsewhere, cleaner air and health benefits for the city should follow. In parallel, we need to address other sources of air pollution, most notably regional and national contributions to particulate matter, to reduce the health burden of poor air quality.
We need to embed air quality as a consideration across local and regional decision making and strategies in areas like transport, housing and planning. There is increasing public awareness of air quality issues, and this is beginning to inform choices over everything from where to live, through to how to travel, and ultimately how to vote.
William Bloss is a professor of Atmospheric Science and head of the University of Birmingham's School of Geography, Earth and Environmental Sciences
HuffPost Listens – Birmingham

HuffPost wants to get out of the media bubble and tell the real story of the UK. For one week we relocate our newsroom to the heart of Birmingham and invite people to tell us what they care about - we will go and report on it. We're also hiring more reporters out of London, starting in Birmingham. We don't think the media has listened to people enough, so that's what we're doing. Listening to the stories of Birmingham, opening up our newsroom to its people and telling the real story of Britain from the heart of one of its biggest and best cities. You decide the news. We'll tell your story. Birmingham, be heard. #HuffPostListens

HOW YOU CAN GET INVOLVED

Visit our open newsroom at the Bullring and tell us your story: We're right by the Rotunda, next door to Next, Upper East Mall, Bullring, Birmingham, B5 4BG. Opening times: Mon-Friday: 10am-8pm, Sat 9am-8pm, Sunday 11am-5pm
Find us across the city on mobile "Listening Posts" and tell us your story: MediaCom Birmingham, Birmingham Moor Street Station, Birmingham Town Hall, Birmingham City Centre, Marks & Spencer
Email listentobirmingham@huffpost.com

, or WhatsApp +44 7534 044 578 and tell us your story

Join our Facebook group

and tell us your story

Visit huffpost.co.uk

from Monday and read your stories there