Airlander 10, the world's largest aircraft, has crashed on just its second ever test flight during what was described as a "heavy landing".
The £25million hybrid air vehicle - which is part plane and part airship - sustained damage to its cockpit when it nosedived into the ground during landing on Wednesday at Cardington Airfield in Bedfordshire.
Video footage of the accident shows the aircraft approaching the landing site nose-first before hitting the ground and levelling out. It then comes to a standstill soon after.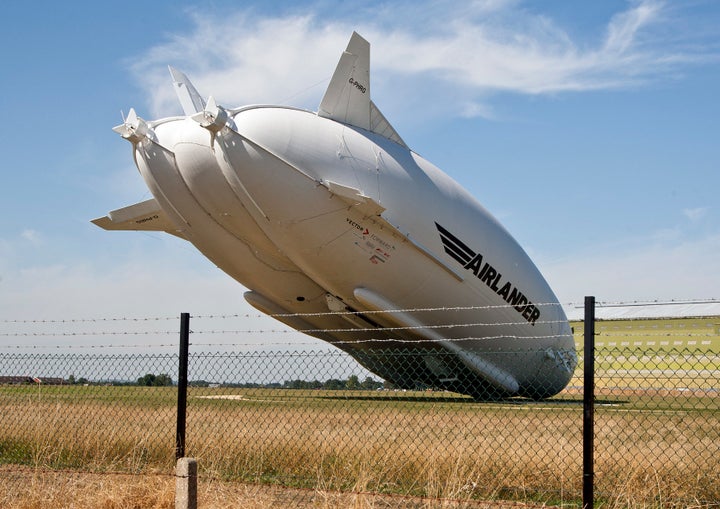 No one was injured in the accident, which happened as the aircraft – nicknamed 'the flying bum' - was coming into land at around 11am.
A spokesman for Hybrid Air Vehicles (HAV), which is developing Airlander 10, said: "Airlander sustained damage on landing during today's flight."
He added: "We're debriefing following the second test flight this morning. All crew are safe and well, and there are no injuries."
"All crew are safe and well and there are no injuries." It also denied reports the craft hit a telegraph pole, stating the damage occurred upon landing.
A full statement from HAV said:

Today the prototype Airlander 10 undertook its second test flight and flew for 100 minutes, completing all the planned tasks before returning to Cardington to land. The Airlander experienced a heavy landing and the front of the flight deck has sustained some damage which is currently being assessed. Both pilots and the ground crew are safe and well and the aircraft is secured and stable at its normal mooring location. Hybrid Air Vehicles runs a robust set of procedures for flight test activities and investigation of issues. We will be running through these in the days ahead as we continue the development of the Airlander aircraft.
The helium-filled aircraft had its first test flight from the airfield on August 17. It performed one lap of the airfield before landing about half an hour later.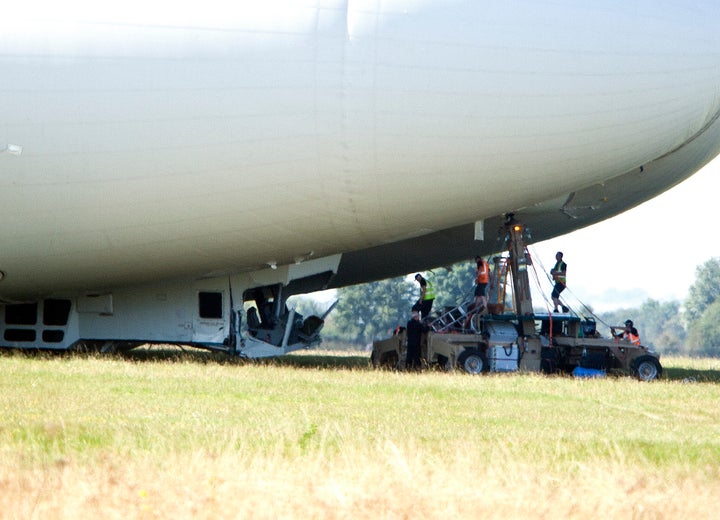 That was set to be the beginning of 200 hours of test flights for the 143ft-wide (44-metre) and 85ft-high (26-metre) craft, which will be able to stay airborne for about five days during manned flights.
Christened the Martha Gwyn, the vast aircraft measures 302ft long and is around 50ft(15 metres) longer than the biggest passenger jets.
Engineers have spent three years working on the Airlander 10, which is filled with 1.3 million cubic feet of helium - enough to fill 15 Olympic-sized swimming pools.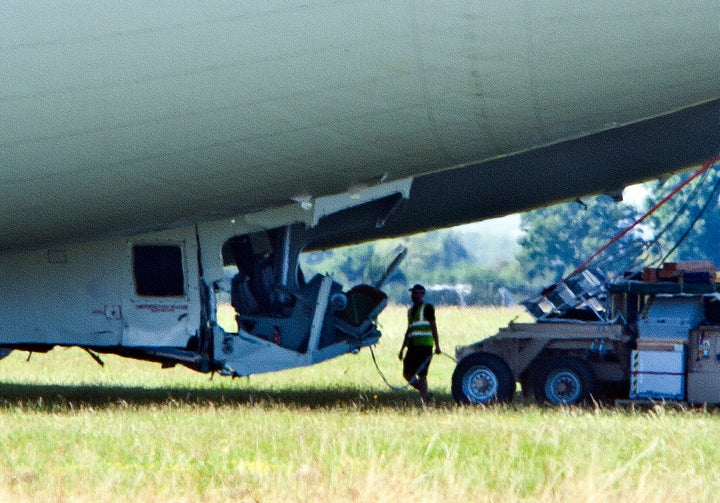 It was first developed for the US government as a long-endurance surveillance aircraft but it fell foul of defence cutbacks.
The huge aircraft will be able to stay airborne at heights of up to 20,000ft with a 10-tonne cargo for two weeks at a time at speeds of up to 90mph.
HAV hopes to be building 10 Airlanders a year by 2021.
It is also hoped an Airlander 50 will eventually be developed, which would be able to transport 50 tonnes of freight.