Dozens of passengers on the Alton Towers ride Galactica were left dangling 20m in the air after heavy rain caused it to stop.
There were 28 people trapped in the rollercoaster on Bank Holiday Monday when it suddenly came to a halt.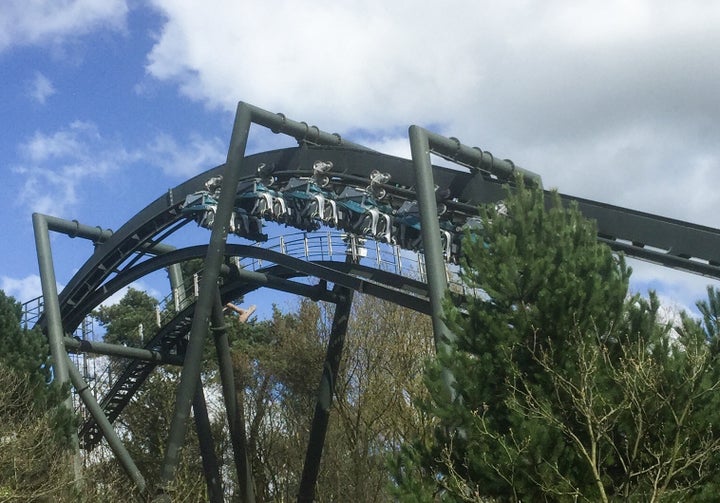 Though a spokesman for the Staffordshire theme park says everyone was brought down within 19 minutes, some people complained on Twitter they had been stuck for up to half an hour.
"They were shaken and wet because it was hammering it down with rain. Their hands were icy cold."
Watkins said people on the ride were crying and shouting for help but staff climbed up to reassure them.
Meg O'Dea later took to Twitter to praise staff, writing: "Just want to say thanks to Chris and Steve on Galactica today for keeping us so well informed and calm when the ride stopped."
A spokesman for the park said: "On the afternoon of 2 May, heavy rain obscured a sensor on Galactica which meant that the ride was automatically stopped.
"This is a standard safety feature on this ride and the ride was working exactly as it is designed to do.
"The health and safety of our guests is our number one priority and our team followed standard procedures to get the guests off as quickly and as safely as possible.
"The ride has re-opened."
"Now you can become a space tourist through this unique combination of physically flying coupled with the breathtakingly emotional journey of travelling through space."
The beleaguered park is still recovering from the Smiler accident in June last year, which saw Vicky Balch, 20, lose her leg.
Leah Washington, 19, of Barnsley, also lost a leg and boyfriend Joe Pugh, 19, broke his knee caps. Daniel Thorpe, 27 suffered a collapsed lung and leg injuries and Chanda Chauhan, 49 sustained internal injuries.
Last month it emerged the owner of Alton Towers may be ordered to pay a "very large" fine after pleading guilty to breaking health and safety rules in the lead up to the crash.