On the anniversary of the Alton Towers crash three of the most seriously injured victims have spoken about how the "horrendous" accident made them realise "what is important in life".
Vicky Balch, Leah Washington and Joe Pugh spoke on ITV's This Morning on Thursday, a year on from the accident on the Smiler ride that led to both Balch and Washington having a leg amputated.
The accident left five people with serious injuries. A further 11 needed medical treatment.
Pugh, 19, was left with two shattered knees and Daniel Thorpe, 28, suffered a punctured lung and a broken leg after the coaster car they were in slammed into another on the tracks. The group were trapped on the ride for several hours.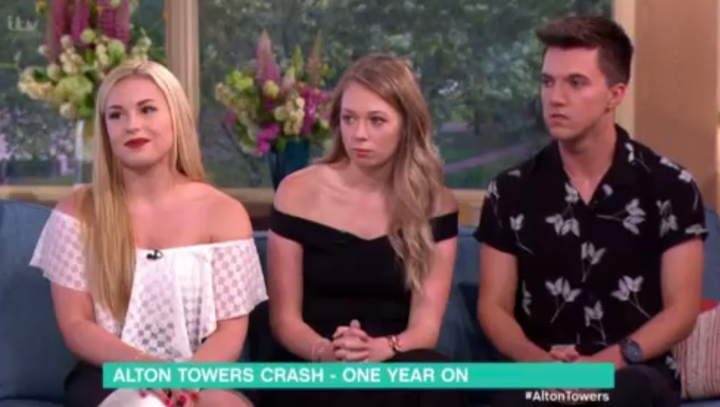 The trio recalled how they felt entering the theme park on the fateful day, with Pugh saying the anniversary had come up on his Facebook page.
He said: "We were just praying for nice weather and hoping to have a nice day."
Balch, 21, told how she wasn't "feeling right" even as she waited to go on the ride and should have "stuck to my gut".
That feeling was soon replaced with pain, "so much pain".
"The pain... and we bumped into it (the carriage on the track) multiple times and we were swaying. I passed out. I was in so much pain, but I remember it.
"It was horrible, I wasn't unconscious very long at all. I remember just pouring with blood the entire time. I remember thinking I'll never walk again."
Balch said the year since the accident was "indescribable... you can't really compare it to anything".
For Washington, who was on a first date with Pugh when the accident occurred, the biggest change has been the loss of her independence, "getting used to having to put my leg on every day, or using crutches".
She said: "It took ages to get our independence back and do things on our own. We are getting there, but it has taken a year and we're still getting there."
Pugh said the accident had made the couple "closer" and "we've realised what is important in life and to take each day as it becomes, because we don't know what's around the corner".
He added: "We are lucky we have each other."
The trio told ITV that while the accident was "so horrendous" a lot of good had also come out of it. They had all met some "amazing people" and had a lot of "new opportunities".
The trio's Twitter accounts were inundated with messages of support Thursday to mark the anniversary.