From apple de-corers to boiled egg slicers, there a plenty of kitchen utensils conspiring to overthrow the humble knife.
Now, there's a banana slicer, designed to cut super soft fruit in "one quick motion". Because, you know, laziness.
The product is currently on sale in the US (of course it is), but they do ship internationally.
According to the Amazon description, the pros of the banana slicer include being "great for cereal", "faster" and "safer" than using a knife, and great for kids.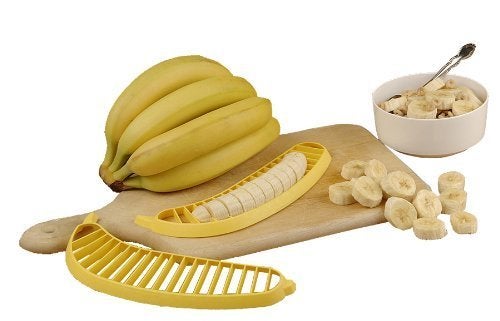 But, unsurprisingly, not everyone is convinced as these hilarious hijacking Amazon reviews prove:
Angle Is Wrong
"I tried the banana slicer and found it unacceptable. As shown in the picture, the slicer is curved from left to right. All of my bananas are bent the other way."
Tried eating a banana WITHOUT slicing it and almost paid ...
"Tried eating a banana WITHOUT slicing it and almost paid for it with my life. Each inconsistant [sic] bite went down with the grace of a truck stop hooker. While enjoyable, my throat still screamed, "I just want to be held."

"I got this banana slicer to change the way I ate bananas, but it did more than that, it changed the way I consumed food."
Solved Earth's biggest mysteries
"I speak for everyone that peeling a banana is one of the hardest things to do and solve; I even call it nature's Rubik's cube.
"Not every banana is the same so I always have to try peeling it in different ways: top-down, bottom-up, vertically, horizontally, perpendicularly, sexually, every geometrical term out there, you name it, I've tried it all. Worse, some bananas are small or too ripe so its various complex shapes would often result in me destroying the banana.
"Even my girlfriend, who seems to have a good grip on big, large, and thick bananas, seem to be at a loss when she needs to handle smaller and mushier ones.
"But this crafty little device just improved our work-life balance by 33.33 percent (repeating of course) as I can now eat on my way to work without being late because I had to eat my breakfast. Total lifesaver."
My eyes have finally been opened to the joy of evenly sliced bananas
"My eyes have finally been opened to the joy of evenly sliced bananas! Why couldn't I have found this sooner? Forty years of hand slicing! What a collosal [sic] waste of time. My life could've been totally different if I had known of this back then."
Life Changing....
"It makes banana slices and peanut butter taste even better. How is that possible?"
I never knew happiness until I got this item
"My Banana slices are cut to perfection. Now that is truly living! This is bananas that this product is not more known!"