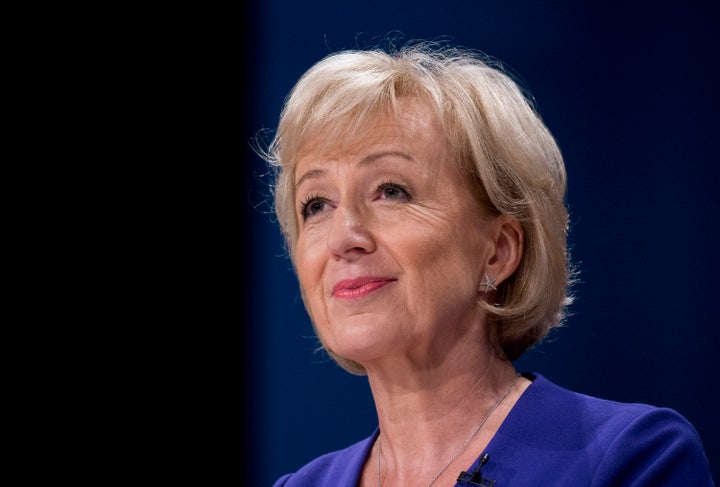 Tory MPs have been dubbed "wildly hypocritical" over NHS cuts after it emerged that Cabinet minister Andrea Leadsom is lobbying Jeremy Hunt over the downgrade of her hospital.
Leadsom, the Leader of the Commons, has written to the Health Secretary to urge him to review a decision to axe a consultant-led maternity unit at Horton General Hospital in Banbury, Oxfordshire.
A local clinical commissioning group decided this month to make permanent a downgrade to a midwife-led unit, prompting angry warnings from campaigners that mothers with high risk births face 90-minute journeys to the nearest hospital in Oxford.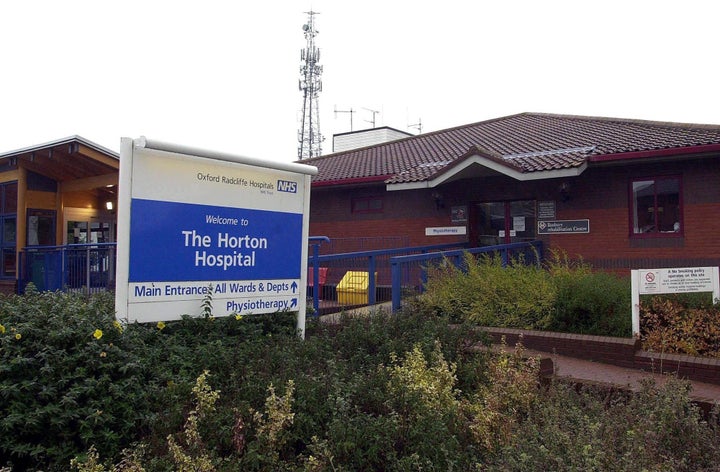 An NHS scrutiny committee has formally referred the case to Hunt to review the decision and Leadsom is now among a clutch of local Tory MPs who have weighed in to speak up for their constituents.
Leadsom's nearby Northamptonshire constituency will be hit hard by the change and she has written to local health chiefs - and copied in Cabinet colleague Hunt - to warn against any decision being made without a review by the Department of Health.
In her letter, Leadsom points out that she is Leader of the Commons and warns that "it would be most improper" for the local NHS to go ahead until Hunt has considered the plan – and until a judicial review launched by nearby councils was resolved.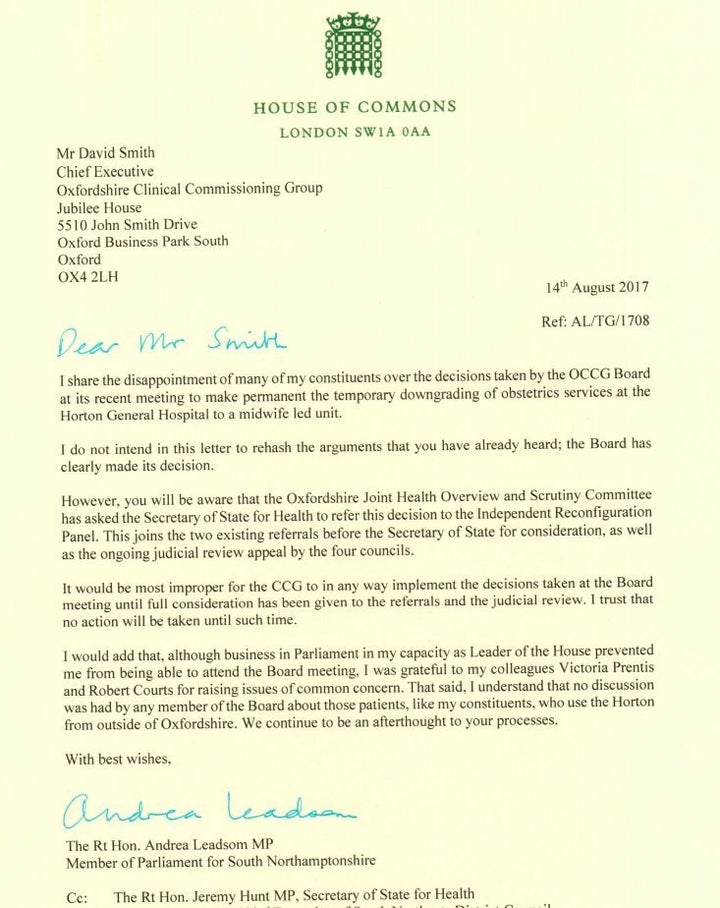 A spokesman for Leadsom insisted that she was representing her constituents and that Hunt had been copied in to the letter 'for information'.
Oxfordshire NHS chiefs claim that they need to fill a £200m shortfall in their finances by 2021 and local clinicians say the downgrade was prompted by a "staffing crisis" and shortage of obstetricians.
Labour has seized on the row, declaring that Tory MPs and ministers are happy for other NHS cuts to go ahead, as long as they are 'not in my backyard'.
And the British Medical Association has said that the case shows the "dire" state of the NHS and highlights severe staff shortages.
Shadow Health minister Justin Madders told HuffPost UK: "Hospital services across the country are at risk because of Tory underfunding so it beggars belief that Tory MPs are now pleading for special treatment for their own area.
"It is wildly hypocritical for the Tories to back service closures elsewhere but then complain when changes are made in their own back yard.
"At the election Labour promised to halt hospital closures while giving the NHS the support needed to deliver world class care in every part of the country. If Andrea Leadsom wants to save her local hospital then she ought to back Labour's plan to give the NHS the money it needs."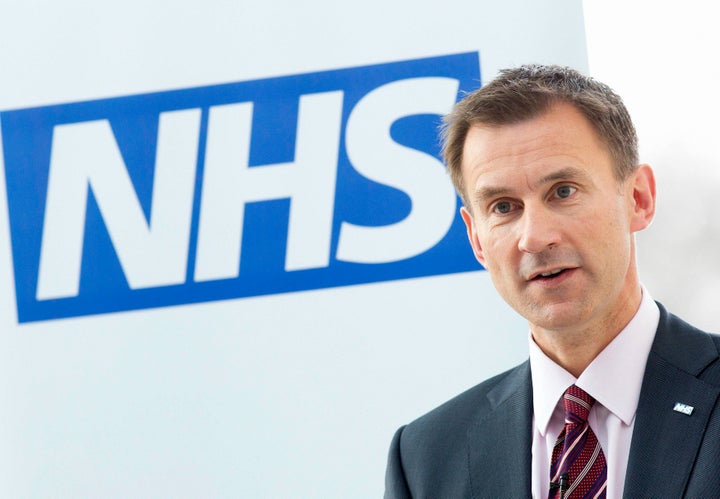 The downgrade of other maternity units is taking place across England as local areas draft their NHS 'sustainability and transformation plans (STPs). The Royal College of Midwives has complained that maternity services are "not a priority" in many STPs.
BMA council chair, Dr Chaand Nagpaul told HuffPost UK: "Local residents will be understandably concerned by the downgrading of important maternity services. In what can already be a stressful time, pregnant women and their families should not be left in the position where they may have to travel long distances to access maternity care.
"This case highlights the impact of chronic staff shortages in this area of medicine, and of a wider workforce and funding crisis in the NHS. It also shows the impossible decisions the NHS is now facing, having to plug funding gaps by making cuts to vital services.
"That a cabinet minister is now publicly lobbying against cuts which her own government is responsible for, shows just how dire the situation has become in the health service."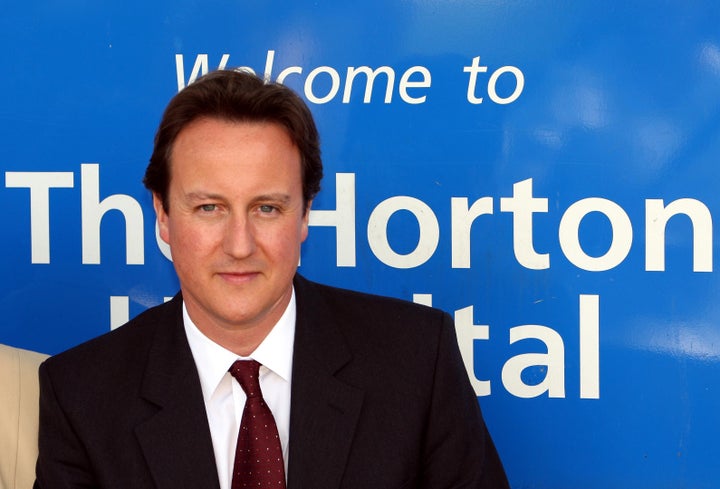 Horton General Hospital has long faced pressure to axe key services and has seen high profile visits from senior Tories keen to save it.
David Cameron's nearby constituency of Witney was covered by the hospital and he lobbied hard to oppose cuts. Plans for maternity downgrades were blocked when he was Prime Minister.
But a shortage of doctors has prompted local health bosses to approve the shift to a midwife-led unit – despite "almost universal" opposition from the public when consulted about the plans.
At the meeting that approved the final decision this month, Banbury's Tory MP Victoria Prentis said pregnant women in the town now face "utterly unreasonable" 90 minute car journeys while in labour to reach the John Radcliffe Hospital in Oxford.
Witney MP Robert Courts and Stratford-upon-Avon MP Nahhim Zahawi have also written to NHS chiefs to oppose the downgrade.
Dr Joe McManners, clinical chair of Oxfordshire CCG, said a "workforce crisis" in recruiting obstetricians was among the reasons for the decision.saf
The National Institute for Health and Care Excellence (NICE) recommends midwife-led units for low-risk births, but only 45% of women are classed 'low risk'.
One investigation found that a quarter of births in midwife-led units had complications that resulted in a transfer to a consultant unit, particularly for first-time mothers.
The Department of Health said that the first step was to assess whether any referral to the Secretary of State was a valid referral.
It will then be up to Hunt to decide to refer the case to the Independent Reconfiguration Panel - an advisory quango - for its advice.
A spokesman for Leadsom told HuffPost UK: "The Horton General Hospital maternity issue has always been purely about recruitment and retention of obstetricians, which led to a temporary downgrading and now a permanent one due to safety concerns about having enough obstetricians to fully staff the unit there.
"The consultation on the Oxfordshire CCG Sustainability and Transformation Plan (STP), the temporary downgrade and the permanent downgrade are all with Jeremy Hunt for review, and there's also a Judicial Review in progress.
"What Andrea has done, in representing her constituents, is request that no action is taken until those processes are all resolved. The Secretary of State was copied in for information."
Related