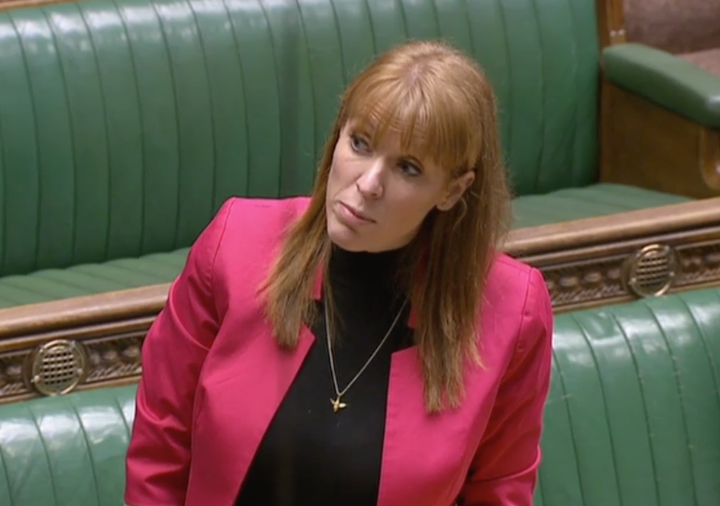 It's reassuring to know that even in the depths of a pandemic, we haven't abandoned all claim to public decency.
It's these values which knit us together as a nation. That on a day when the government's benches voted overwhelmingly against providing free meals to children from deprived households during half-term and the Christmas break, we can still find the bandwidth to be appalled at Angela Rayner for calling Conservative MP Chris Clarkson "scum."
The deputy leader of the Labour party later apologised for her remarks made during a "heated" debate, brought by the opposition regarding the financial support made available to regions affected by Tier 3 coronavirus restrictions.
Despite Rayner's contrition, the BBC's News at Ten covered the outburst with the appropriate amount of finger-wagging. The country's flagship news programme did not, however, consider the free school meals vote worthy of mention.
This is what a healthy political morality looks like apparently – an insistence on being nice to those with power, and indifferent to the needs of those without it.
The relationship between the press and politicians ought to be one of predator and prey. In reality, however, these two arms of our democracy are mutually invested in enforcing the same elaborate system of norms.
These social codes signal whether someone is a legitimate player in the arena of politics, or an outsider who must be drummed out of public life at all costs.
Take it from somebody who has spent more than their fair share of time in various green rooms. If you can participate in the air-kissing bonhomie backstage at Question Time, if you get invited out for lunch, if you can think of nothing better to do on a Friday night than gossip with some poor SPAD in The Red Lion – well then, my friend, you've made it.
"Why should somebody who argues against financial support for struggling small businesses in lockdown, or feeding hungry kids during a pandemic, be entitled to politeness?"
Antagonism is what you have to sacrifice to be an insider. By calling her opponent scum, Rayner broke the first rule of Westminster: we're all mates here.
The iron law of these invisible codes has little to do with kindness. It's striking that while Rayner is decried for conduct unbecoming of a parliamentarian, figures like Winston Churchill (who once said of Stanley Baldwin "it would be better if he had never lived") are celebrated for their rudeness.
Far from marking you out as a ruffian, being able to refer to this canon of bon-mots is just another way to indicate that you belong in politics.
This might be attributed to the mellowing effects of historical distance. Perhaps if Dorothy Parker lived today (when informed of President Coolidge's death, she archly replied "how can they tell?"), we could expect her to be roundly denounced on Times Radio.
But I think this contradiction has more to do with class than anything else. Boris Johnson's successes, first in journalism and then in politics, shows that the same standards of etiquette aren't enforced when someone comes with all the trappings of an upper-class upbringing.
Indeed, the opposite is true. From calling the investigation of historic child abuse money "spaffed up the wall" to a limerick composed in honour of Turkish president Recep Tayipp Erdogan ("There was a young fellow from Ankara / Who was a terrific wankerer"), Johnson's refusal to operate within the boundaries of politeness is a big part of his popularity.
"When you're as posh as our prime minister, being vulgar is a mark of sophistication."
The point of being part of the ruling class is that you're not governed by the same norms as everybody else. When you're as posh as our prime minister, being vulgar is a mark of sophistication.
Ultimately, maintaining class distinction is the very purpose of the rules that Angela Rayner fell foul of. Her offence is that she has skin in the game. That as someone who left school at 16 and spent years as a care worker, she's not from that moneyed class which can rise above petty concerns like whether people will be plunged into poverty during a lockdown.
The spectacle of watching backbenchers contort themselves to defend the indefensible warrants nothing but disdain. There's nothing wrong with giving scummy behaviour the name it deserves, and I do hope that Angela Rayner had her fingers crossed behind her back when issuing her apology.
The social codes which preside over the Westminster chumocracy have little to do with kindness, at either an interpersonal or a structural level. It's more than mere hypocrisy: it's about enforcing a divide between those who get to make political decisions, and those who are affected by them.
Ordinary members of the public are held to higher standards than their elected representatives. To starve one child is a crime. To starve a million is politics.
Why should somebody who argues against financial support for struggling small businesses in lockdown, or feeding hungry kids during a pandemic, be entitled to politeness? No amount of decorum can civilise our politics while the policy is barbarism.
Ash Sarkar is Contributing Editor at Novara Media, and lectures at the Sandberg Instituut in Amsterdam.