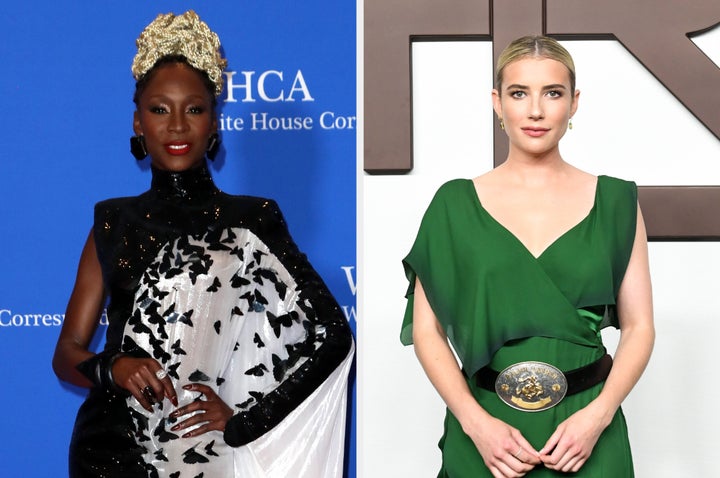 Angelica and Emma worked together on the ninth season of the anthology horror series, subtitled 1984, which was released in 2019.
On Tuesday, the former Broadway performer – who is trans – alleged during an Instagram live that Emma misgendered her on set, claiming that when director John J. Gray told the two women "OK, ladies… let's get back to work", Emma responded: "Don't you mean lady?"
Angelica continued: "My blood [was] boiling because I'm like, if I say something, it's gonna be me that's the problem."
Angelica went on to say that she didn't speak to Emma directly for the rest of their time working together following the alleged incident.
After this, the award-winning star shared a post on X (formerly known as Twitter). claiming that when she did an impression of co-star Cody Fern's Australian accent on set, the former Scream Queens actor then imitated Angelica by "dropping [her voice] several octaves".
"I was SHOOK," she wrote. "She read me for blood with my own words. Of course I was self conscious about my voice on set after that."
HuffPost UK contacted Emma's representatives for comment on Wednesday but did not receive an immediate response.
Angelica later claimed on Wednesday evening that she'd received a phone call from Emma "apologising" and "recognising [her] behaviour was not that of an ally".
"I will leave the line open to follow up on your desire to do better and support social justice causes with your platform," Angelica added.
After 1984, Angelica returned for the two-part 10th season of American Horror Story, playing "The Chemist" in Red Tide and Theta in Death Valley.
However, she did not appear in the 11th season, NYC, and has more recently spoken out against the show's creator Ryan Murphy, claiming her American Horror Story contract meant she was unable to pursue other opportunities (including a potential project with Marvel) despite not being asked back for the new season.
More recently, she also accused Murphy of ghosting her after initially expressing interest in a new season of American Horror Story with a Black leading cast.
Ryan Murphy has not addressed Angelia's claims publicly, but HuffPost UK has contacted his publicist for comment. We have also contacted representatives for FX, the company behind American Horror Story.
American Horror Story returned for its 12th season, Delicate, on Wednesday night.