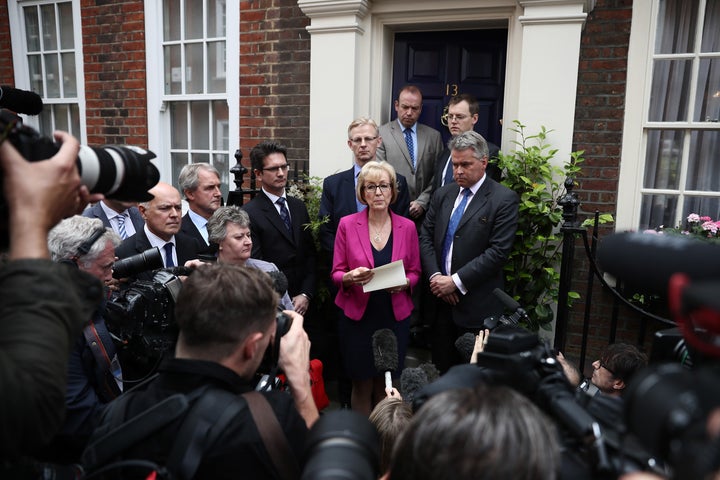 "Another Brexiter leaves the scene of the crime," was the shout from a member of the public, attracted by the gathering.
Leadsom was indeed the last Brexiter standing after the historic referendum vote of fewer than three weeks ago. Boris Johnson, Michael Gove and Liam Fox have all exited the post-referendum stage, leaving just Leadsom to represent the Leavers.
It had been a tricky weekend for the 53-year-old, who faced a barrage of criticism after saying that she has a "very real stake" in the future of the UK as she is a mother - unlike Theresa May.
As such, there was an eerie silence among Leadsom supporters this morning as MPs reconvened in Westminster after the first weekend of the final stage of the leadership battle.
The phones of many of her key supporters went to voicemail as they were locked in a meeting with Leadsom digesting the events of the previous 48 hours.
Theresa May was away from Westminster, giving a speech in Birmingham in which she was setting out her credentials for leadership. It will be largely unreported now, by May was very much stealing the best lines from former Labour leader Ed Miliband's script; calling for "an economy which works for everyone" and proposing having a workers representative on company boards.
No sooner had her speech finished than the rumours began swirling that Leadsom was planning to pull out from the contest. BBC Political Editor Laura Kuenssberg was the first to tweet the line, and it was soon announced Leadsom would be making a statement at 12noon.
Journalists, who were given just 15 minutes notice of the announcement, quickly made their way to Cowley Street – one of the many roads to the west of Parliament which is comprised of smart, terraced houses with large, sash windows.
Delivery vans, black taxis and cyclists pulling into the street from around a corner had to slow down and carefully maneuver their way through the ever-growing media throng.
Just before 12.15pm, Leadsom emerged from behind the blue door and delivered her statement – which had already been sent to the Chairman of the 1922 Committee Graham Brady.
Ahead of her came her supporters – Steve Baker, Iain Duncan Smith, Tom Pursglove, Owen Paterson – all looking glum. They were witnessing the end of the Brexiter leadership hopes.
Addressing the cameras, Leadsom said: "For me personally to have won the support of 84 of my colleagues last Thursday was a great expression of confidence for which I am incredibly grateful. Nevertheless this is less than 25% of the parliamentary party and after careful consideration I do not believe this is sufficient support to win a strong and stable government should I win the leadership election
"I have however concluded that the interests of our country are best served by the immediate appointment of a strong and well-supported Prime Minister – I am therefore withdrawing from the leadership election and I wish Theresa May the very greatest of success. I assure her of my full support."
No sooner had she finished speaking than word swept through the media pack that Brady would be giving a statement outside Parliament at 12.30pm.
Journalists set off to the St Stephen's entrance of the Palace of Westminster, while Leadsom got into a black cab with three of her closest confidents – including Daventry MP Chris Heaton-Harris.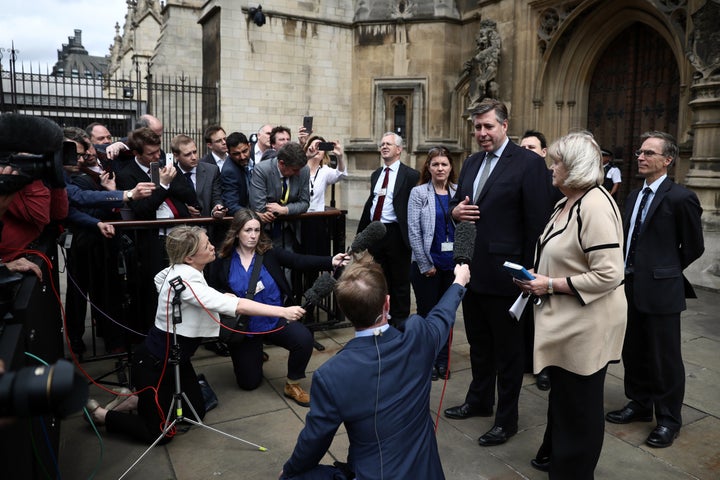 As she sat in traffic caused by roadworks on Abingdon Street, just next to Parliament, camera crews set up outside the building waiting for Brady.
At 12.30pm, he emerged, and with the wind beginning to pick up he set out the next stage in this seemingly ever-changing contest: there would be no re-run of the leadership ballot, Theresa May is the only candidate remaining, discussions will take place this afternoon as to when she will officially become Prime Minister.
Tourists watched on, perhaps unsure as to why so much attention was being paid to this large man with a big smile in a dark blue suit.
The press pack had now expanded even more, with several journalists set to be at Angela Eagle's Labour leadership launch deciding this was more important.
Alas for Eagle, no one had told her which journalists had jumped from her ship. The potential Labour leader was met with an awkward silence after inviting ITV Political Editor Robert Peston to ask her a question only to discover he wasn't in the room, but in fact a mile away, leaning over a barrier Facebook Live-ing the Brady statement.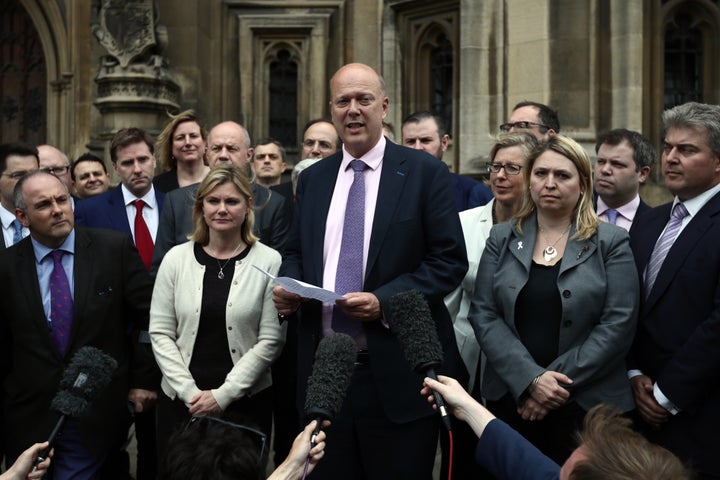 After Brady, another large man in a blue suit emerged to give a statement. Chris Grayling, spoke briefly in his capacity as the chairman of May's election campaign.
It has been a remarkable few weeks for Grayling, who staked his political career on backing Brexit, won, and then repeated the trick by supporting May.
As he and other May-supporting MPs filed back into parliament, journalists waited around a few minutes longer before returning to their offices – just to be sure nothing else was going to happen in what had been an extraordinary hour.
Popular in the Community