One in four supermarket chicken samples contain antibiotic-resistant E coli, according to research from the University of Cambridge.
A study discovered the bacteria in packs of meat sold at major supermarkets including Tesco, Asda, Sainsbury's, Morrisons, Waitrose, the Co-op and Aldi.
Mark Holmes, who conducted the research, hailed the findings as "worrying".
He did add, however, that people can minimise their risk of illness by handling meat carefully and cooking it thoroughly.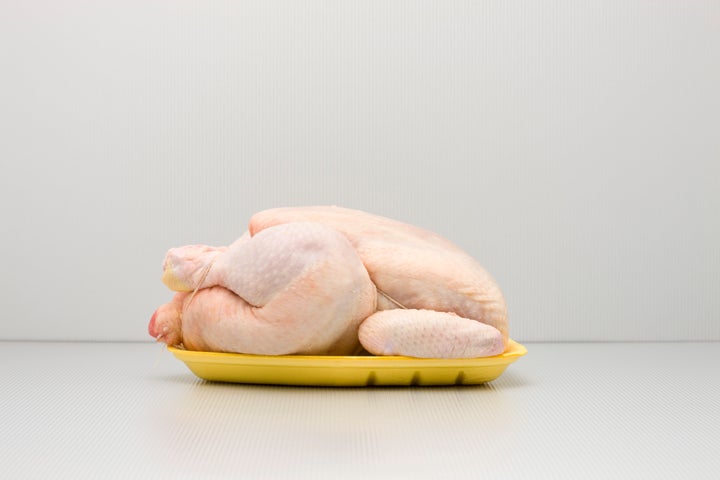 Mark Holmes, reader in microbial genomics and veterinary science at the University of Cambridge, analysed packs of meat sold at Tesco, Asda, Sainsbury's, Morrisons, Waitrose, the Co-op and Aldi.
Samples included diced breast meat, whole roasting chickens, packs of legs, thighs and drumsticks.
Antibiotic-resistant E coli was found on 22 of 92 chicken pieces.
"Every time someone falls ill, instead of just getting a food poisoning bug they might also be getting a bug that is antibiotic resistant," Holmes, whose work was commissioned by campaign group Save Our Antibiotics, told The Mail Online.
"If they end up developing sepsis or a urinary tract infection they may well find they have a bug that is resistant to the first choice antibiotic."
He said that by the time they receive the right antibiotic, the bug could be "out of control", which could potentially be fatal.
He raised concerns that not enough is being done to monitor antibiotic resistance in farm animals and retail meat.
The new study, which also analysed pork samples, found that half (51%) of all chicken and pork samples were resistant to the antibiotic trimethoprim. This is often used to treat lower urinary-tract infections.
In response to the findings, a Co-op spokesperson said: "Animal welfare and food safety are priorities for our business.
"We don't allow the use of antibiotics in any of our meat and poultry, unless there is written approval of a vet to help treat a specific health issue with an animal, and their use as a preventive measure is not permitted."
A spokesperson for the Food Standards Agency told The Huffington Post UK: "Antimicrobial resistance (AMR) is a significant threat to public health in the future and consumer safety is a priority for the FSA.
"Working with others across Government, and with food producers, we aim to reduce the use of antimicrobials in food production animals.
"An important part of that will be work with food manufacturers, assurance schemes and retailers to develop standards for the responsible use of antibiotics in poultry, pig and dairy sectors.
"We are already testing meats and other produce for AMR and these results will be published soon."
They did add, however, that the risk from AMR in all meats "is low if they are handled and cooked properly".
"Poultry, pork, and minced beef and lamb products should be cooked thoroughly so that the meat is steaming hot throughout, there is no pinkness and any juices run clear," they concluded.
The Huffington Post UK has reached out to all of the supermarkets involved in the study and is waiting to hear back.