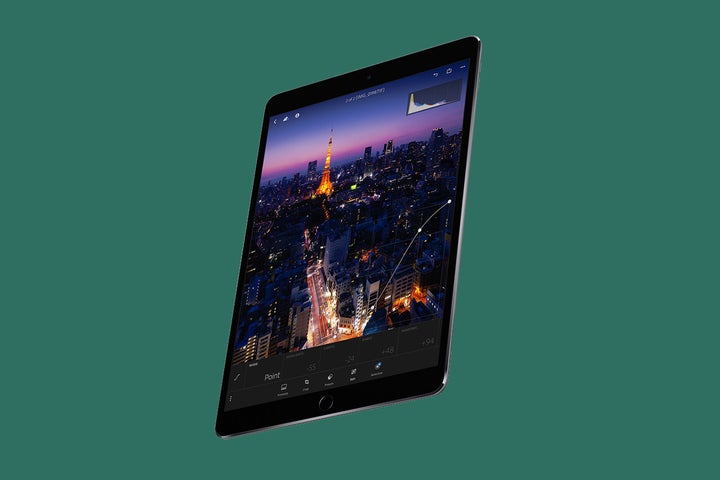 Take a look at Apple's Pro range of products and it's clear that for a company that makes one of the most mainstream gadgets in existence, it's still not above making niche products for niche consumers.
As a perfect example the MacBook Pro has now returned to its roots as a powerful media tool.
With its controversial choice of high-performance Thunderbolt ports, stunning display and a choice of specs specifically designed around artistic creation this was no longer the laptop that kids bought when they wanted to show off at university.
The new iPad Pro feels in many ways like a truly distilled embodiment of this way of thinking. This isn't the gravy, but a devastatingly rich jus.
At first glance it's clear that while this is very definitely an iPad, it's an evolution that makes some subtle but important changes.
Looking its best in gunmetal grey, the iPad Pro 9.7 is now the iPad Pro 10.5.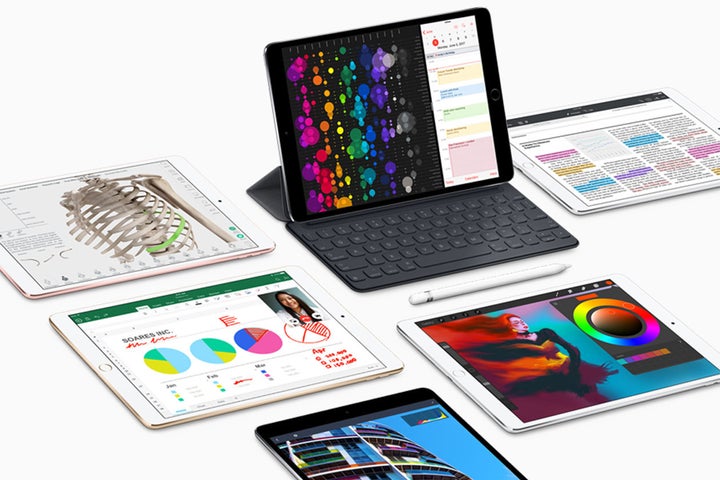 Despite offering 20% more screen real-estate Apple have compensated by greatly reducing the side bezels which means that not only does the screen now completely dominate the front of the tablet but that it still feels incredibly portable.
It's still stupidly thin at 6.1-inches and weighs only 480g. These specs become meaningful when you realise how easy it is to read content, watch movies and write down notes all with just one hand holding the tablet.
As it's a Pro model you get four speakers in each corner, the same hard-edged camera bump found on older iPhone models, a standard lock button at the top and a headphone jack and Lightning port.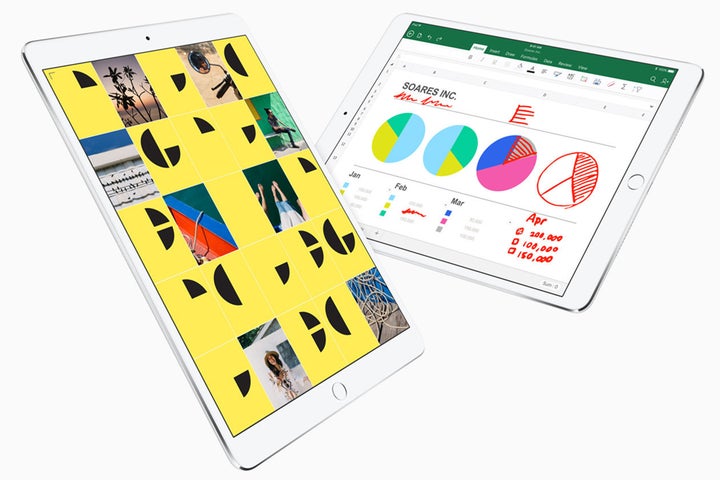 Apple's also included the latest version of TouchID in the Home button allowing for speedy access.
All-in-all this is by far and away our favourite design iteration of the iPad yet. We can't overstate how much of a difference the reduced bezel sizes make to using it. By dominating more of the front of the device with the display it immediately becomes easier to use, also it looks superb.
Speaking of that display this is the single best screen Apple has ever put on a tablet, and it might be one of the best display's they've ever made.
With a staggering 600nits of brightness this tablet is brighter than most TVs while a P3 colour gamut makes this a photographer's dream.
What's most impressive about it though is the refresh rate. In simple terms this is the amount of times the screen refreshes the image. Normal screen refresh at 60hz, the iPad Pro refreshes at 120hz.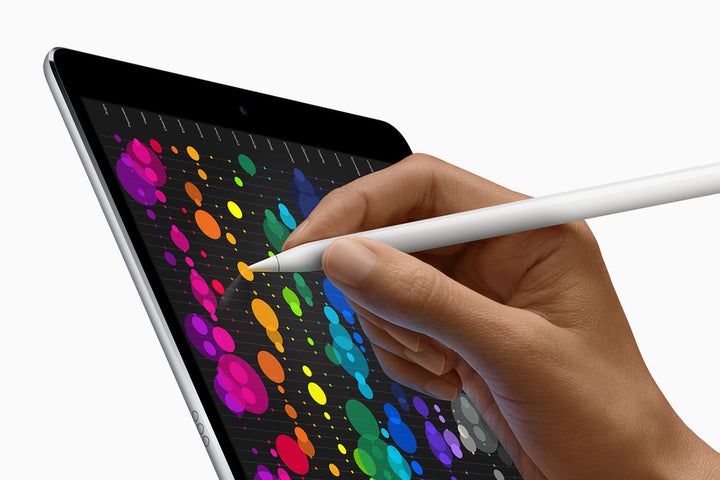 What this translates into is a user experience that feels mesmerisingly smooth. Video content looks stunning but this technology comes into its own when you start editing video or using the Apple Pencil.
Writing on the screen with the Pencil now feels entirely natural, and thanks to the Pro's processing power hike we can immediately see this combo becoming an invaluable tool for artists, architects and engineers.
This is where Apple's desire to create a truly focused product starts to shine through.
The iPad Pro features a new A10X chip which boasts 64-bit architecture and six variable speed cores.
It's a dizzying amount of power for a tablet that puts it 30% faster than the previous generation and 40% ahead in terms of graphical output as well.
How does this all translate in the real-world? Honestly the easiest way to describe it is that in some situations it simply removes loading times entirely.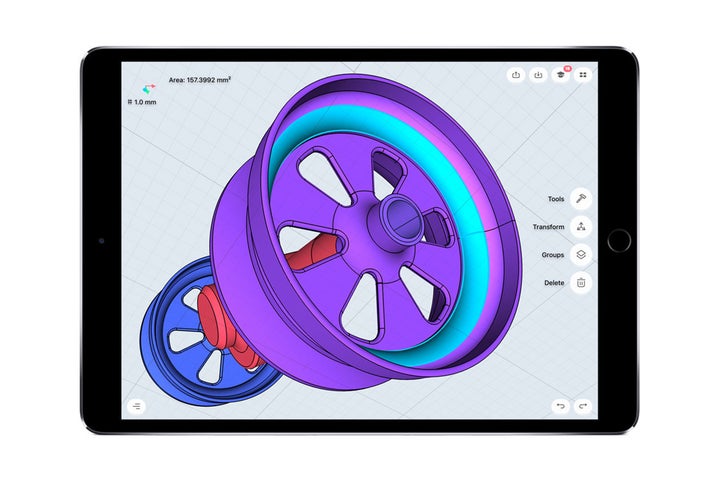 Rendering video, making extremely powerful adjustments to very high-resolution images, navigating complex design drawings. They all felt as effortless for the Pro as it would be to type in a web address and press enter.
Photoshop and Lightroom were both real highlights for us. Pencil integration lets you make changes naturally and accurately while the Pro steamed through our edits without once getting uncomfortably warm.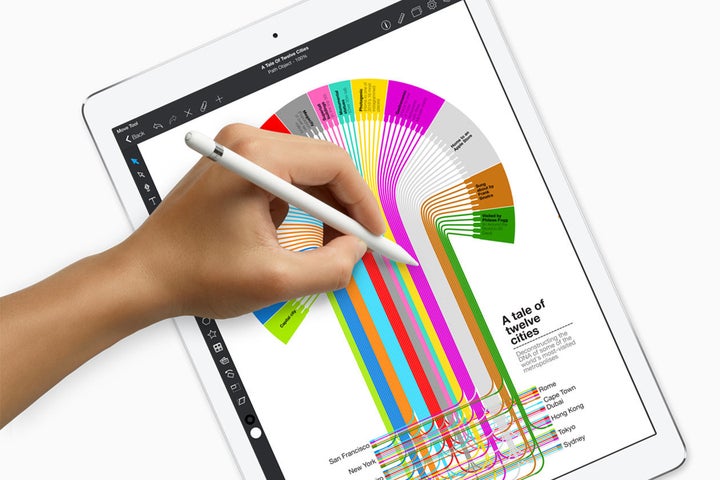 It's not wholly surprising when you think about it though, the iPad Pro has been designed from the ground up to perform specific tasks fantastically well. It's the same focus that makes the new MacBook Pro such a good mobile editor, yet renders it as complete overkill if all you're going to do is browse and blog.
Apple's usual 10-hour battery life claim still stands up relatively well, however it's important to note that when using high-performance applications this will drop significantly and indeed when we started powering through the apps it did.
Apple's new iPad Pro currently runs iOS 10, this is the same software that the last iPad Pro was running.
With it you'll be able to run two full size apps side-by-side or pull in a second app as a smaller sidebar. This is fine, but it's not enough.
Apple often describes iOS as the most powerful mobile operating system on the planet, and while in some use cases that might be true it was becoming clear that iOS just wasn't doing justice to Apple's tablets.
iOS 10 did add some productivity features to the iPad (true multi-tasking for one) but it still felt like it was holding the potential of Apple's tablet as a worthy member of the Pro family.
Thankfully, all of that is going to change in September when Apple releases iOS 11, a software update that while substantial for the iPhone is going to be revolutionary for the iPad.
It brings the dock from the MacBook to the iPad and now includes a Mission Control style multi-tasking page that gives you previews of all your open windows as well as quick-access to settings.
There's also a new feature that Apple is calling 'true' drag-and-drop, allowing you to drag apps from the dock up into the main screen as resizable windows. This functionality also extends to copy, images, video and any files.
Finally, and most importantly, there is now a Files app giving you a complete directory of all your local files, as well as access to other cloud-based storage services like DropBox, GoogleDrive, OneDrive and of course Apple's own iCloud Drive.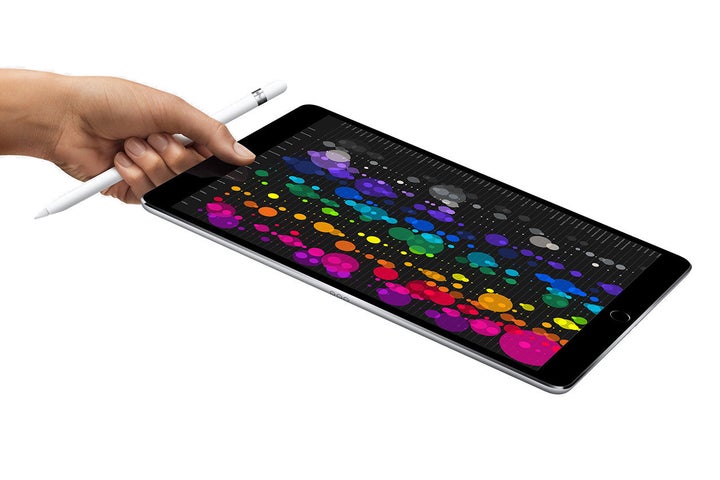 The new iPad Pro is in its current form, the classic gadget. It's beautiful to look at, hideously overpowered and costs an eye-watering amount of money.
Wait just a few months however and we have a very strong feeling that iOS 11 will transform the iPad Pro into a device worthy of its target audience.
Who Should Buy The iPad Pro?
This is Apple's vision of media creation in the future. That means as truly portable tool for creating music, videos or editing images the Pro is perfectly suited. It won't have the processing heft of the MacBook Pro, but for a tablet of this size, it's an astonishing accomplishment.
Who Shouldn't Buy The iPad Pro?
This is the absolute apex of Apple's portable productivity. As such it's meant for a very specific audience. The large majority of people who want an Apple tablet should not buy this, instead buy Apple's standard iPad. It's £200 cheaper and will accomplish all the tasks you want it to: Netflix, music, images, games and browsing.
The Apple iPad Pro 10.5-inch is available now in three versions: 64GB at £619, 128GB at £709 and 512GB at £889.