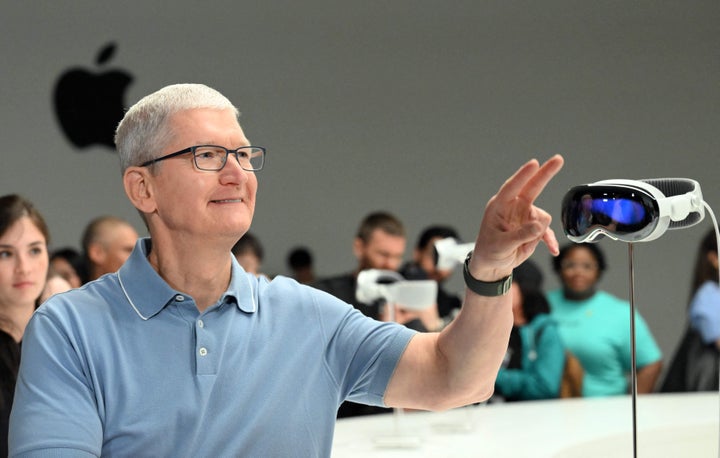 Known as the Vision Pro, it looks a lot like skiing googles, but essentially enables the user to see all the icons of their phone screen while still seeing their surroundings.
Pretty clever – but possibly a bit terrifying.
Apple CEO Tim Cook called it the world's introduction to "spatial computing", explaining during Apple's Worldwide Developers Conference that it would allow the user to experience augmented reality, by blending the real and the digital.
"It's the first Apple product you look through and not at," he said, speaking in California.
He continued: "Vision Pro feels familiar, yet it's entirely new. You can see, hear and interact with digital content just like it's in your physical space.
"And you control Vision Pro using the most natural and intuitive tools – your eyes, hands and voice."
Alan Dye, vice president of human interface design at Apple, also said that the headset is "familiar, yet revolutionary" and a "full three-dimensional interface".
Unlike other famous Apple products, Vision Pro means its experience can fill up a whole room – but still works in sync with iPhone, Mac or iPad.
All users have to do is click a button while wearing the headset to take photos and record videos.
While this all sounds.... pretty novel, Twitter was less convinced – especially when it turned out Apple were charging $3,500 (£2,800) for just one headset – in this cost of living crisis economy.
So, as you can imagine, it didn't land particularly well.