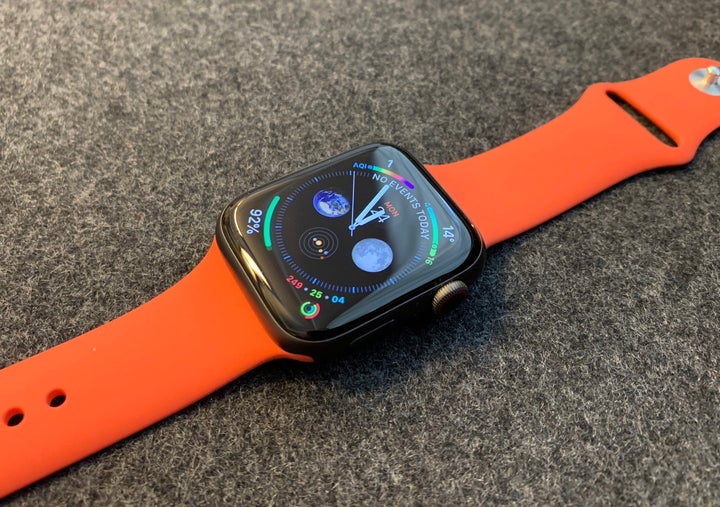 K E Y P O I N T S

This is the fourth Apple Watch since it was first launched in 2014.

Series 4 comes in two new sizes: 40mm and 44mm. Despite those larger numbers the overall size has actually decreased since last year's version.

The new larger OLED display takes up more of the watch front. Both sizes boast screens that are over 30% larger with decreased bezels.

Both units are thinner as well, not by much but enough that it's definitely noticeable.

Watch Series 4 comes with some major new health features including fall-detection, low heart-rate monitoring and, for the first time on a consumer product, an actual ECG reader.

You can choose the Series 4 with either WiFi or WiFi + 4G.

Despite the physical changes, Series 4 still works with all previous Apple Watch bands.
V E R D I C T

To call the Apple Watch Series 4 an 'update' is doing it a disservice – this is Apple's biggest evolution of its smart watch since it was first released in 2014.
It's fair to say the category has been a huge success for Apple, in part because of its exclusive relationship to Apple's ecosystem but also because it has for some time felt like a product that's leading from the front.
The Series 4 is a continuation of this, most notably shown through its all-new design. It is thinner and even more unashamed in its status as a piece of wearable technology.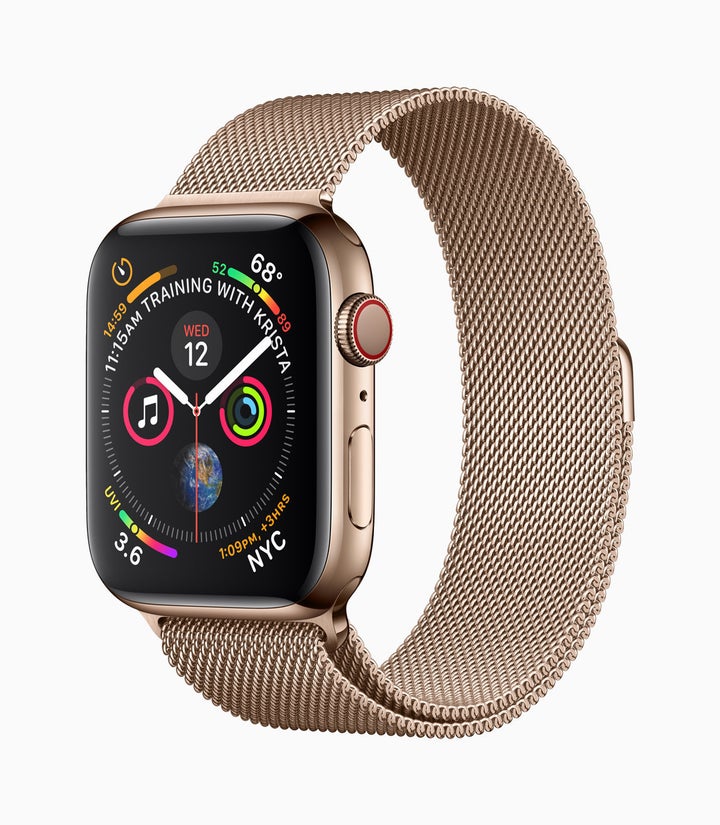 With smartphones now featuring ever-smaller bezels, the huge screen on the Series 4 couldn't feel more timely. It's far and away the most notable difference and one that I've come to appreciate more and more as I've used it.
The large, stunning OLED Retina Display means that everything you look at is bright, vibrant and incredibly crisp. Yet despite a screen size increase of more than 30%, the overall footprint of each Series 4 has stayed almost the same.
Apple has made the most of those larger screens by creating new watch faces that can now support up to eight different sets of information, displaying everything from local air quality to your current heart-rate. Alternatively, of course, you could just do what I've done and pick one of the functionally-useless-but-incredibly-cool-looking animations instead.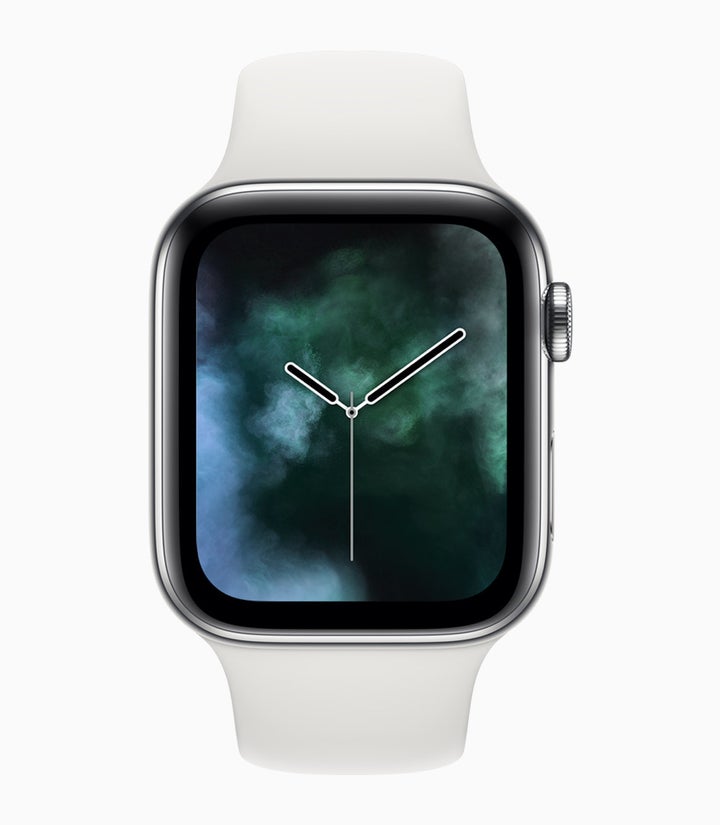 The back of the watch has also been given an update, losing the metallic shell for a combination of ceramic and sapphire crystal. Not only does this feel nicer to wear, it actually allows for much better phone reception if you're making calls.
Apple has updated the Digital Crown so it now provides haptic feedback. You don't get physical resistance as you turn it, but it does make navigating the watch much easier. There are also some key user-friendly improvements including a much louder speaker, a subtler side button and a microphone that's been moved over to the right.
Where the Watch Series 4 really starts to shine however is with the features you can't outwardly see. Improved optical sensors now constantly monitor your heart health in the background, letting you know if it gets too high or too low.
Why? Well they could be signs of an irregular heartbeat or atrial fibrillation and if detected should be treated.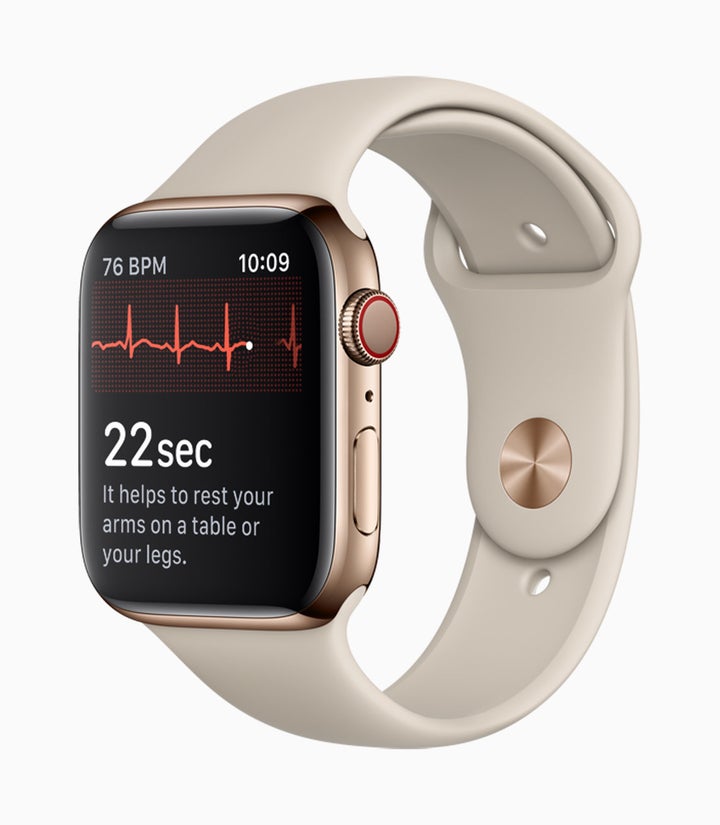 In addition to this, the Series 4 now comes with one of the first consumer ECG readers available to the public, allowing you to take an incredibly accurate reading of your heart.
If it detects a problem you can go to your iPhone and bring up a PDF reading to show to your doctor. The feature wasn't available at launch (Apple only just got FDA approval), but the company says it will appear in the form of an app in the next month or so.
Brilliantly, the new and improved accelerometers and gyroscopes also allow Series 4 to offer something called Fall Detection. If you take a tumble, the Series 4 will pop-up with a special alert asking if you would like to call the emergency services. Fail to respond and after 60 seconds, it will automatically do so anyway.
If you're sensing a trend here with these new features then you're spot on. Apple is increasing the appeal of its smart watch not just to hip young millennials but to older generations for whom these health-related features could offer something tangibly beneficial.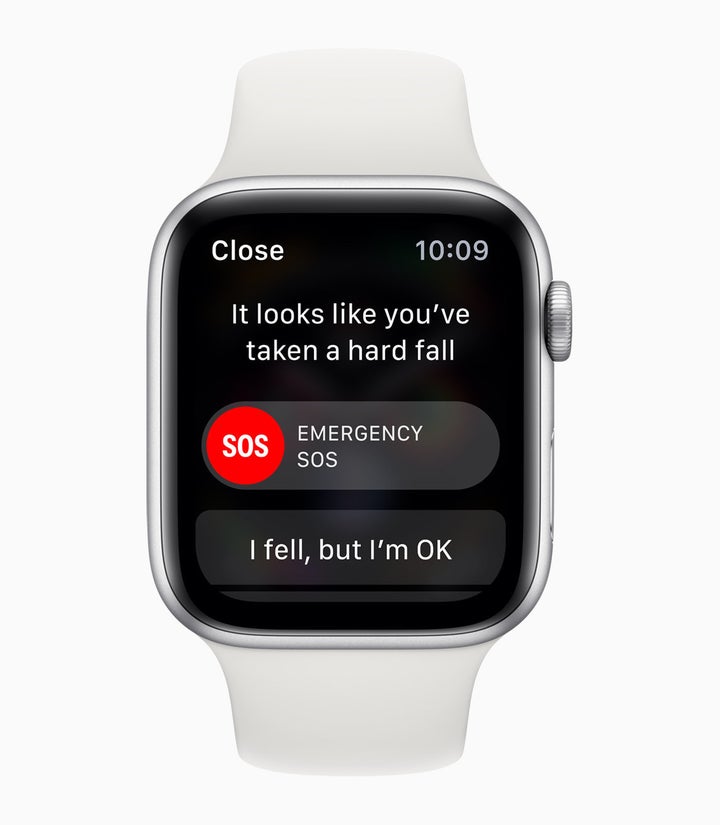 I love technology but hopefully you'll understand that I didn't throw myself down a set of stairs to find out if Fall Detection works or not.
What I can tell you is that the new sensors do work incredibly well if you're doing any exercise. As someone who habitually forgets to log my workouts, the Series 4 not only knew intuitively what activity I'd started but managed to track it almost as perfectly as if I'd manually started and stopped them myself.
Automatic workout detection isn't exclusive to the Series 4, but thanks to its faster processor, many of the new features available in watchOS 5 feel easier and quicker to access thanks to the new watch's faster processor.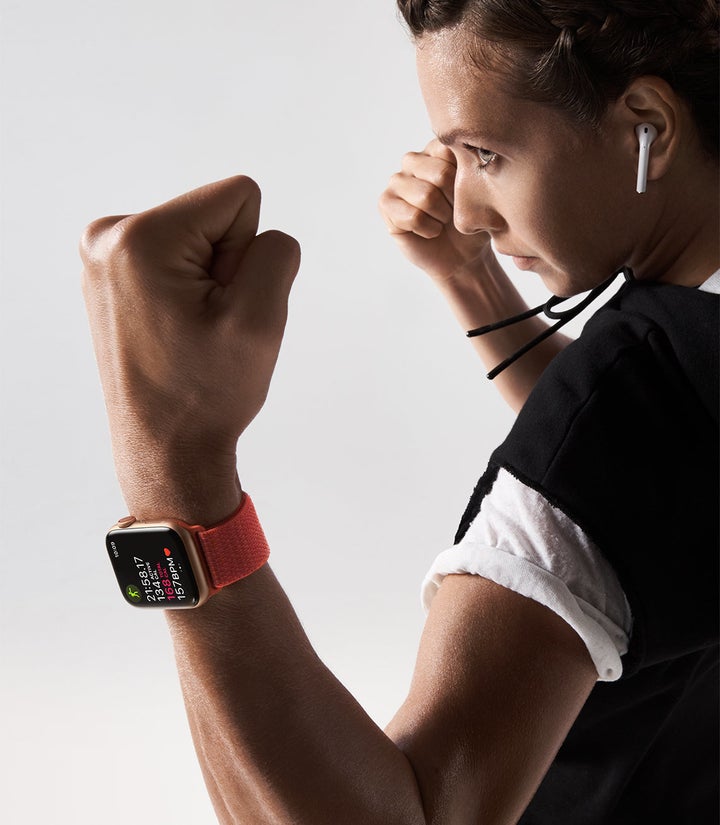 Finally the battery life continues to be excellent. I know that for many people, anything less than a week is problematic and indeed I've argued with several colleagues over what constitutes 'good battery life' on a smart watch.
Rather than create a benchmark I'll say that I work out every other day, regularly use the Breathe functionality, will often check messages and also control my music from my watch. With all of this usage, I normally get two full days of battery life. I think that's excellent, but I'm also not blind to the fact that for others, charging a watch every few days is an inconvenience.
S P E C I F I C A T I O N S

Display: 40mm 324x394 pixels / 44mm 368x448 pixels

Sensors: Electrical heart sensor, optical heart sensor, accelerometer, gyroscope.

Processor: Apple S4 with 64-bit dual-core processor

Storage: 16GB

Connectivity: WiFi, GPS, Cellular (only on certain models), Bluetooth and NFC

Software: Apple watchOS 5

Water Resistant: 50 metres

Price: Series 4 WiFi: £399 / Series 4 WiFi + 4G £499
T A K E H O M E M E S S A G E

While smartphones have started to plateau the Apple Watch Series 4 shows that wearable technology is still an area of consumer technology in which companies can truly innovate.
It's important to remember that Apple's new features on the Series 4 are a clear move to appeal to a wider audience and in turn, sell more Apple Watches. Overlook the capitalism for one moment, however, and let's appreciate that features such as low heart-rate detection and Fall Detection might genuinely save lives.
The Series 4 is arguably the most important product Apple has launched all year and, as far as I'm concerned, sets the benchmark for what a smart watch should be. A digital companion that effortlessly and quietly gets on with helping you live your life.