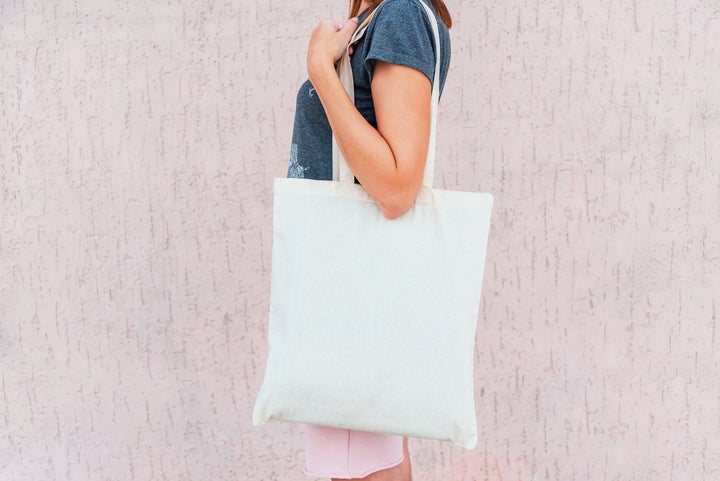 Once upon a time, kitchens across the country had one thing in common: a cupboard filled with plastic bags, stuffed with more plastic bags.
Now it's tote bags that spill out of the hidden crevices in our homes and if you're anything like us, you've lost track of how many you own. But is it time we limited our ever-growing collections?
It may seem like the best way to cut your plastic consumption, save 5p and collect a weekly shop, but cotton tote bags damage the planet too.
In fact, the manufacturing and transport involved in the making of cotton tote bags means they have a higher carbon footprint than their plastic counterparts, according to a 2011 report by the UK Environment Agency.
The amount of energy used to produce cotton yarn is high as is the amount of fertiliser and water used during the growth of the cotton. The report concluded you'd need to reuse a cotton tote bag a whopping 393 times in order for it to have the same environmental impact as using a plastic bag just three times.
A study published earlier this year by Denmark's Ministry of Environment and Food had similar results, but found the impact of cotton bags to be even greater, claiming you need to use them thousands of times to mitigate their production damage.
David Tyler, a professor in the Department of Chemistry and Biochemistry at the University of Oregon, previously told The Verge it's impossible to find a bag that beats all others in every category for environmental impact.
"So you have to decide, when you talk about the impact on the environment, what environmental impacts am I most interested in mitigating?" he said.
If plastic waste is your main priority, a tote bag could still be the right choice. Just be prepared to wash and reuse it many, many, many times for the best results. Also look out for a tote made from organic rather than regular cotton, wherever possible, as this will have a smaller environmental impact.
"Organic fibres are grown without the use of synthetic fertilisers or potentially toxic pesticides. By building soil fertility, organic farmers help lock CO2 into the soil, helping mitigate climate change," the Soil Association explains.
"It also avoids the use of the toxic pesticides that, in non-organic systems, are responsible for poisoning wildlife and rivers, as well as killing an estimated 16,000 people each year."