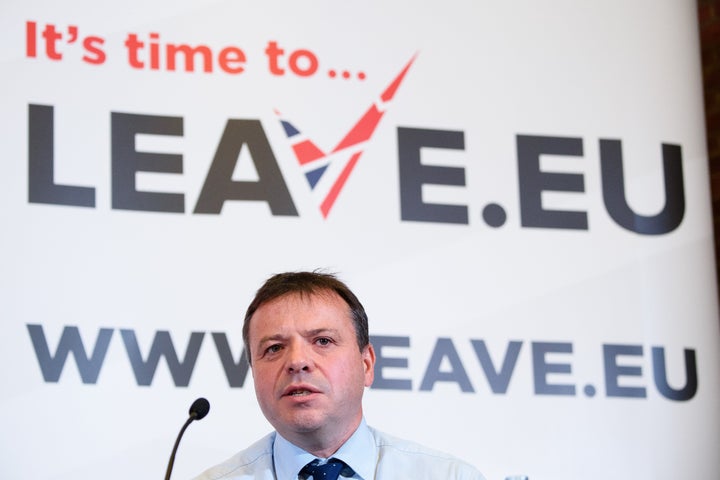 Ukip donor Arron Banks has questioned the credibility of the official 'Leave' campaign designation process after a supporter of a rival group claimed they had secured the Electoral Commission's backing - despite no decision being made.
Brexit campaigner Steve Bell, who is also President of the National Conservative Convention, tweeted last night that Vote Leave had secured official campaign status from the Electoral Commission.

However, the Electoral Commission confirmed no decision has been reached, meaning rival group GO Movement is still in with a chance of being named the lead 'Leave' campaign ahead of the June 23 vote.
A Vote Leave source put the tweet down to human error, but Banks, who co-founded Leave.EU – a group which is backing the GO Movement's application for designation – was furious.
He said: "That such a senior figure in the Conservative Party would issue a self-congratulatory tweet about the formal referendum campaign designation process ahead of any announcement is deeply worrying and gives me cause for concern about the credibility of the whole procedure.
"From the very beginning a number of Vote Leave officials and supporters - Douglas Carswell MP in particular - have been saying the decision had been taken and this premature tweet suggests this might the case.
"Steve Bell has to fully explain himself.
"It's worth noting Vote Leave has arranged eight events on Friday with cabinet ministers to take advantage of the announcement and is holding a dinner with Boris Johnson tonight.
"I know the Conservative Party is one of entitlement but celebrating two days early takes the biscuit. As an example of my generous magnanimity I've just put in a telephone bid at the fund raising dinner for a game of tennis with Boris."
The official Leave group will be given public money for the campaign, as well as a spending limit of £7million - instead of £700,000 for non-designated groups.
The rival Brexit groups - which sees Ukip leader Nigel Farage supporting GO and Ukip's only MP Douglas Carswell backing Vote Leave - have been unable to merge despite numerous attempts.
A Vote Leave source dismissed the Banks's claims and put the tweet – which has since been deleted - down to human error.
The source said: "It's very easy that someone can mishear or misinterpret something."
A spokesperson for the Electoral Commission said the decision on designation had not yet been made, but would be announced either today or tomorrow.
Related