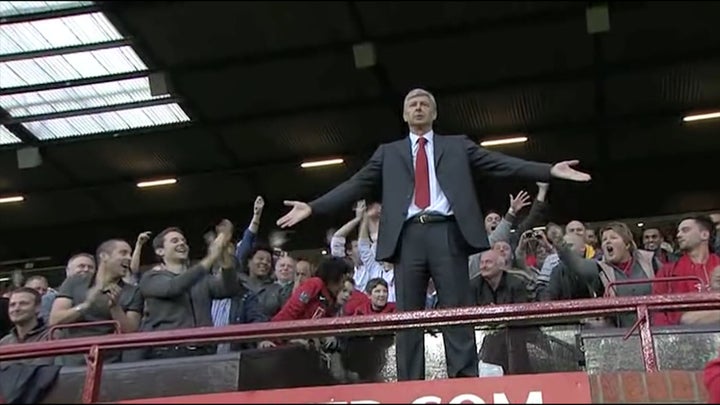 It is the end of a glorious era for Arsenal football club. The club I love.
Arsène Wenger has transformed Arsenal and English football itself. Anyone who tries to argue otherwise hasn't been paying attention or just isn't living in the real world.
I want to thank him for everything he has done not just for the club, but for the community I represent in North London, and for inspiring countless young people to take up football.
Just consider his achievements. Three Premier League titles, the unbeaten 2003/04 season and a record breaking seven FA Cups. Thank you, Arsène.
For the beautiful football and the wonderful memories. Thank you.
So many games down the years, so many memories, the high and lows shared with family, friends and fans. The first match I took my eldest son to, Coventry at home. Such a special day.
I'll never forget seeing Tony Adams score against Everton in 1998 to win the title, after being put through by Steve Bould. And then two weeks later watching us beat Newcastle on a stunningly hot day in May. Wenger's first title, first FA Cup and first double.
I first met the man in 1996 when he was moving into his office at Highbury. He was carrying a box full of paperwork, but he stopped to say hello and took time out to talk to my sons and their friends. I remember him talking to youngsters at an Arsenal in the Community event, telling them how important it is to learn another language.
This is the side of Arsène Wenger that lots of people never get to see. Yes, he is sometimes irascible in interviews, or grumpy after losing a match, having to answer often ridiculous questions and facing the brickbats of the pundits.
He set an example that you can rise above criticism and abuse, and prove you are stronger than all your critics.
Quite simply, he is one of the finest football managers there has ever been. And I thank him for that.
Arsène. Merci beaucoup et au revoir.
Jeremy Corbyn is the leader of the Labour Party and MP for Islington North