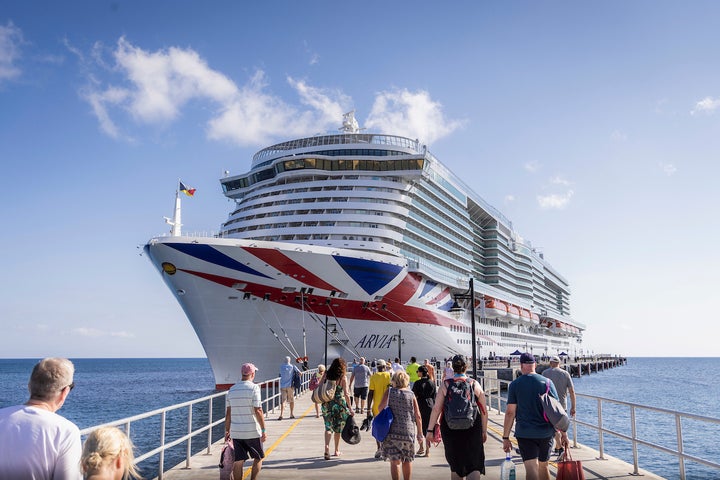 I never had snorkelling for tropical fish with Alex James, Trevor Nelson and Olly Smith on my life bingo card, but here I am, goggled-up, doing just that with the Blur bassist, DJ and wine expert in the crystal clear waters of Saint Kitts.
This unlikely quartet are in the Caribbean - along with a throng of other journalists and PRs - to celebrate the launch of P&O Cruises' new baby, Arvia.
Well, I say baby; there is nothing tiny about the cruise ship we're all calling home for the next week. The brand-spanking new, 18-deck, 345 metre-long vessel is basically a floating town (population 7000).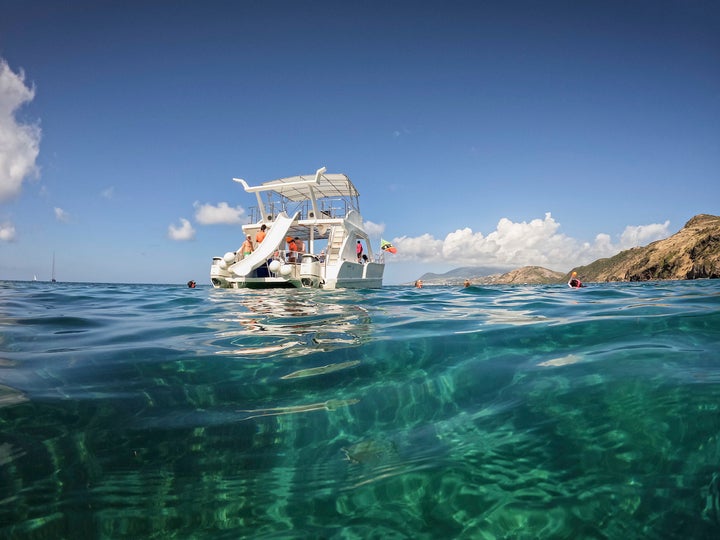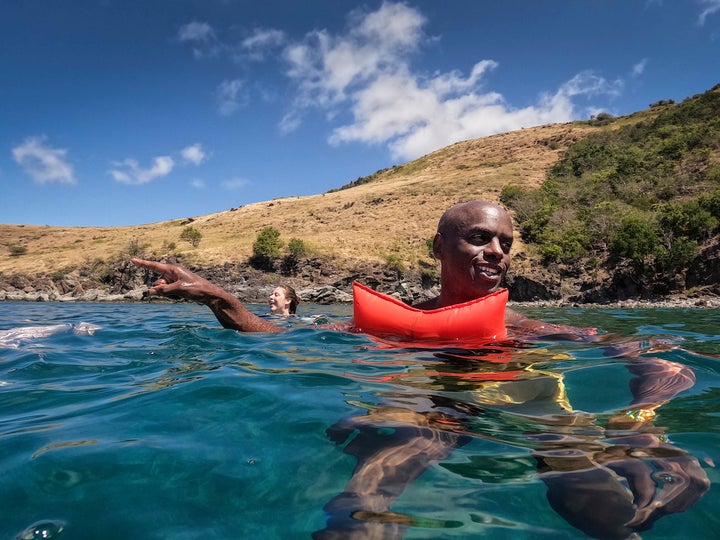 I'll be honest. I had zero interest in going on a cruise until Channel 5 began airing the gloriously camp Cruising With Jane McDonald a few years ago. And even then, I think I just wanted to go on a cruise with Jane McDonald.
Anyone who has seen that show (and if you haven't, get a grip), will know that many cruises consist of lots of Brits of a certain age tucking into all-you-can-eat buffets and drinking jammy rosés whilst being accosted by Jane and her go-pro on a selfie stick. Nowt wrong with that, but not really my beach bag (apart from being accosted by Jane, obviously).
So was this cruise going to be any different?
In a way, Arvia is a home from home with pretty much everything you'd find down your local British high street: a Costa coffee shop, bars, restaurants, shops, a gym, a cinema, a salon, a theatre, a club… and lots and lots of Brits.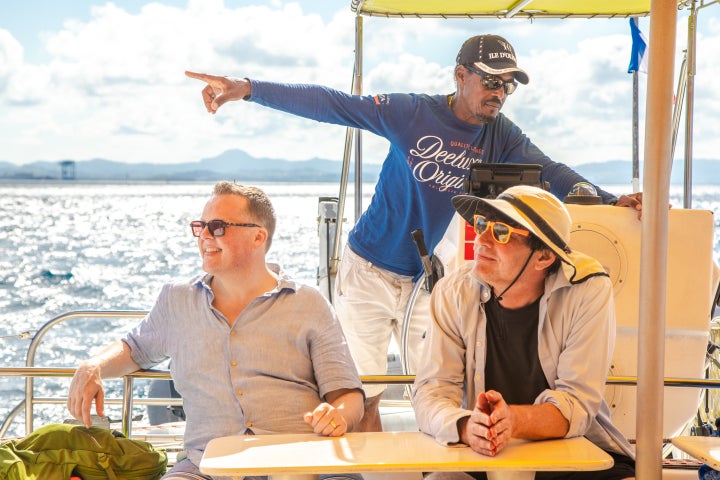 Being surrounded by Brits abroad - and onboard - is probably not for those who truly want to get away from it all when they head off on their hols. You can escape the ship at least on one of the many excursions (or 'shore experiences') as you island hop between Saint Kitts, Martinique, Saint Lucia and Barbados.
You'll get the chance to explore these stunning Caribbean islands by land or water, and, depending on your sea legs, opt for sailboat, catamaran or (my favourite) speedboat tours.
Off-ship highlights during our week included dolphin-spotting in Martinique, a visit to Pitons Bay nestled between the famous Piton Mountains in Saint Lucia (where Matt Damon renewed his wedding vows), swimming with turtles in Barbados and rum tasting at the famous Mount Gay distillery.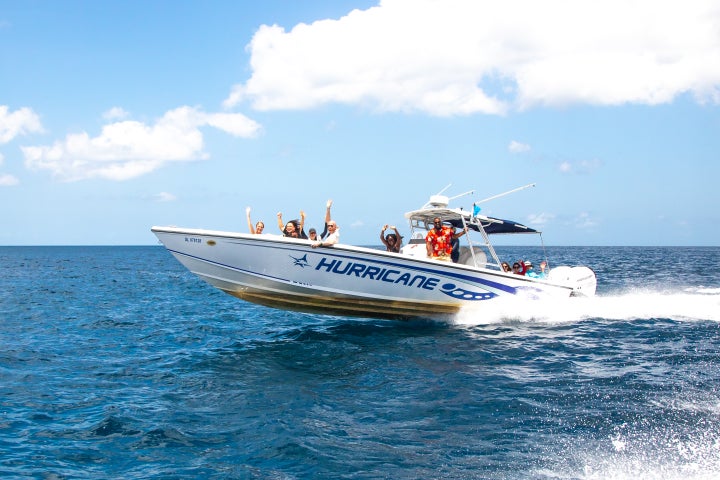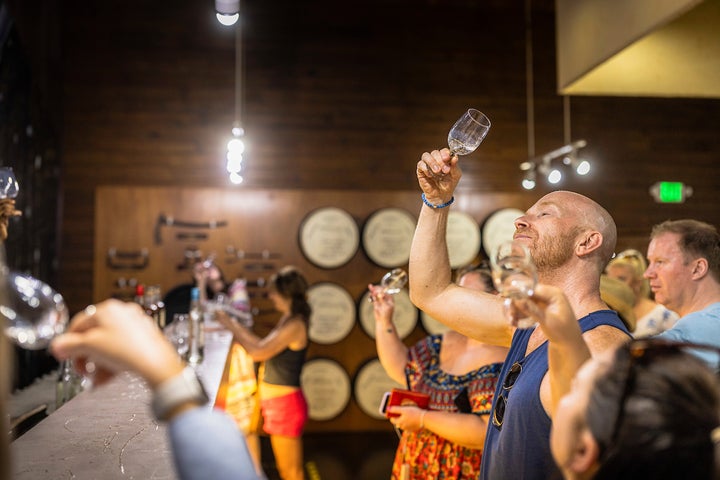 Or, of course, you can also hop off and do your own thing. Just make sure you know what time the ship is leaving port, especially if you get on the rum cocktails.
Sea days give you the opportunity to really explore the ship, and if you're not a sun worshipper (the temperature rarely dips below 29 degrees) then there are plenty of non-sunbathing activities to try.
These include the Mission Control escape room, the Altitude Skywalk high-ropes experience (set 54m above the ocean), a stunning spa, or an interactive quiz hosted by Ben Shephard. Alas, the Good Morning Britain host is also virtual.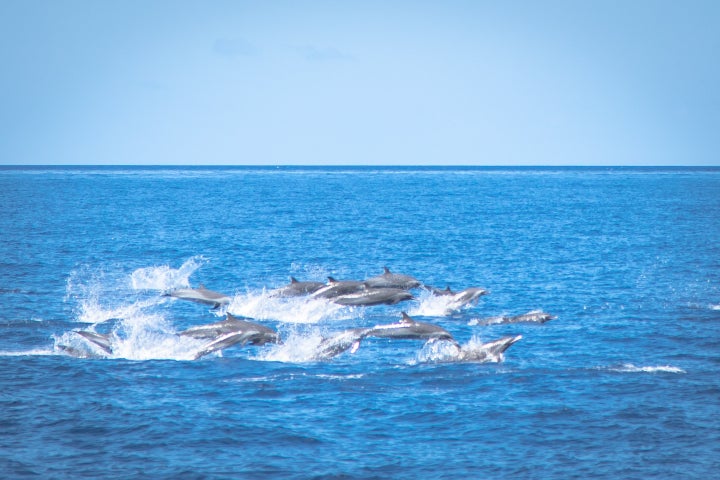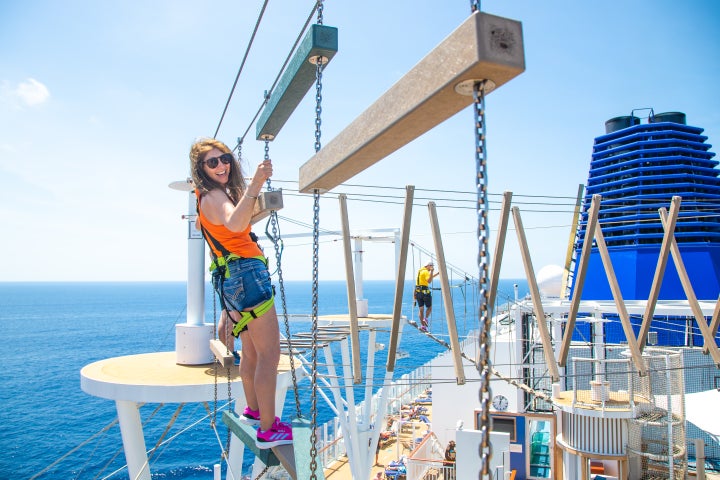 However, most passengers choose to chill out in the adults-only Retreat or the many pools, sun decks and whirlpools scattered about the ship.
Sidenote: if you want in on all of the ship's goss, grab a cocktail and jump into a whirlpool. I'd love to share but what happens on a cruise ship stays on the cruise ship.
I worked up an appetite after all that gassing and if any of the all-inclusive restaurant options like the American diner or the all-you-can-eat buffet aren't your thing, there are plenty of 'speciality' restaurants to dine in for a small extra charge.
The plant-based restaurant Green & Co is the most obvious attempt to cater - literally - to a younger demographic, as is Mizuhana, which serves sushi imported from Japan, donchaknow. They are not messing about. Both offered up some of the best vegan food and sushi I'd ever eaten.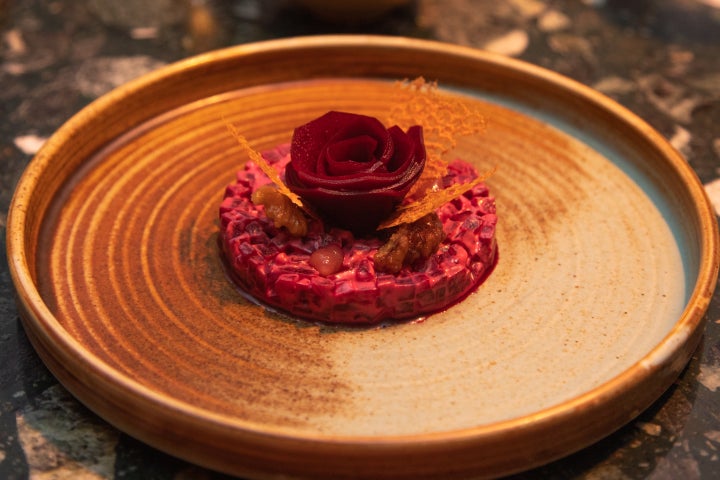 There are other obvious efforts to pull in those younger, cruise-curious travellers in the evening entertainment too.
It's a balancing act to do that whilst not alienating your traditional (older) customer, which is why there were no late-night pool parties (booo), but the Take That musical and performances from M People's Heather Small and X Factor winner Joe McElderry in the Headliners theatre space, instead. It's all middle-of-the-road, inoffensive stuff.
Also putting in an appearance in Arvia's Skydome (complete with retractable roof and cinema screen) during our trip was Olly Murs and the ship's 'godmother' Nicole Scherzinger, who both performed at the naming ceremony.
Olly even threw himself, fully clothed, into one of the pools. That's about as rock and roll as it got all week (don't tell Alex James).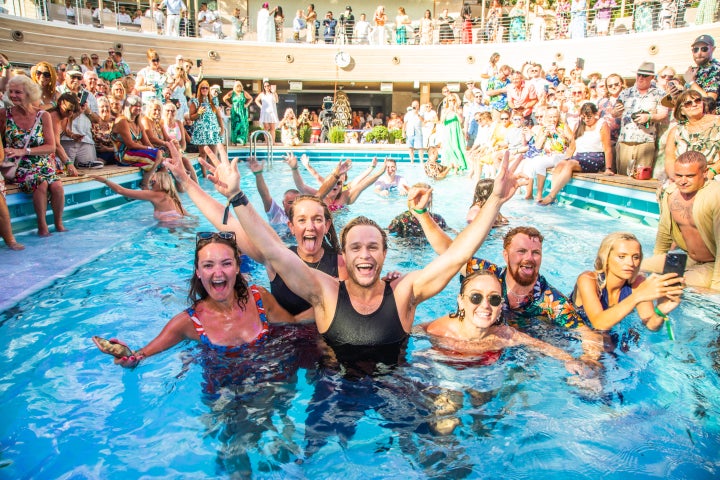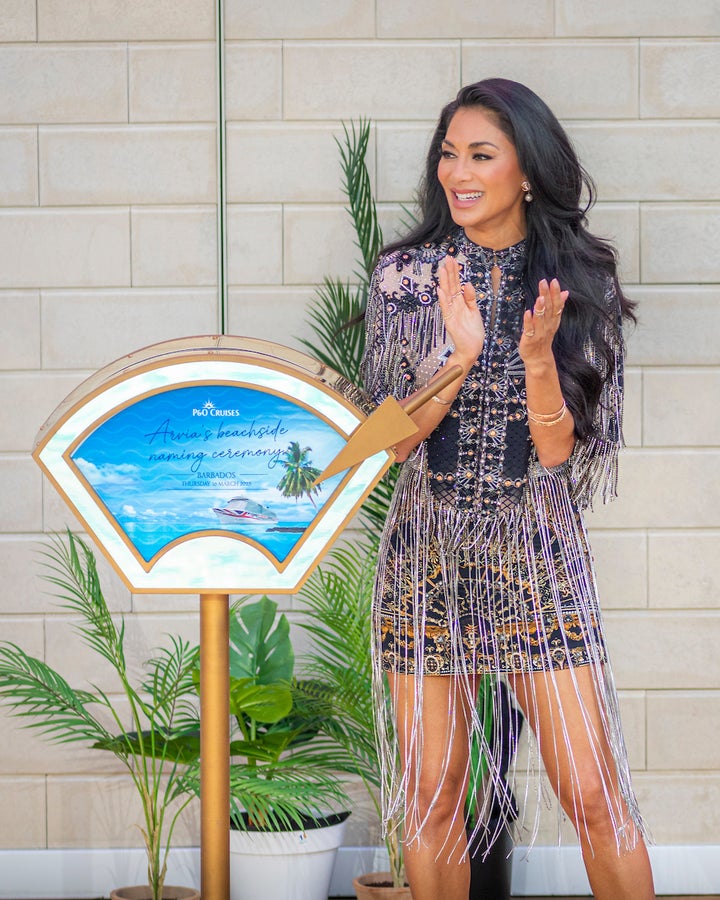 With no seriously late nights, many passengers are up at the crack of dawn. I naively headed to the state-of-the-art gym at 7am on my first morning and found the place heaving. A few days later I went for a lunchtime, post-jacuzzi goss workout and had the place to myself. Bliss.
With a change of scenery each day and with so much to see and do, it really felt like we'd been away for longer than a week before we filed into the Headliners theatre along with the rest of the departing passengers to await our coaches back to Barbados airport.
This time however, we had a jolly member of staff stood at the front on a mic attempting to distract us from the fact that we were all heading back to a very chilly and wet UK. Tough gig, but I doubt even Heather Small would have fared much better.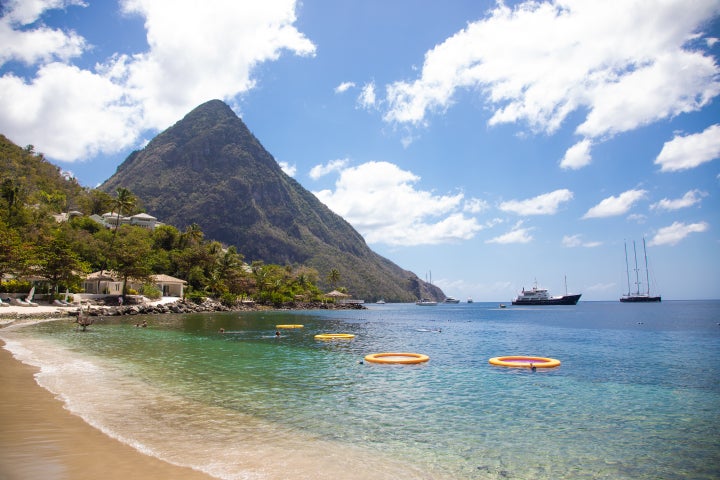 So, having finally popped my cruise cherry, here's a few of the more unexpected things I experienced on my trip…
1. Everyone says hello to EVERYONE. If you walk past someone along one of the deck's narrow corridors and don't acknowledge their existence you are made to walk the plank (probably).

2. If you are lift-phobic, forget it, unless you want to get some serious steps in (there are 18 decks, remember). Or go on a river cruise.

3. When in said lifts, get your lift small talk ready. And then stare at the floor as you make stops at all 18 of the decks.

4. With the ship sailing overnight to each destination, waking up at 2am to the almost-can't-hear it creaking and almost-can't-feel-it swaying of the ship is not something I ever quite got used to. See also the eerie nothingness of a pitch black sea. Brrr.

5. I didn't see Jane McDonald. Not once.
A seven-night cruise on Arvia costs from £1,349pp, departing from Antigua, and includes flights.
Ports of call: Basseterre, Saint Kitts, Fort de France, Martinique, Castries, Saint Lucia, and Bridgetown in Barbados. See pocruises.com for more details.