A Maine Coon cat named Thula is gently coaxing an Autistic girl out of her world of silence.
At the age of 5 the little girl began to paint, an act which served as her primary means of communication with the outside world.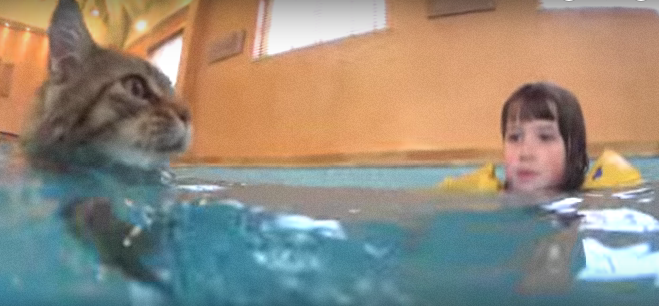 Now Iris's world has opened up even wider, thanks to Thula.
As well as providing companionship while Iris paints, Thula's presence has encouraged the six-year-old to speak and even she accompanies her swimming and in the bath – something Iris "hated" in the past.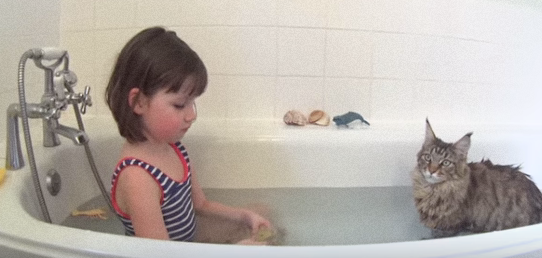 Carter-Johnson told the Huffington Post UK: "Iris and Thula were like best buddies from the start but there were moments when I could almost run around the house with excitement, like when Iris asked Thula to 'sit cat' at the painting table or 'more cat' when she wanted Thula to follow her.
"Before that Iris had never made any verbal requests and those skills started to transfer to us too.
"She spoke more each day and they were so relaxed in each other's company. I think part of it is there is no pressure; Thula doesn't ask her to talk, she is just there for her and they communicate easily with body language but without that pressure Iris felt happy to try.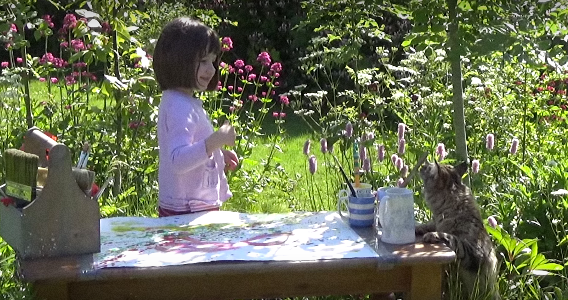 "I have learnt a lot from Thula, watching them together has allowed me to understand how to interact more easily with Iris and its always a gentle reminder each day. We even started to see cat shapes within Iris's paintings, a beautiful sign of their bond that they share.
"Thula has helped her with many things that she struggled with, for example her fear of water, Iris used to hate bath time and swimming, now with Thula in the water with her she loves it.
"Over the years I taught myself to celebrate the small things, progress with Iris was slow to start off with, even when we received the diagnosis and had therapists in place. I needed to keep my spirits up and so each time I saw a little improvement we would cherish that and encourage Iris. To see much change in a short period of time was incredible, we felt like we could all do anything and it makes you believe that anything is possible."