Philip Hammond's Autumn Statement will do nothing to prevent the "dreadful" problem of real wages still remaining below 2008 levels in 2021, the Institute of Fiscal Studies (IFS) has concluded.
In his analysis of the chancellor's announcements yesterday, Paul Johnson the director of the well regarded independent think-tank, said it was the worst situation for people's pay since the end of the Second World War - or possibly longer.
And he warned "an additional dollop of austerity" was on its way if the government wanted to balance the books in the next parliament.
The IFS analysis also reveals the generation gap in living standards. Younger workers have seen their real earnings plummet 7% since the financial crisis - while at the same time pensioners have seen theirs increase by 11%.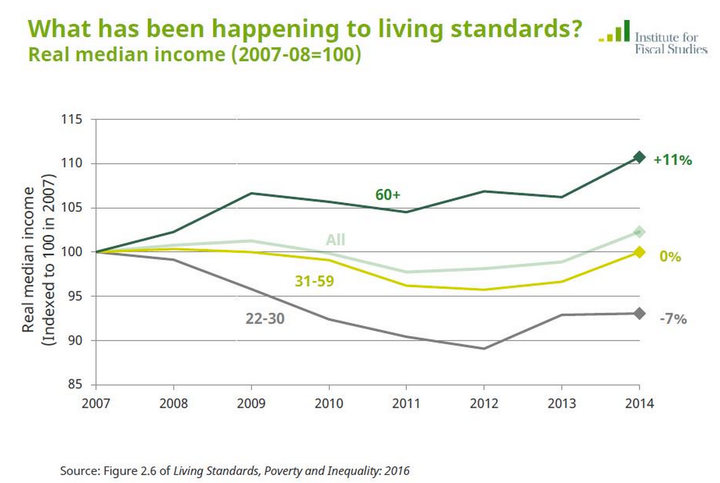 Johnson said Hammond's decision to junk his predecessor's plans to balance the budget by 2019-2020 in the wake of the Brexit vote and instead follow more closely the borrowing plans set out by Labour at the last election meant "it wouldn't be far from the truth to say the new fiscal plans aren't Osborne's, they're Balls'".
"The outlook for living standards has deteriorated rather sharply since March," he said.
"Overall real average earnings are forecast to rise by less than 5% between now and 2021. That means they will be 3.7% lower in 2021 than was projected in March. To put it another way around, half of the wage growth projected for the next five years back in March is not now projected to happen," Johnson said.
"On these projections real wages will, remarkably, still be below their 2008 levels in 2021."
The economist added: "One cannot stress how dreadful that is - more than a decade without real earnings growth. We have certainly not seen a period remotely like it in the last 70 years."
Asked about the IFS's analysis, the Prime Minister's official spokeswoman said: "If you look at living standards, they are at their highest level ever. And the OBR forecasts them to be still higher by 2021.
"There's a range of ways to measures people's living standards. Real household disposable income, that's how we measure living standards. If you look at real household disposable income that's set to go up during this Parliament...raised by 2.8% in 2015, which is the fastest in 14 years.
"People talk about earnings, that's gross pay. Net pay going into my bank account, that's what matters to me, how much do I have to spend?
"And because of the changes this government made to things like the personal allowance [on tax] more people are taking home more of that pay packet at the end of every month.
She added that while there was a "weakness" on productivity, household income would rise by 2.8% by 2021.
"We have certainly not seen a period remotely like it in the last 70 years"
Labour's shadow chancellor John McDonnell said the IFS report was "a damning indictment of the total, abject failure of the Tories' economic policy during their six wasted years in office".
"The so-called 'long-term economic plan' has meant long-term decline in living standards for working people even as the super-rich and the big corporations are given large tax giveaways," he said.
"Chancellor Philip Hammond promised action in the Autumn Statement for those 'just about managing'. Instead he has betrayed them by continuing to slash in-work benefits, failing to raise the 'National Living Wage' to the level promised, failing to deliver more funding for our NHS and social care and now he's threatening pensioners with removing the 'triple lock'.
"Labour has different priorities and will prepare our economy for Brexit. Instead of cutting taxes for the super-rich and giant corporations, we will make sure our NHS is properly funded, support the pensions 'triple lock', and introduce a Real Living Wage built on an economy that invests for the long-term so that no-one and no community is left behind."
The chancellor set out how the Office for Budget Responsibility had slashed growth forecasts and predicted higher than previously expected borrowing.
But former Tory cabinet minister Iain Duncan Smith, a leading Leave campaigner, said it was "another utter doom and gloom scenario" by an organisation "that simply hasn't got anything right".
"The key thing is that the OBR has been wrong in every single forecast they've made so far," he told the Daily Telegraph. "On the deficit, on growth, on jobs, they've pretty much been wrong on everything."
Conservative MP Jacob Rees-Mogg said the OBR was "wrong" because it had taken "lunatic" assumptions about future trade tariffs and likened experts to soothsayers.
"Until the Government has developed its negotiating strategy and explained it the OBR can only operate on a status quo assumption," he told BBC Two's Newsnight. "So, they are perfectly rational in what they are doing but it is not what the reality will be."
He added: "Experts, soothsayers, astrologers are all in much the same category."
But former Labour leader Ed Miliband criticised Leave campaigners for their attacks on the watchdog. He said: "Now Brexiteers attack OBR. They can't win argument for hard, destructive Brexit based on truth so have to try and win based on fantasy."