Ever been sat in a dull meeting at work watching the clock and day dreaming about what you're going to have for lunch? Turns out we're all stuck in 'unproductive' meetings more than we might think – with the average employee wasting nearly 13 working days in them every year, which adds up to almost three weeks.
The survey, which polled 2,000 adults working in UK, Germany and France, also found most employees admit to making excuses to avoid meetings. Just under a third (30%) will blame a huge workload to get out of one, with one in six (15%) excusing themselves because of heavy traffic. Meanwhile one in 10 pretend they got the time or date wrong (11%).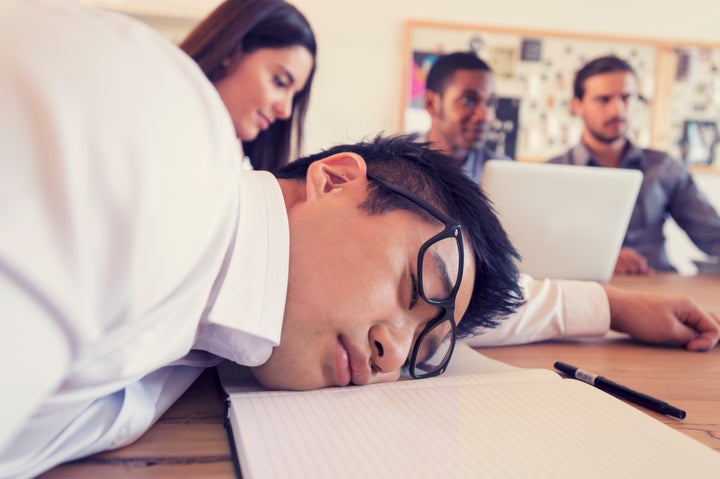 So what's the key to a successful meeting?
The poll, by Crowne Plaza Hotel and Resorts, found workers are more likely to enjoy a meeting if it is held off-site, between 9.30am and 11.30am, or if free food and drinks are provided.
The optimum length for an effective meeting was found to be 40 minutes – any longer and people could start to drop off to sleep, which nearly a quarter (23%) of respondents said they had witnessed.
Over a third (40%) of people said they'd enjoy meetings more if they had a relaxed atmosphere, while nearly two thirds (63%) would prefer for someone else to organise and host the meeting.
What shouldn't you be doing in meetings?
People were also pretty forthcoming with their pet peeves, which included meeting attendees talking over each other, a room that's too hot or too cold, and when people arrive late.
Over a quarter (28%) of those polled said they get irritated by technological issues, such as Wi-Fi or conference call connections not working. In fact, technology kept cropping up as a major bugbear, especially when people make phone calls in meetings or sit on their phones sending emails and messages.
Conference call technology and presentation technology was also flagged as being a massive pain when, for whatever reason, they don't work.
Last but not least, people using 'office jargon' or buzzwords was also regarded as a top meeting annoyance, with 'ASAP', 'win-win' and 'touch base' cropping up as the most overused phrases. *Shudders*