The product, which has a "neutral flavour", costs £1.20 for a 260g pack and is designed to be used on bread, crackers and other savoury items instead of margarine or butter.
Tesco is the first supermarket in the UK to release a spread made using the much-coveted fruit.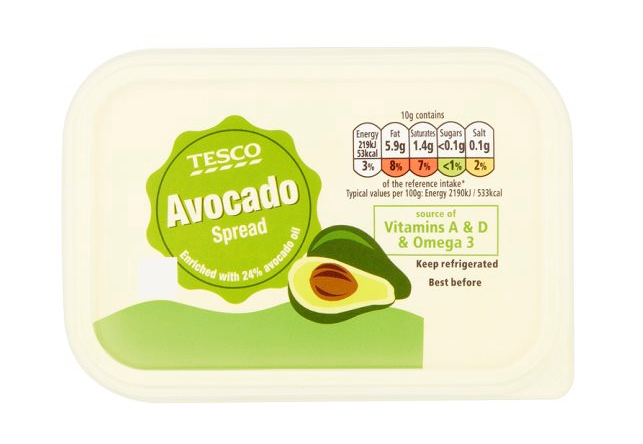 The new spread is made primarily using avocado oil, but it also contains rapeseed oil and palm oil.
For those who think it might be like spreadable avocado, think again. The product is very much like margarine, but with a slightly nuttier taste.
Dean Rawlinson, spreads buyer at Tesco, said of the release: "Shoppers can't get enough of avocados which have become extremely popular on account of their great taste, versatility in food and drinks as well as for their nutritional benefits.
"We're always looking for innovative new avocado products for customers such as the Avozilla or frozen avocado which we launched last year.
"With this, the UK's first ever avocado spread, our product developers have created a new and exciting way for shoppers to benefit from the excellent health credentials of avocados in even more ways."
The spread is also suitable for vegetarians and vegans.
Charlotte Stirling-Reed from SR Nutrition said she's pleased to see supermarkets are branching out and encouraging healthy food trends.
"It's great that supermarkets are experimenting with new foods and tapping into popular trends, especially trends that encourage more fruit and vegetable consumption," she told The Huffington Post UK.
"A new avocado spread is a really innovative idea from Tesco, however the spread is actually only around one quarter avocado oil with the rest of the spread being made up of mainly water and mixed vegetable oils, including palm oil which is a saturated fat.
"The spread is however a source of vitamin D, vitamin A and omega-3 fatty acids (vitamin D and vitamin A are added into the product)."
She added that while the spread is all very well and good, real avocados are much better.
"Avocados are one of my favourite foods and it's so easy to mash up a fresh avocado and use it on bread or toast as a spread," she explained.
"You're also likely to get more of the avocado texture and creaminess this way too."